I Am Number Four
Thank you for rating this movie!
Read your review below. Ratings will be added after 24 hours.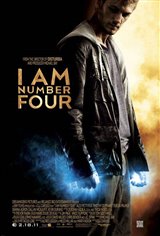 4.16 / 5
User Rating
Based on 432 votes and 108 reviews
---
Please rate movie 1 to 5 stars
Showing 1 to 50 of 108
May 11, 2016
One of the best movies I have ever watched but to watch the movie you have to read the books
September 30, 2012
It was outstanding! The special effects made me Wish I had those powers more then any other movies!! WHEN is the sequel coming out??? Hopefully soon... Sept/12.
October 20, 2011
Great action, and story. I hope there is going to be a sequel!
August 19, 2011
Absolutely awesome!! This is my type of flick. Can't for for the sequal "The Power of Six", it can only get better!!
July 18, 2011
Twillight with aliens. ok, there was better acting and effects.
July 05, 2011
Formula for a good movieis is usually first half hour or 25% of film for setup and then the film takes off ....unfortunately this film has got the formula reversed. Its a shame because this could have really been good
June 08, 2011
I really enjoyed this movie. I wondered if it was 'teen beat' when it started, but the story line got interesting fast and kept me wondering what was going to happen next. Though the actress from "Glee" wasn't as memorable, but the main actor was terrific and I hope to see him more.
June 03, 2011
this movie is absolutely nothing like the book, directors should read the book and make a remake so i can enjoy this move
May 29, 2011
same ol' cookie cutter movie. you can tell they had only when thing in mind while making this movie - MONEY.
May 26, 2011
Enjoyed it, especially the action packed ending..looking forward to the sequel for the next book if it comes to big screen
May 16, 2011
Started watching this one with very low expectations, but I was pleasantly surprised. There are parts where the story focuses too much on the teenage angst an it gives off a Twilight stench, but luckily these scenes don't drag on for too long and it quickly evolves to the core story. The story is in no way original, but the visuals are well done and the action is believable. Looking forward to more from this franchise. 3 Stars
May 07, 2011
I didnt really care for it, it was a lame sci fi movie. Kinda Cheesy. I wouldnt watch it again, waste of money.
April 07, 2011
great mowie
April 07, 2011
good movie
April 06, 2011
Very enjoyable and suspenseful right to the end.
April 05, 2011
DJ Caruso's latest action thriller will keep you at the edge of your seat until the very end. This tale of teenage encounters of the alien kind is fresh, fun and a roller coaster ride of suspense.
April 05, 2011
It was okay, the writting was okay, the dialoug was cheesy, the action was good though, plot was meh, little things stuck out that didn't make sense, but overall it was okay
April 04, 2011
I enjoyed the plot of the movie...a fairly new concept. I liked the characters in the movie, and the action was good too.
April 03, 2011
I was hoping for more... But turned out to be another teen movie. Too bad.
March 31, 2011
Not another teen angst super hero movie
March 30, 2011
Way way better than I thought it would be! stayed away from this because I thought it was going to be TwilightISH, but it was not. It was actually a tight script with solid effects and action, I actually went out and grabbed the book after watching it
March 30, 2011
Interesting movie, excited to see how the sequel will turn out. Recommend watching it if you like sci-fi!
March 28, 2011
good movie
March 28, 2011
Loved it!! Great effects!
March 27, 2011
Great movie. Incredible special effects. At times slow but it kept me on my feet. Can't wait for the next one!
March 27, 2011
Interesting movie.
March 24, 2011
Altough this was a nice action packed movie, the aliens being chased were found much too easily and with the public fights, really, no one knew there were aliens in our midst. Definite set up for next movie. But still enjoyable.
March 24, 2011
I really enjoyed this movie, it was full of action, bit of romance, funny and can't wait to see what happens next.
March 24, 2011
excellent movie
March 23, 2011
This movie was very good! My friends and I absolutely adored it! We are even going to go see it again : )
March 22, 2011
Great sci-fi action film!!
March 21, 2011
If u like action movies, then this one you'll love!!!!
March 18, 2011
liked it, it was interesting enough and the acting was decent, but it did seem more like a setup to the next movie rather than a stand alone movie. But it was a movie that was entertaining
March 17, 2011
From the trailer this movie looked awesome, but ths sad reality was that it had no real plot whatsoever. They were trying to hard to set up the plot for the next movie (god help us all if there is one)that they never bother to put one together for this one. The on screen chemistry between the two leads was none existant. This movie was more like a series premire than an actual stand alone film.
March 16, 2011
recommended
March 16, 2011
two thumbs up
March 16, 2011
enjoyed it
March 15, 2011
This movie was fun and enjoyable (I'm a senior and have seen a lot of movies!). Acting was not bad, attractive actors, good chemistry, and good comedic breaks interspersed in the violence. Special effects were fun especially the monster and the transformed sweet beagle! I look forward to whatever sequels come along. Well done!
March 14, 2011
An awesome must see movie with a bit of everything in it . Comedy romance , action , and science fiction too !
March 14, 2011
Love this movie! Well worth the ticket price.
March 12, 2011
This movie rocked. It was awesome.
March 12, 2011
Was surprised by this movie, we really enjoyed it
March 11, 2011
This is a movie for 15 & under, not for an adult.
March 11, 2011
I did not enjoy this movie. Tired of movies will all this violence and silly plot.
March 10, 2011
I was surprized at how awesome this movie was! My boyfriend loved it and he's hard to please. We are really anticipating the sequals!
March 10, 2011
Entertaining, never a dull moment. Nice special affects.
March 09, 2011
Good times!!!