Idlewild - User Reviews
Thank you for rating this movie!
Read your review below. Ratings will be added after 24 hours.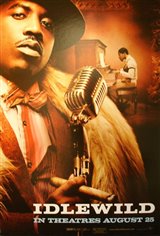 ---
Please rate movie 1 to 5 stars
Showing 1 to 22 of 22
January 07, 2018
Best Musical I ever seen .
December 09, 2006
I thought it was a great movie.
November 14, 2006
i really love the movie it shows the true and real personality of andre`& big boi much love and keep iot coming your baltimore mami kilae
September 24, 2006
Wonderful movie, exciting, entertaining and faced pace. I will definitely see this movie again and buy the DVD.
September 20, 2006
Very good movie, I was entertained from begining to end. Some innovative camera work done as well. Shame alot of people might pass on this movie, it was good. Also Paula Patton is simply stunning...
September 10, 2006
Amazing movie. I would see it again. People need to see this movie. OUTKAST does a great job.
September 10, 2006
Wonderful Movie, Great Music
September 05, 2006
Great musical numbers, but cliche plot and lots of slow scenes really bring the film down.
September 03, 2006
It pushed the boundaries, however, it seemed like just one long music video and did nothing for the talents of Andre and Antwan other than as musicians.
August 31, 2006
EXCELLLLLLLLANT!!!!!!!!!! WORTH THE MONEY!
August 30, 2006
Great movie.
August 30, 2006
Great movie with a terrific plot...
August 28, 2006
This movie was amazing! It should have been in one of the top spots for opening weekend. The story line was good, the cinematography was excellent! Outkast did a very good job as their characters in the movie.
August 28, 2006
Loved the dancing.
August 26, 2006
A movie with a unique story with a old fashioned look.
August 26, 2006
It`s hard to know what to spend your money on to see these days.Well,going to this movie was money well spent!!
August 26, 2006
Beautiful dancing. Great enthusiasm. I really enjoyed this movie.
August 25, 2006
I thought that it was an amazing piece of art. From the moment the credits began I could not move my eyes from the screen. Outkast was wonderful. The music, the acting, and the directing was all just wonderful. I would recommend this movie to anyone that is interested in watching a wonderful piece of art.
August 25, 2006
IDLEWILD IS PURE ENTERTAINMENT!!! THIS IS FILM IS GREAT!!!
August 25, 2006
The acting was well done by the two stars... I was able to watch them play out their characters without thinking of them as members of OutKast, but as actors. I didn`t like the casting of "Angel", however. She had the worst southern accent I`ve ever heard. I found myself cringing everytijme she spoke rather than listening to what she was saying.
August 25, 2006
This is a very exciting fast paced movie. The dancing is fantastic. One feels the joy of the church services and can empatize with the problems of the key actors. Well done!