If Beale Street Could Talk - User Reviews
Thank you for rating this movie!
Read your review below. Ratings will be added after 24 hours.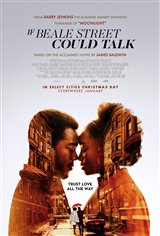 ---
Please rate movie 1 to 5 stars
Showing 1 to 24 of 24
March 10, 2019
I rated this movie a 5, because I live in a retarded area of the country where our uneducated populace prefers Trump and fantasy to books by great homosexual writers, even when there is no depiction of such in this movie. Maybe enough fives will make the movie chains cobsider bring it to my retarded area, Stuart, FL, PSL, included consider showing it. Oh silly me, people here never heard of James Baldwin, much less read his books.
February 26, 2019
The Only Best Picture Oscar that was not even nominated.
February 07, 2019
This is a beautiful movie, though it is extremely painful. However, that pain is a true reflection of America's dreadful treatment of people of color. This is touching and real and a piece of art. All white folks in America (I am one of them) should see this beautiful film.
January 30, 2019
Perhaps the most devastatingly true movie I have ever seen. As a white woman who worked as a teacher and then a community counselor in an impoverished black and Mexican community in the 1960s in California's Central Valley, I was in and out of the homes of the children's families, knew the parents well, listened to their stories. The film tells it all, with wonderful actors, and the slow pace adds to the anguish and truth. And, as others have remarked, it still goes on. How could anyone call this beautifully filmed and acted tragedy bigoted? Among other things, it is great art.
January 28, 2019
Slow moving, acting was terrible other than Regina King, ended up walking out.
January 28, 2019
Lousy. No cohesiveness, drawn out scenes, bigoted. Sorry I spent my money to see this.
January 24, 2019
Didn't care for the movie, but I love Regina King - even though she was so so much better in Congeniality 2 with Sandra Bullock. Her performance in that movie was Fantastic.
January 23, 2019
It was very slow. The story was good, but it wasn't done very well. The story was choppy. The should have shown things better.
January 20, 2019
I will watch this movie again when it comes out on video,because I may have missed something . I can't agree with all the great reviews . To me it was long and boring. I was fighting to stay awake and wishing for the end. A great story ,and some great acting so I will reserve final judgement until I view it again .
January 19, 2019
Too slow just the message is good but delivery is very bad and nothing special about this movie.
January 17, 2019
much too slow for my liking.
January 17, 2019
I don't understand the hype about this movie. I was really looking forward to seeing it but was disappointed. It was so slow and melodramatic. "The Green Book" was so much better in depicting the struggle and racist issues that black Americans dealt with every day.
January 16, 2019
This was an ok movie and nicely done period piece. I don't quite understand all the hype about it being so great, because on a scale it is just down the middle of the pack for me and my husband. I'm a big Regina King fan and think she is way underrated as an actress, but I really didn't see anything worthy of a nomination for anything in this film. Maybe the main female lead, but that is being generous. I really wanted to love this movie, but just can't summon up anything more but it was ok to pass a couple hours. I felt like it could have been so much more and the ending was lackluster and left the audience hanging.
January 15, 2019
Excellent movie—beautiful love story (love on many levels); outstanding actors; and the director did superbly at bringing James Baldwin's book to life. Highly recommend that everyone see this movie. 🔥
January 15, 2019
TOO TOO SLOW .... acting was good, but got too tired watching the movie
January 13, 2019
Another excellent film that few people will see. This is a film about love, but not just a story of young love, although certainly that. We see parents' love of infant children, and older parents' love of adult children, and sisters loving sisters. The over-riding theme is the horrendous struggle of black people 50 years ago---worse than now, BUT not enough worse. The movie is riveting.....Guru Bob....90/100
January 13, 2019
fell asleep. Very very slow . Movie could have been made by/of anyone.
January 11, 2019
Excellent movie and would really like to see a sequel. The movie showed true areas of poverty and discrimination on the way people are living and still being treated unfairly today
January 10, 2019
Ponderous, shared brutality of poverty and discrimination, and left me feeling even more guilty.
January 04, 2019
Great story, great acting but sad reality like other reviewers have mentioned that nothing much has changed. Two thumbs up.
December 29, 2018
A comparison can easily be made to the story of Romeo and Juliet. The two young actors Tish and Alfonso embraced their roles. Regina King was superb. Her emotional connection to her entire family was real. The love the two people shared was powerful. They waged a war that continues today. Brilliantly directed. Worth all award consideration.
December 27, 2018
This film is a good tribute to the writings of our great Black American writer James Baldwin. If one wants to really know intimately the black experience..this is a great introduction..then read Baldwin.
December 27, 2018
The acting was excellent. Kept my attention through out the entire show. So much that I did not how long it was until after it was over. I give it a 10 on a scale of 1-10 Drama range. A must see for a Mature audience.
December 26, 2018
A treasure of a film. Actors are superb. Gut wrenching knowing how so much has NOT changed!! A must see.