In Her Shoes
Thank you for rating this movie!
Read your review below. Ratings will be added after 24 hours.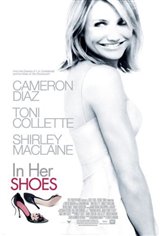 ---
Please rate between 1 to 5 stars
Showing 1 to 37 of 37
October 12, 2006
Since I have a sister, I can definately relate to this film. And anyone who has a sister will be able to realate. I was actually blown away by Cameron Diaz`s acting talent. I never knew she was that good. It`s definately got some heart.
May 23, 2006
Better than I expected it to be. Cameron Diaz is not pretty by any stretch of the imagination, but she has a certain quality that draws people to her.
March 14, 2006
This was a sweet movie and it was very sad at times. However, I didn`t like it. It was very slow and boring and seemed to have no end. Also, it was very obvious. Needless to say, I won`t be watching it again.
March 13, 2006
EXCELENT WELL THOUGHT OUT AND CAST FILM!
February 16, 2006
Such a sweet and real story. The writer obviously knew some modern women. It made me laugh and cry and feel great at the end.
February 15, 2006
Absolutely wonderful!
February 07, 2006
Wonderful story, superb casting..rent the dvd and watch special features to see how much effort went into every aspect, right down to the pictures on the walls.
February 06, 2006
I thought this was a sweet film about facing reality and taking charge of your life.
January 28, 2006
Stereotypical, one dimentional character played my Cameron Diaz made me question her age (was she sixteen or twenty nine???)! Made me feel bad for this sister, as tragic and miserable nicolette...movie was really nothing beyond the shoes. And Im an advid sex in the city fan, hoping for some real drama. It was dissappointing. Only good part was seeing Shirley Mclaine.
December 07, 2005
It was a good movie, 4/5, I wished I had read the book first cause I bet it`s an amazing read!
December 01, 2005
It was good, pretty long though. Toni Collette is always amazing. Cameron Diaz did well. She really got an opportunity to show that she IS an actress, and not just a pretty face. I recommend it to girls, go with your friends.
November 04, 2005
Excellent movie - funny, warm-hearted, and intelligent.
October 24, 2005
Maybe I should have read the book first, because I HATED this movie! It was very long and seemed to have no end. From the beginning the plot is obvious and I absolutly hated Cameron in this film. Her age is actually starting to show and Toni is horrible to look at on screen. I actually fell asleep for parts of the film. It simply stated the obvious...I don`t even recommend it for a rental. - AJ
October 23, 2005
Of course the book is better! Please read the book, Jennifer Weiner is a great author. Some of the plot is much easier to swallow when you`re reading a book rather then seeing it on a big screen. However, I did like the choice of Cameron Diaz and Toni Collette as the sisters. I happen to have an overly dramatic sister, so I enjoyed and was able to relate to that aspect of the movie!
October 22, 2005
Excellent Movie. Very natural, like watching real people. I could really relate. Two different lifestyles, and you find the reason for it. The characters are very well developed and there are many storylines. It speaks about what makes a person. The family problems are relatable. And FYI, a lawyer would quit their job, why not? I can perfectly understand people just need to let go sometimes.
October 22, 2005
One of the worst movies I have ever seen. Just as bad as" Nurse Betty"
October 21, 2005
omg i luved this movie but it was soo long
October 17, 2005
stupid film and a stupid plot!!!!!!
October 15, 2005
it was a great movie, funny and sad at the same time
October 13, 2005
It`s such a well made film! Curtis Hanson`s movies are always a delight to watch.
October 13, 2005
Great movie, really enjoyable a total girls show.
October 13, 2005
Stupid movie, as if a lawyer would all of a sudden quite her job and become a dog walker, yeh right, believable story!!!!!!!!
October 12, 2005
A good movie with a believable story line. Great acting by all three main actresses. The only downside was that it was a little too draggy at times. Overall a 6.5 out of 10.
October 11, 2005
dumb movie
October 11, 2005
Not good at all. Was very disappointing.
October 10, 2005
ALERT!! CHICK FLICK!!! Waste of money, don`t know how cameron diaz is Hollywood`s highest paying actress.
October 10, 2005
Good movie! Definite `chick` and `cool guy` flick. Anyone who thinks Toni and Cameron were overacting doesn`t have experience with siblings. I highly recommend this movie and would definitely see it again.
October 10, 2005
Ther story unfolds slowly, but is full of twists and unexpected surprises. A warm movie. Great for watching with a sister.
October 10, 2005
Great Movie! I just finished the book, and the movie was right on! Great movie to see with your sister!
October 09, 2005
NOT GOOD! Typical fluff but oh so bad due to the overacting by both Toni Collete and Cameron Diaz. The director is trying to evoke emotions in the characters that are just not believable and I found it frustrating as a viewer. Way too many closeups of Toni Collette`s teeth. The one saving grace for the male viewers is Cameron`s backside, over, and over, and over. Otherwise just predictable, boring fluff and once again OVERACTED.
October 08, 2005
I really enjoyed this movie. Highly recommended!
October 07, 2005
Finally! A thorougly enjoyable romantic dramedy with wonderful performances. Cameron Diaz will break your heart, Toni Collette is brilliant and the ever-so-wonderful Shirley MacLaine never disappoints. Guys, don`t let the `chick flick` label scare you off! Just go see it!
October 07, 2005
I think this was the best movie of all time. Diaz offers a stunning portrait of a woman just trying to have fun. The must see of the fall! Bravo.
October 07, 2005
this movie rocks!
October 07, 2005
Awsome movie
October 07, 2005
IN HER SHOES IS THE BEST ROMANTIC COMEDY I`VE SEEN IN YEARS!!!
October 07, 2005
j`ai bien aimé ce genre de film. il est léger et il nous montre des leçons de vie qui sont plutot rares de nos jours. cela fait du bien de voir que cela existe encore du monde normal, avec des problèmes qui ne sont pas insurmontables, quand on y met du sien. je le recommande à tous.