Incredibles 2
Thank you for rating this movie!
Read your review below. Ratings will be added after 24 hours.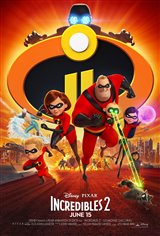 ---
Please rate between 1 to 5 stars
Showing 1 to 50 of 66
May 17, 2019
LOVE THIS MOVIE! TOTS AMAZINGLY AWESOME!!!!!!!!!!!!!!!!!!!
February 26, 2019
No Pun Intended, but it was INCREDIBLE, the lighting and story again Pixar kills it !
December 24, 2018
Probably a 3 but had to give a 4 rating because of Jack Jack.
December 24, 2018
The kids in this were so bratty. I loved that the kids in Mary Poppins Returns were so polite and helpful, but I guess that's a bygone era when parents were actually hands on and taught their kids manners.
September 22, 2018
This movie is terrible. My family thought so too. First one was the best for sure. This didn't even meet the first one not even by a long shot. They should just give up and not even make another one
September 21, 2018
Our 3 year old grandson is obsessed with this movie. He ask to go to the movies every week to see it again.
September 11, 2018
The Only Good Parts were with JACK JACK ! The Flashing in the movie was a Dumb Move Disney !!!!!!
August 22, 2018
I loved the original (13 views in theatre) and while hopeful for this one, it's hard to live up to a predecessor that was so perfect. I was not so hopeful after watching a disclaimer played before the movie, on how big a task it is so many years later to do a sequel..felt like an apology before the movie even started. Was good, but a little ..underwhelming. It was missing, something
July 30, 2018
This film was a great tribute to the original "Incredibles". There were several reoccurring characters which really tied the whole film together, some might argue that because there were so many characters some characters were under used; including the beloved "Frozone", I would have loved to see more of him in the film. Other than that, there was a wonderful balance between comedy and action in this film and I definitely recommend that you watch it.
July 26, 2018
Fun family movie. Love the action.
July 26, 2018
I thought the First one was a little better but still some funny parts and loved the Funny lady. Only problem was the Intense Strobe lights for this Animated film that Disney could have done with out that I was warned about. It's not for everyone there were 2 to 3 sequences of 2 minute full screen strobe lights. The Cinema did have a warning about this but I thought it was one very short Sequence but I was wrong.
July 24, 2018
This was a great movie with lots of exciting scenes.
July 23, 2018
The kids loved it and so did I!!
July 20, 2018
Good fun movie. A little slow as they built the plot, but got moving once they had that done.
July 20, 2018
Total disaster. Don't watch it. First one was way better then this. This was boring and garbage at the same time. Don't waste your time and money.
July 20, 2018
Good family movie. Watched in 3D with granddaughter and enjoyed it.
July 18, 2018
Very funny movie. Nothing dark in the movie. Scary? Naaaa.
July 17, 2018
Baby Jack -Jack is so cute and funny
July 17, 2018
Edna won't return my calls. :(
July 17, 2018
I loved it, its such an amazing movie with great plot twist
July 17, 2018
TOO DARK AND TOO SCARY FOR CHILDREN
July 17, 2018
I absolutely loved this movie. I think that the characters were hilarious, especially the baby Jack Jack. It was humorous, mysterious, and had a bunch of wowing moments. I suggest you to watch this movie with the whole family.
July 17, 2018
I didn't want to see this movie my granddaughter did. I'm glad I did, I enjoyed it.
July 17, 2018
The baby character in the movie was the best. I watched this movie two times.
July 17, 2018
My heart is yours, Edna.
July 17, 2018
Should have been called The Incredible Elasticagirl; the rest of the family (including the dad) did very little hero stuff. Frozone did more than the other 4 family members. I enjoy strong female lead movies, but this was over the top.
July 16, 2018
Based on the trailer alone, not worth buying a ticket for. I don't like his attitude regarding adoption of children.
July 16, 2018
animation great, but a bit slow
July 14, 2018
Great kids movie, no blood mess or death. Good for parents who don't want their children exposed to that sort of stuff.
July 11, 2018
A fun kids movie but also a movie for adults. We had a good time watching this movie.
July 11, 2018
I loved the Racoon part with the baby. Watching this movie was the right choice to had a good time. This what some movies are about it.
July 11, 2018
I think this was a funny movie. I watched this movie without thinking about all the drama some people make with the characters. I found very silly the previous post. Lol.
July 11, 2018
Do NOT watch in theatre, another Disney politically correct betrayal. Rent it when it comes out, then buy it if you still wish. 12 of us went to see the movie with our kids, so far none of our ratings have remained up. The first movie was so popular because it hit the anti-PC nerve, 'everyone special means no-one is'. Fans fed up with feminist social just warrior movies, remakes ANYTHING against men, traditional families, romance. As two of the original producers complained, the reason the obvious sequel blocked decades through 7 Shreks, because Disney demanded the story turn into feminist superiority again. It's NOT the movie we all found sanctuary in for dad, mom and kids. It's another politically correct betrayal. All our posts have been removed, we'll try all at the same time this time and hope someone notices.
July 10, 2018
Sorry I took my son to see this film. I had really pumped it up to him as the first one was so good. Was not impressed with adding swearing (hell and damned) to a movie aimed at children. Also, the characters saying "Oh my God!!" as opposed to 'Gosh' was also surprising. I know this isn't a big deal to most people, but using this phrase in our house is not allowed. And of course my son picked up on this right away and had a bit of a sense of embarrassment and confusion about it, knowing this is something that is taboo for our family. I also found myself uncomfortable trying to explain to him why in a children's movie these 'adult words' and use of the word God in such a way was even necessary.
July 10, 2018
An excellent family film that everyone can enjoy. The plot moves along at a good pace and it is easy to follow. However if you haven't watched the first film you may be a little lost with the incentives of some of the characters. The action and comedic scenes are very good but there are a few moments where there are strobe lights used throughout the film. It can be pretty difficult to watch at times in a theater and those who have epilepsy should steer clear.
July 08, 2018
This was total trash. Should never have made this one. Make a first and then leave it alone especially if it takes you 14 years to make the next. Don't waste your time and money. Not even on cheap Tuesday. If they make a third I will not support it
July 07, 2018
Enjoyable movie. No swearing. I loved it.
July 07, 2018
is is new, fresh and a very exciting sequel to the movie. i will definitely buy this as soon as it comes out.
July 05, 2018
It was ok first movie was better
July 04, 2018
I am glad to see that the focus was about the mom this time! It was also great to see the stay at home dad for once & allowing him to figure things out for once! The kids stepping up to save their parents & friend was nice to see also! Family & friends coming together to work as a team to accomplish something & not having the same main hero was one way of saying that the hero sometimes isn't always the biggest but the team that works together! GREAT JOB! BTW-our kids loved it!!
July 03, 2018
Excellent movie.
July 02, 2018
A good movie just could have done with out the strobe lights
July 01, 2018
An amazing fun movie to watch. All ages. The romance between the super girl and the normal kid was very interesting. We had a blast watching this movie.
July 01, 2018
This movie was very funny. I loved the animation and the hard working dad.
July 01, 2018
Worst movie ever. Terrible sequel. Money grab
July 01, 2018
Worst movie of the year. Boring and really slow. The girl doing everything was terrible. The dad had to babysit for 3 quarters of the movie. Terrible. Will not see the third because this did not even match the first one. My expectations were not even high and it still didn't deliver. Don't waste your time and money. Really bad
June 30, 2018
The kids and the baby robbed the show. Best movie ever.
June 29, 2018
Great animation from Pixar. I loved the Japanese movie short film too. Pixar always bring fun stories. I watched without analyzing the body shapes. Lol This is just a movie with super heroes and villains. Chill out please.
June 28, 2018
It was okay at times, but why do the girls/women have 12 inch waists? The guys had ordinary, maybe even a little bigger than normal waists. I guess this kind of stereotyping is to be expected since it was written and animated by a man, but I wouldn't take any girls to see this. Also, the scene with the raccoon was offensive. All raccoons want is to live peacefully and get something to eat. What's wrong with that? Especially if it's in your garbage and you don't want it. But the animators drew him as if he was evil. Raccoons aren't evil and that's another stereotype that makes me sad.