Invincible (2006) - User Reviews
Thank you for rating this movie!
Read your review below. Ratings will be added after 24 hours.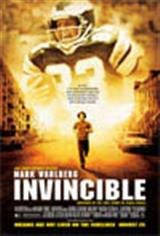 4.13 / 5
User Rating
Based on 1239 votes and 89 reviews
---
Please rate movie 1 to 5 stars
Showing 1 to 50 of 89
January 13, 2007
Rarely do we get movies that pleasantly surprise you these days. Most are predictable and many are a repeat of something you have already seen many times. This movie is different. Seldom predictable, and very entertaining by all actors who take part in it. A must see, and one of very fiew that would be worth purchasing!
January 08, 2007
Good storyline and great acting by Mark Wahlberg, but it was kind of boring. Sorry... 3.5 stars
January 05, 2007
I thought it was super and even better than what I expected because of the movie critics. A movie I can add to the ones I would buy so I can watch it again.
January 02, 2007
A thrilling movie....lots of heart and truth in friendship.
December 28, 2006
This is such an amazing movie and everyone should see it!!
December 26, 2006
very well done but only 4 stars because it was so slow at the beginning. It`s rated G but my 6 yr. old daughter didn`t want to see it.
December 22, 2006
I really greatly enoyed the movie. Plus, it`s always great to watch movies that are actually based on real life events!! These are really usually the best kind of movies.
December 22, 2006
wow great love this movie too. gota get it.
November 08, 2006
Disney does it again! Great one to see.
October 07, 2006
MUST SEE! OUTSTANDING!
September 29, 2006
An amazing story made into an absolutely beautiful movie.
September 24, 2006
Pleasantly Surprised!
September 21, 2006
good entertainment
September 20, 2006
good entertainment
September 18, 2006
A well done performance by Mark Walberg, Greg Kinner and cast. It was a heartwarming and inspirational film about an ordinary man who becomes a football hero. A great movie even if you don`t like football.
September 18, 2006
great football and inspirational movie
September 16, 2006
It was the ebst Movie I ever saw
September 15, 2006
it was wierd
September 15, 2006
Wife liked it I w3as... well pleasantly surprised
September 10, 2006
great movie, but TOOOOOOO SHORT! FELT INCOMPLETE.
September 09, 2006
a good movie which could of been great with fewer cliches-- still, go see it -- definetly worth your time -- the football sequences were really good -- some touching and heart-warming moments.
September 09, 2006
great movie great cast.my wife and i loved it and she doesnt watch sports
September 09, 2006
It made me cry
September 08, 2006
Wahlberg`s best since PLANET OF THE APES.
September 06, 2006
Great movie! But if you`re looking for a hard hitting, testosterone filled football movie- this isn`t it.
September 02, 2006
truly uplifting, and inspirational movie. Even a football hater would love it.
September 02, 2006
Invincible is about a wannabe who got to be. Mark Wahlberg did an excellent job portraying Vince Papale. This movie had some really hilarious moments and some really tense moments. The footage at the end of the film was good to. I wouldn`t totally recommend seeing this in theaters, but if your a really big Eagles fan or just a big football fan for that matter, go see it with a bunch of pals. C+.
September 01, 2006
good entertainment
August 31, 2006
Quite an action movie.
August 31, 2006
This film is a Knock Out.very good
August 30, 2006
good movie but the vince guy ran funny
August 30, 2006
Great movie.
August 30, 2006
started out great with a good plot and a good soundtrack, but after two songs, "NOTHING", no more Croce, no more BTO, "NOTHING". what happened. did they go overbudget?
August 30, 2006
A good sport movie.
August 30, 2006
good movie
August 30, 2006
This was a great movie! I know there are a lot of sports movies out there but this one is exciting (not to mention that Mark looks fantastic!!) and the time flies when you watch this movie - so that`s how I know it`s good. Definetly worth the 13 bucks or whatever it costs ya at the theatre!
August 30, 2006
excellent entertainment. Wahlberg terrific actor.
August 30, 2006
Amazing, and truly motivational. It`s just another ra-ra sport`s movie, but they never get old. There`s one for every generation, and this "Rudy" lover thought it was great!!!
August 30, 2006
Even though I`m not a big Football fan I really like true stories, and I thought that this Movie was very good, and well done. Good performances by all the main actors.
August 30, 2006
great movie
August 29, 2006
Passable Disney movie where the underdog triumps by overcoming some hardships,(broken marriage,working class roots ,mother dead from some illness)No new ground broken and the main character seems to be a humble man who does not forget his friends or background.A rare family type movie in this day and age of ego driven"superstars"who are overpaid and seem to think because they are "superior" athletes that this makes them "superior" people.A good film for anybody that remembers those painful drills and the joy of playing football.
August 29, 2006
I left the theatre smiling!
August 29, 2006
GREAT SPORT MOVIE. 3 STARS
August 29, 2006
I really enjoyed this movie. It had a great story line. I would recommend it to friends even if they don`t like football.
August 29, 2006
The movie truly captured the essence and ambience of 1976 with the soundtrack
August 29, 2006
I loved this movie. A great balance between storyline and football, real characters and a fabulous soundtrack. And a point for the ladies, several shots of Mark Wahlberg walking AWAY from the camera!!!
August 29, 2006
The american dream amid the backdrop of hard timed
August 29, 2006
loved this movie
August 29, 2006
this is a wonderful feel good movie.