Iron Man 2 - User Reviews
Thank you for rating this movie!
Read your review below. Ratings will be added after 24 hours.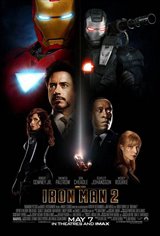 4.03 / 5
User Rating
Based on 1795 votes and 455 reviews
---
Please rate movie 1 to 5 stars
Showing 151 to 200 of 455
July 13, 2010
I was somewhat disappointed in Iron Man 2 because the first one was so amazing. The jokes, the acting & the story line itself was surprising. So i was expecting alot from Iron Man 2 but they tried to do to much & it just didn't work. Some of it was just needed it all. They tried to cram to much into it, leaving out a good story.
July 13, 2010
It was a good movie!
July 13, 2010
Loved it!!! I thought it was just as good as the first one, and that's saying something!
July 13, 2010
Iron Man 2 was a pretty good movie with the all the spectacular special effects.
July 13, 2010
If your a comic fan, its fantastic, a great story continuing into the ultimate event with the Avengers movie. If your just a movie goer, you will love it for a great story, a fantastic sequel to the first one, and lots of action to go with a well written script
July 13, 2010
I WAS VERY DISAPPOINTED IN THIS MOVIE, BECAUSE I LIKED THE FIRST ONE SO MUCH. THIS ONE WAS SO MUCH INFERIOR, LACKING IN STORY LINE, JUST CONTINUAL BUILDING CRASHING AND WATCHING ROBOT-LIKE CHARACTERS FIGHT EACH OTHER.A VERY HO-HUM STORY LINE AND I DIDN'T HAVE EMPATHY FOR THE MAIN CHARACTER BECAUSE THEY MADE HIM OUT TO BE SO ARROGANT! I FELL ALSEEP FOR 20 MINUTES IN THE MIDDLE OF IT. AM TOTALLY STUMPED AT HOW IT HAS BEEN GIVEN SOME OF THE HIGHER RATINGS FROM SOME PEOPLE!
July 12, 2010
Great action packed movie yet again! Love Iron Man
July 12, 2010
Action-packed, enjoyable if a little predictable, overall very entertaining.
July 12, 2010
Though the plot is strikingly similar to the first instalment, this sequel does a pretty good job of keeping the magic going. Downey Jr. hasn't lost his Tony Stark, and although his pal Rhodie looks and sounds a little different (a whole lot more like Don Cheadle), the interaction between the characters holds up well. Supporting characters make a bigger impact here, and the action is just as good - not to mention Mickey Rourke.
July 12, 2010
My whole family really loved Ironman! The stoyline, action/adventure, graphics, special effects, characters, costumes, etc. It was a fun movie that we all enjoyed.
July 12, 2010
I loved the quick wit and banter of Iron Man and Miss Potts.
July 12, 2010
Very entertaining. There were a few moments I had to look past some of the implausible uses of technology in the film but it was overall very entertaining and with more depth than expected.
July 11, 2010
Great addition to the first one.
July 11, 2010
Loved it, and wasn't expecting to. Robert Downy Jr. is a fabulous actor who can pretty much play anything. What I thought would be nothing but a shoot 'em up movie was actually funny and intelligent as well.
July 11, 2010
Fantastic movie! Who doesn't love Robert Downey Jr.! Very enjoyable
July 11, 2010
good action
July 11, 2010
not as fun as the first
July 11, 2010
Takes off where Iron Man 1 left it. Lots of action and great take doen scenes
July 11, 2010
not as good as the first but still enjoyable
July 10, 2010
Pretty good but I liked the first movie better!
July 10, 2010
Fantastic action packed movie that serves at a great sequel to the first. Robert Downey Jy plays an egotistical role very well
July 10, 2010
A good combination of actors makes the movie. Robert Downey Jr. plays this role to perfection. Don Cheadle makes a great sidekick. Gwyneth Paltrow gives her part just the right touch. And just how evil can Mickey Rourke be?
July 09, 2010
Great Movie, not as good as Iron Man 1, but what movie is....
July 09, 2010
Enjoyed it a lot. Not as good as the first but still fun to watch.
July 09, 2010
Great sequel to the first movie. More actions but, the story line is weak. They put to much attention to the big boom, the flying, the hot girls and cars but, to little on the story line.
July 09, 2010
A decent sequel, but still not really living up to the promise that the series has. Still worth seeing though.
July 09, 2010
Doesn't compare to the first movie. Fairly entertaining, but I would have rathered them spend more time on the Iron Man story versus The Avengers movie.
July 09, 2010
I thoroughly enjoyed the movie especially Mickey Rourke's character. It was fast-paced and had a great storyline. However it did fall short in comparison to the first original movie.
July 09, 2010
Excellent sequel. The villian was very good.
July 09, 2010
There used to be a time when sequels were hardly ever as good as the first movie. There were a select few titles where the follow-up surpassed the original although few may now argue that oft-times, they can't officially be sequels if they're part of a series. For fans of the movies, it's "The Godfather Part 2" that's the high bar while current moviegoers might cite "The Dark Knight" (the sequel to "Batman Begins") as the sterling example. ("Spider-Man 2" or "Spider-Man 2.1" if you prefer, and "X2: X-Men United" are also prime examples where the follow-up surpasses the initial attempts.) So where would Iron Man 2 fall?
July 09, 2010
Entertaining and what I expected although my husband was a bit disappointed and thought the first movie was better.
July 09, 2010
I'm not a big fan of sequels but this one was half decent.
July 09, 2010
whats not to like about this movie.
July 09, 2010
great movie. robert downey jr was great and the plot was surprising and funny
July 08, 2010
Not as good as the original, in my opinion. I didn't like that the cast had changed, not a fan of Don Cheadle. I liked Terrance Howard.
July 08, 2010
Way better then the first alot more armour battles well lets face it is what iron man is about.
July 08, 2010
Terrific movie. Need to see it again to get all of Downey's one liners. Too bad the soundtrack sold wasn't the actual soundtrack of the music from the movie. I really wanted to buy it but didn't when I found out they had just put all ACDC songs!!!! What's up with that? Since when are CD soundtracks of a movie NOT the actual music from the movie!!!
July 08, 2010
almost as good as the first one
July 08, 2010
Classic Robert Downey Jr. with lots of action and excitement.
July 08, 2010
Good movie - not as exciting as the first Iron Man.
July 08, 2010
Loved this movie, but the final fight scene could have been longer and more climatic. It just seemed too easy for them!
July 08, 2010
Great movie! Mickey Rourke was awesome as Whiplash!
July 08, 2010
It was an okay movie. I preferred the original. It looks like they're building up to an Avengers movie bringing in characters like Nick Fury and Black Widow.
July 08, 2010
As usual Robert Downey Jr. does not disappoint. Mickey Rourke plays a good crazy dude. My only problem with it was the plot involving the health concerns, which was slow, and the confusion surrounding Iron Man's relationship with Pepper Potts.
July 08, 2010
Fun, well made, and can't wait for Thor
July 08, 2010
I really liked this flick. A lot of people felt it wasn't as good as the previous film. It wasn't as simplified as the first Iron Man...there is a lot more going on in this script. This film also didn't really have the weight/seriousness of the first film. I don't think that any of these differences took away from this film, I just think the first Iron Man constructed film goers expectations in a certain way and they weren't fulfilled because the sequel played very differently. But still very enjoyable!!!
July 08, 2010
Good story as far as continuing to establish new characters.Lots of action and humour scattered throughout. Nice lead-in to Thor at the end.
July 08, 2010
I didn't find it as good as the first one but it was still good.
July 08, 2010
Shellhead and company are back, and ups the ante
July 08, 2010
Solid sequel, but it just doesn't gel like the first one. ETX presentation was way, way too loud.