It's Complicated
Thank you for rating this movie!
Read your review below. Ratings will be added after 24 hours.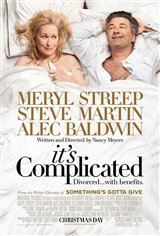 ---
Please rate movie 1 to 5 stars
Showing 51 to 93 of 93
January 11, 2010
This movie had my Husband and I laughing out loud. My Husband is very fussy and sometimes falls asleep in movies. He wouldn't even go to get popcorn once it started because he didn't want to miss any of it. Alec Baldwin was beyond funny. Meryl and Alec should work together again.
January 11, 2010
My Husband and I laughed like we haven't laughed in a long time at a movie. It was so funny. We knew Meryl and Steve could carry comedy but who knew Alec Baldwin was so funny? I'd go see it again and will get it when it's on DVD.
January 11, 2010
Loved it! Who doesn't want to laugh? I think I have a crush on Alec Baldwin now.
January 10, 2010
Went by myself.......felt giddy watching movie. It made me laugh out-loud. What a hoot! I am the same age of the suppose main actors ...who work well together. A must see!
January 10, 2010
I normally do not like going to the movies because I am typically disappointed, whether or not the film is popular with movie critics or not. This time around I was very pleasantly surpirised. Julie & Julia, to me, was a disappointment. The film did not really hold my attention. It's Complicated on the other hand was quite funny, held my attention, I laughed and was realistic, NOT predictable like some moview critics have said. The film is more of a "dramedy" and I applaud Meryl Streep she did an EXCELLENT job and so did Alec Baldwin (boy did he pack a few pounds) & Steve Martin looked great. Definately worth seeing!!!!
January 09, 2010
Great movie!!! Can't remember laughing out loud as often. Always love Meryl and Steve, but cannot remember seeing many moview with Alex, but he was halarious. You did good!!!!
January 09, 2010
Don't waste your money on this golly..geee brady bunch b.s movie!!! you d think it's be funny the only funny thing is Steve Martins plastic surgery nightmare of a face hello botox..ok teh Alec baldwin/lap top scene is ORIGIONAL hello no..everythings been OVERLY done this movie is simple simple simple, teh kids are all crusty lil preppy mofo's cuddling in bed at 27-30 bc mumma and poppa got a divorce..aww group hug everybody...and Agnes the typical younger wife of Alecs what a waste ppl, don't even dvd this movie..Hello HOLLYWOOD get some better scripts you do spend millions to produce yet you produce nothing worth seeeeeening.
January 09, 2010
This movie is intelligent and laugh-out-loud funny... it even made me an Alec Baldwin fan (he stole the movie-- hilarious!). Streep is wonderful. Martin is cute despite some of the movie's weakest moments involving his character.
January 08, 2010
AMAZING.Meryl streep is GREAT.
January 08, 2010
fantastic movie. Must go back and hear what I missed while I was laughing....which was most of the time!
January 07, 2010
Nothing special with a few laughs.
January 07, 2010
Best comedy I have seen in years. I cannot brag about it enough. Everybody needs a good laugh once in a while with all that is going on in the world, and it brings you back to the good old days. Characters in this were the best ever. I will buy this to put in my collection, and when I am down I will watch the movie again. GREAT GREAT MOVIE YOUNG AND OLD.
January 05, 2010
I actually laughed out loud!! Good time!
January 04, 2010
This movie was funny! Alec Baldwin is hilarious and Meryl was just as awesome. Everyone will love this movie.
January 04, 2010
Very funny!
January 04, 2010
Super funny movie! I was laughing pretty much the whole movie. It's not just for older, more mature people. I'm only 22 and loved it.
January 03, 2010
I rate this movie 5 stars because it was absolutely amazing and hilarious! I love every movie with Meryl Streep in it, and this one especially. It was like watching reality unfold. The acting by everyone was fabulous. This movie is definitely aimed at an older, more mature crowd but at 20 years old I could still relate. This movie gives divorce hope! I would recommend this movie for a date or any couple!
January 03, 2010
Wife's pick and it was a good movie, good acting, funny and entertaining.
January 03, 2010
best movie I've seen in along time. really funny a great movie for adults it's about time most movies are geared for younger adults this was geared for 30 plus the cast was amazing Steve martin and Maryl Streep have that certain something going on. great casting.
January 03, 2010
the script of the movie was very well written. The movie is funny and yet it carries some serious dilemmas about relationships. I cannot agree with the writer more.
January 03, 2010
very funny, although not a good example of marriage. Not for children to see.
January 02, 2010
frnny as hellll
January 01, 2010
This was a very funny and believable movie!!
December 31, 2009
Loved this movie...so funny. Meryl Streep and Alec Baldwin are great together. Wouldn't mind seeing them in another movie again. Steve Martin was funny...as usual. It's a must see you won't regret it.
December 31, 2009
It is not complicated to love this amazing movie. One of the most funniest films of the year.Excellent acting and entertaining.Go, see it, and enjoy it!
December 31, 2009
great date movie, sooo funny, couldn't stop laughing
December 30, 2009
Definitely for an older (mature??) crowd. Well written and acted. Meryl Streep as always amazing. It is not out and out hilarious, but it is amusing and all the players are nice. 3 stars
December 30, 2009
Somewhere between 3-4 stars... Baldwin was good, Streep always on target...
December 30, 2009
A funny movie,Meryl Streep and Alec Baldwin are great together.Hope they do it again.
December 30, 2009
So good. I kept laughing!
December 29, 2009
Excellent movie. Very pleasunt to watch and well done. Thank you.
December 29, 2009
i loved this movie, very funny! meryl and alec were hilarious! the supporting cast was pretty good too. i was not expecting to like it as much as i did, the whole audience laughed out loud, which made the movie better! you should see it, not a chick flick, guys will like it too!
December 29, 2009
Recommended for both men and women
December 29, 2009
What a great movie for middle aged women. Get the girls together and head out to see this. It was hilarious. Take the tissues, cause you will laugh until you cry.
December 29, 2009
Suprisingly funny!
December 28, 2009
Really cute movie! A lot of laugh out loud moments, however, was extremely distracted by the poor editing job as you could see the boom mic in almost every scene. Not sure how that could have been missed repeatidly in final production, but no less, a funny light movie!
December 28, 2009
My wife and daughter loved it; I went home... it was not of interest to me at all. Found it boring and it did not keep my interest for more than 10 minutes till I walked out 1/2 way thru. Waste of time/money. Nathan
December 28, 2009
This is a fantastic movie - just loved it! People were laughing out loud in our theatre - go see it....you will not regret it !!!!
December 27, 2009
Really enjoyed it. Although, Alec Baldwin should have lost some weight and had a wax job.
December 27, 2009
Hilariously funny movie. The trailers didn't spoil it, there's much more fun in the movie.
December 26, 2009
Wonderful movie, Meryl Streep is perfect, and Alec Baldwin plays his part to perfection and Steve Martin, well he is excellent. Life, love and excitment does not end at 40......this movie is a must see!
December 26, 2009
If your mind is open to some humor you should like this one. More then once the entire theatre was laughing out loud. I enjoyed it and I am in my 30's and my mom did as well and she is in her 70's.
December 26, 2009
Great couples movie soo funny!