Jane Eyre
Thank you for rating this movie!
Read your review below. Ratings will be added after 24 hours.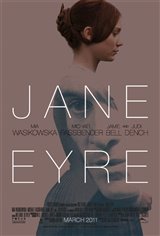 ---
Please rate between 1 to 5 stars
Showing 1 to 48 of 48
December 26, 2011
Well acted but a snore.
November 10, 2011
very dissappointing movie.
August 22, 2011
love the book - disappointed with this movie. Individually, it had everything; the right cast, the right look...but it fell flat somehow.
August 19, 2011
Excellent movie. Well worth my time.
August 04, 2011
I enjoyed it very thrilling!
August 03, 2011
Somehow turned the most boring book in the world to a movie worth watching. Bravo. The artistry was outstanding!
August 03, 2011
Trailer looks excellent! Looking forward to seeing this movie...a nice change from the lame movies out there.
August 03, 2011
enjoyed very much I would love to travel there!
August 02, 2011
Fabulous, so well done.
July 31, 2011
not as good as the book!
July 30, 2011
Oscar worthy in every way. Hopefully this one doesn't go un-noticed. It is one of the most ambitious and genre bending films of the year. It's what you would get if you took a Jane Austen novel and adapted it into a gothic world.
July 29, 2011
Beautifully done and very romantic. I really enjoyed this movie.
July 28, 2011
If you love English lit and British culture, this is for you.
July 28, 2011
Jane Eyre is an absolute classic and I enjoy viewing different versions of such a wonderful story. The movie was quite well done and can be measured against the movie version of Sense and Sensability by Emma Thompson. Each time a remake is made the fear is that it will not adequately represent the previous versions which were unarguably great movies.
July 28, 2011
Always a lovely period film and romance as well. Really enjoyed it.
July 28, 2011
Liked the movie, although it was a little too buttoned down for my taste - preferred the version from 2006 on PBS - but I really enjoyed how they spliced the film to future and back as this made it interesting and mysterious, even when you knew the story. Definitely worth seeing and very atmospheric.
July 28, 2011
Did we really need another movie version of Jane Eyre? I can't say, but had to take a look just the same. Everyone was well cast and the atmosphere was suitably grim. I cared what happened to these people and that's a testiment to good story-telling.
July 28, 2011
love the scenery ann story. witch I could go to London and see the Area where it was made.
July 27, 2011
Worth seeing as movie is loyal to this great novel!
July 27, 2011
Loved the book and the movie as well!
July 25, 2011
This movie is good but far from my expectations. Both actors are very good and in tune. The problem is with the changes; to remove Bronte's jewels and pearls and replace them with cheap glass will only damage the film. Closer they stick to the novel, which is the epic of the enduring love, and far they stay from false melodramatic scenes, better will be. Every time that I read the novel, I am moved to tears, which I can not say for this movie. The only version close to the book is 1973 british series. Ariana
July 25, 2011
Wonderful clean movie. Loved it
July 25, 2011
This movie was ok.
July 24, 2011
pretty good movie
July 17, 2011
I enjoyed this movie
July 17, 2011
Good but not the best one.
July 16, 2011
This version is a bit slower than previous versions of the story (it doesn't hold a candle to the version with Samantha Morton as Jane) but it is still well acted and worthwhile. Micheal Fassbender is not a spectacular Mr. Rochester but is still a great actor to watch.
July 14, 2011
A classic presented in true to original form.
July 12, 2011
I've always loved the novel by Bronte, but this film does the book justice. Well acted. I MUST own this on DVD.
July 11, 2011
one of my favourite books and this adaptation is good
July 10, 2011
Sumptuous sets and costumes, cool period dialogue, a spunky but courteous 19-year old girl who never gives up, and dramatic tension without gratuitous sex or violence...what's not to like? Bonus: my wife was moved to tears for 24 hours.
July 10, 2011
Good but not great
July 10, 2011
Beautiful movie. One of my favourite storie re-done very well. Would watch it again.
July 09, 2011
Very true to the novel. Stunning cinematography. Excellent casting; excellent acting.
July 08, 2011
this movie was beautiful. i haven't read the book, so i can't say whether it was a good adaptation or not, but the actors did a great job of displaying their emotions
June 20, 2011
I've never seen a better movie based on a book I love. Fantastic!
June 01, 2011
the first Jane Eyre film that actually used dialogue from the original novel and only ommitted small details from the novel for a better film, WELL DONE!!!!!
May 28, 2011
Extremely well done. I prefer this version to the BBC version.
April 24, 2011
I loved it! It was wonderful. I think the 2006 BBC version is the best one before this one. This one is a little fast; as if the characters weren't fully developed like the BBC 2006. Mind you, the BBC version had 4 episodes so I can't really compaire. But people should definetely watch this movie!
April 17, 2011
the best version of the book I think...casting was more age appropriate than previous versions and Micheal Fassbender was brilliant as Rochester...i would have liked to have seeen a little bit more of Janes life at the school and her friendships within but the movie captured the essence of what Janes life quite well..
April 15, 2011
Funny and well shot but this movie is so truncated and Mia is not up to the acting job so it's a middle of the road rating for me. The book is much more powerful. Read it first before seeing it.
April 14, 2011
How can an idiot give this movie one star without even watching it. Biased moron!!!
April 07, 2011
this version is quite pleasing to the eyes, no new or amazing touches, but adequately done.
April 06, 2011
The only reason I am giving one star rating is because I have not actually seen the movie therefore I cannot really make a fair judgement as of yet. But I would like to make a response to one of the user reviews below that Jane Eyre was a "Hum drum" book. I hardly believe that Jane Eyre was a hum drum book. It is a true classic and it is a very complex and rich story and Bronte clearly put a lot of effort into it. And I think that the fact that somebody considered making a film on it (and for that matter that so many people have made tv adaptations in the UK) says a lot about its lasting impact and sensation on people till this very day. The film looks promising and I hope it will stay close
April 04, 2011
Hard to drum up a hum-drum book, but this movie did a decent job.
March 28, 2011
very believable performances. Riveting drama!
March 18, 2011
I really liked this version of Jane Eyre. Nice casting, well acted and the setting/scenery is breathtaking. It covered most of the important elements of the novel, no real complaints as to what was left out. Totally enjoyable. Much better than the William Hurt version.