Jason Bourne - User Reviews
Thank you for rating this movie!
Read your review below. Ratings will be added after 24 hours.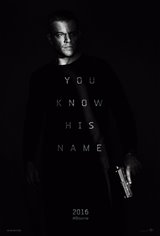 4.18 / 5
User Rating
Based on 968 votes and 100 reviews
---
Please rate movie 1 to 5 stars
Showing 1 to 50 of 100
November 06, 2018
I LOVE ALL THE JASON BOURNE MOVIES
April 18, 2017
Great movie hope they make some more with Matt Damon
December 29, 2016
Brilliant! Just keeps getting better, pure action, the jason Bourne movies are pure genius. The entire series is amazing! Def highly recommend watching hands down.
December 14, 2016
the first two bournes
December 09, 2016
His movies get better and better love the car scenes and action.
December 08, 2016
loved the movie, the whole series is one of the best ever.
November 24, 2016
I love the Bourne movies. Bourne is Bourne!
November 04, 2016
action. Not R rated!!
October 24, 2016
A very good bourn it was action packed and really mind bending
September 14, 2016
I can summarize this movie in just one sentence.....Jason (or someone else) walking quickly towards some locale, while glancing nervously over their shoulder to see if they're being followed....that's it in a nutshell.
September 10, 2016
What is with the camera movement - everything always seemed blurry. I am liking this actor less and less, poor acting and poor plot, very predictable. Also filming editing was pretty bad as it did not make sense how some scenes fit together as they would be one place and then another but nothing explaining how. C'mon Hollywood give us a good movie - the summer has been very lame for movies.
September 10, 2016
Ok - 3 stars is generous ... car chase scene was cool although Dodge should look into why the air bags did not deploy after Jason's car was visibly destroyed except for ... this is laughable and we laughed... the drivers side door which was in pristine condition. The movie is OK but not great - the acting at the beginning was poor with both Matt and his co-star from the last movie reciting their scripted lines almost like they were reading them. Movie got a bit better but this one is nowhere near the other Bourne movies and if they are going to revive the franchise then please make a better movie.
September 07, 2016
Jason Bourne lite. Slightly disappointed with this one. I was expecting more.
September 05, 2016
It could have been so much better. Mostly one 'action' shot after another with not much to tie it together. Movies like this need more than a great car. It needs really interesting plot, dialog and George Peppard. We need to find new leads with the brains to draw us in. I love action movies, spy thrillers, cars etc but there was too much missing as it tried too hard to duplicate the comedy 'Spy'.
August 29, 2016
Great action packed movie. Matt Damon is great.
August 26, 2016
I enjoyed the movie and Jason Bourne and look forward to any sequels you make. Matt is a great actor. I rate it 5 star but every time I clicked on it the stars turned red and I thought that might make it a negative.
August 26, 2016
I enjoyed the movie and Jason Bourne and look forward to any sequels you make. Jason is a great actor. I rate it 5 star but every time I clicked on it the stars turned red and I thought that might make it a negative.
August 23, 2016
All the action you could see on the tv .
August 21, 2016
Good, great action sequences. Matt Damon still has us rooting for him in his return to the franchise.
August 21, 2016
Action packed ..... the best Jason Bourne movie yet .... those that do not like it stay at home and knit sweaters.
August 21, 2016
A little too much gratuitous violence long past when the scenes have any useful contribution to the plot. I've read all the Bourne novels and enjoyed them considerably more than I did the movie.
August 20, 2016
Loud lots of silly action,repetitive car chases
August 19, 2016
Money grabbing terrible sequel. Shame on all behind it.
August 18, 2016
Predictable. Hard to watch the movie with the lead actor talking about gun violence but his films often times glorify guns and violence. Typical follywood hypocrisy. I will never watch another film with this asshole in it. He is a LITTLE PUNK...and I mean little in the physical as well as the mental aspect.
August 16, 2016
AWEsome auto wrecking action and editing, find peace in chaos.
August 14, 2016
Boring,repetitive, unoriginal
August 14, 2016
If you like the other Bourne movies, you will like this one. But I am looking forward when Jason can find some peace.
August 14, 2016
Too much movement of cameras. You come out feeling nauseous
August 13, 2016
Lots of action as expected. From some reviews we expected this to be a dud. However it was 2 hours of good entertainment.
August 13, 2016
AMAZING MATT DAMOND IS AWESOME
August 13, 2016
They implemented Treadstone and Black Brier and now it's Ironhand? "Jason, you can't go on living this way" ...ouch! Now we find out that Jason has Daddy issues as well and that Deep Dream (Ahem...Facebook) is working with the CIA to spy on everyone on the planet? They should have quit after the second movie. Save your money. Watch this one at home.
August 13, 2016
It was entertaining. Go Matt Damon!
August 13, 2016
I am a big fan of the Jason Bourne franchise but this entry is like a copy of all the other Jason Bourne movies. I walked out!
August 13, 2016
The other movies were great and this one even better. I bet he'll top this or it will equal to Jason Bourne.
August 12, 2016
I love Jacob Bourne and this one did not disappoint, can't wait for the next
August 12, 2016
Definitely not as good as the first 2. I would not recommend this movie
August 12, 2016
MATT DAMON STILL GOT IT
August 12, 2016
Good action as expected from a JB film. Glad he's back!
August 12, 2016
worst of the franchise. Damon needs to retire.
August 11, 2016
Jason Bourne = Machine
August 11, 2016
It's an amazing movie, just incredible!!!!
August 11, 2016
Jason Bourne is an exciting, action-packed summer film.
August 11, 2016
A good movie. If you think some scenes were too long and the movie somewhat boring - try housework for decades you will know what boring is.
August 11, 2016
Great movie, keeps you wanting on edge....
August 11, 2016
I am a big Jason Bourne / Matt Damon fan, so I am easy to please. The right % of hard action, with a story line -kinda- in second place of importance.
August 11, 2016
Great movie!! Loved it!!
August 11, 2016
This was the most disappointing movie I have seen in ages. Same old boring storyline. I wish I had saved my money.
August 10, 2016
The movie seemed to be filmed with "Go-Pros". It was irritating and boring. Sure the special effects were great but the length of the chase scenes will make you laugh. Fonzy definitely jumps the shark in this mindless, plot-less remake.
August 10, 2016
Completely predictable from painful minute to painful minute with the same old stunts. I didn't expect academy award dialog but at least some intelligent conversation would have been appreciated. Truly a remake with a few different cars exploding, in a different city. A very expensive disappointment.
August 10, 2016
GREAT MOVIE, NON STOP ACTION