Jeff, Who Lives at Home
Thank you for rating this movie!
Read your review below. Ratings will be added after 24 hours.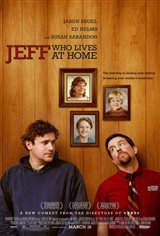 ---
Please rate movie 1 to 5 stars
Showing 1 to 38 of 38
May 30, 2013
fun, odd movie
October 03, 2012
Really great film ... I was dubious for the first 20 minutes, but I hung in with it and boy am I glad I did. What a great movie. Funny, clever and heart warming. Actually watched it a second time with my wife and enjoyed it as much as first time around.
September 24, 2012
i really enjoyed this heart-felt movie. susan is still as lovely as ever. funny yet serious and found myself in jeffs character. laughed and yet cried. one of the best non chick flick movie in a while!
August 09, 2012
a bit odd, but an enjoyable film. ed helms is hilarious.
August 05, 2012
really good movie, lots of funny parts and crazy non stop action..
June 21, 2012
surprisingly interesting and thought-provoking film
June 20, 2012
hood movie - some laughs and much more intelligent than originally expected. ed helms is great in this movie.
June 04, 2012
jeff needs yo move out an be a man!
June 03, 2012
such agood film!!!! everyone can see and connect it
June 02, 2012
too silly for me
June 02, 2012
not a bad little movie. good to watch at the theatres on sunday
June 02, 2012
entertaining enough!
June 01, 2012
i thought the movies was excellent and was very impressed with jason segel's performance. it was a very interesting way to look at the world.
May 31, 2012
a fine movie to enjoy!
May 30, 2012
i didn't find this one funny at all. sort of a waste of time and $$$
May 26, 2012
jason segel is surprisingly good in this movie.
May 25, 2012
a surprising and thought provoking movie.
May 23, 2012
a movie that is very reflective.
May 23, 2012
an interesting movie, at the end you find that you have been charmed by a quirky film - great characters.
May 22, 2012
an interesting and introspective movie.
May 22, 2012
although a bit slow, some good laughs and thought-provoking material
May 21, 2012
makes you think about how things work out in life.
May 20, 2012
was a different movie than i expected.
May 19, 2012
a surprising and heartwarming movie.
May 19, 2012
very underrated comedy with a superb cast
May 10, 2012
movie was ok....some laughs, a bit boring mixed with some interesting moments.
May 02, 2012
decent movies with some laughs
April 30, 2012
entertaining dark comedy....liked the performances, especially by ed helms. good movie.
April 09, 2012
decent flick.
April 09, 2012
good movie. ed helms is hilarious in this film and keeps the movie entertaining.
April 03, 2012
good light-hearted movie!
April 02, 2012
good, but not great. some good laughs.
March 31, 2012
if he was living at my home he'd be out on his ass...
March 29, 2012
very entertaining dramedy.
March 27, 2012
good movie. a bit dark and more dramatic than anticipated, but overall a decent movie.
March 25, 2012
liked this flick. thought the casting was really good and the overall story was interesting, funny and a bit touching at times. well done.
March 20, 2012
i'm sure his family wishes he'd move out.
January 03, 2012
This is one of the best movies I have ever seen! One minute I was laughing so hard I was crying, the next minute I was actually crying! A very touching story with a great deal of comic relief! Well done!