Jet Li's Fearless - User Reviews
Thank you for rating this movie!
Read your review below. Ratings will be added after 24 hours.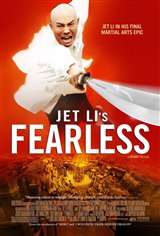 4.27 / 5
User Rating
Based on 6627 votes and 57 reviews
---
Please rate movie 1 to 5 stars
Showing 1 to 50 of 57
August 02, 2011
It was an amazing movie! I just really enjoyed the movie as an whole, it was so great. It actually moved me to tears, ah it's so deep, don't miss out on watching it if you have the opportunity!
April 12, 2007
I thought it was a wonderful martial arts film. The only draw back was the mountain scence. They could have made the other charactors more involved with his life.
December 24, 2006
Jet li`s last and best movie, 10 out of 10 in my books. One of the best movies i`ve ever seen
December 18, 2006
jet li is a lot better then bruce lee he should be put down in history as the greatest of all time
December 06, 2006
i like you get li je vous aime beaucoup je suis trŠs intŠresser … toi .j`ai vue tous vos films sont les meilleures je cherche … savoir ta vie t`es le meilleur tu sais je dŠsir que j`apprenne le wishun et les ars martiaux le kong fu de toi mŠme i like you very much
October 31, 2006
Great movie! Action, storyline, moral. Sweet
October 22, 2006
Very good movie from Jet li again. But ending was sad..We want to see more of jet li soon..
October 19, 2006
This movie really sucked!...it was 1 of the most boring movies we have ever seen in our life!...a waste of time & money...if u go c this movie...decide if u want 2 go & read...or watch them & not know what they`re saying...u can`t enjoy the whole movie if you`re trying 2 do both...unless, of course...u can understand them...Zzzzzzz
October 14, 2006
Those people who thought this movie was bad don`t know anything about martial arts and/or they obviously watch movies that no one but themselves like.
October 12, 2006
This movie is excellent,in my opinion it has the greatest plot of any of jet li`s movies. Amazing story, even better acting, overall a very epic tale of one man`s struggle to become the best. A must see for anyone who enjoys great fights and a great story.
October 12, 2006
for those ppl who compare this film with house of flying daggers or crouching tiger, they obviously don`t know what they are talking about. First, fearless is based on a real person, so yes.. they don`t fly all over the place like a lake or top of trees. secondly, it took place in a city in china during the hardest time of the chinese ppl, so don`t expect to see good background or nice clothes.
October 12, 2006
Great movie. If this is really Jet Li`s last martial arts movie then what a way to go. There are some really crazy fight scenes in this one, and a LOT of them. But that`s not to say the story is lacking, it`s actually a very interesting and moving true story. Two thumbs up!
October 09, 2006
this movie is crazy good
October 05, 2006
Fabulous movie. A wonderful tribute to Wushu and Huo Yuanjia. Let`s hope that it is not Jet Li`s last M.A. film
October 04, 2006
best movie ever!! nice fighting too!
October 04, 2006
Huo Yuanjia had a very interesting life and didn`t deserve to die the way he did. Jet Li did a very impressive role in portraying Yuanjia. Great scenery throught the movie.
October 03, 2006
vere good movie
October 02, 2006
This movie sucks if you`re a martial arts fan.Didn`t like it!!!!
October 02, 2006
This is NOT Jet Li`s LAST movie ... However, this will be the last time he is in an epic martial art movie (OUATIC series, Fong Sai Yuk series, Hero, Tai Chi master). He was filming Rogue in Vancouver with Transporter Jason Statham. I know because I was one of the stunt man that he killed in the beginning.
October 02, 2006
Fantastic movie. Well acted. Cinematography beautiful. Fight scenes inspiring. Splendidly displays the value of honour this culture has upheld for thousands of years. If you enjoy well scripted movies that both visually and cognitively enchant go see this movie or at least rent it.
October 01, 2006
This movie rocks if your a martial arts fan.Loved it!!!!
October 01, 2006
This fast action, ass-whooping, kung-fu fighting movie surprisingly entailed a good plot and character development! I noticed that many of the teenagers sitting in the back of the movie could not concentrate on the movie. My guess the subtitles were too much for them to handle.
September 30, 2006
Worth every cent. go see it!
September 30, 2006
Absolute perfection!
September 30, 2006
Bad movie. I can`t believe how many positive reviews there were on this site. It is NOTHING NOTHING NOTHING compared to Hero House of Flying Daggers, or Crouching Tiger. The cinematagraphy was weak - nothng beautiful about it. It was poorly directed, filmed, and edited. I can`t articulate had badly I was disappointed. My girlfriend and I are going to watch Hero on DVD today just to make up for it.
September 29, 2006
This movie was very enjoyable. Even though it was subtitled, My bf and I both enjoyed it. Great Action, Great Fight Scenes, Great story and passion! Jet Li is an amazing actor. A MUST-SEE FILM!
September 29, 2006
absolutely amazing, i think my favorite Jet Li movie, right up there with "Hero"
September 29, 2006
GREAT MOVIE! I loved it, and it is one of my favorite movies. The movie has great fight scenes but it also has a meaning. One of the few movies that moved me.
September 28, 2006
i rest my case...education is lost.
September 27, 2006
i love this movie...jet as now set a new trend for an action epic..it was captivating stunning and masterly beautiful. as a movie goer, it was the first action movie of the year that was able to move me and got me standing up in the theatre trapped in a distinctive amazed. To all movie goers fear less is a 100% must see.
September 27, 2006
i like this movies because it is last movie do jet li this movie is so sad but i like.
September 27, 2006
"Fearless" is an excellent movie. Jet Li is, as always, superb in his role. - The great one will be remembered always in martial arts movie history. Peace.
September 27, 2006
i saw this in china a year ago, and it is a great movie with great meaning...for you people out there, learn some grammar and spelling before you critize other things.
September 26, 2006
This movie is just ok.VERY IMPORTANT--This movie is not in English
September 26, 2006
This movie is the BEST among his films in the past 5 years. It`s a definitely must-see!
September 26, 2006
i saw jet li`s final martial arts epic like at least 5 years ago in hong kong....but besides that fact, movie was alright at first but got kind of boring towards the end
September 25, 2006
it was just horribe acting
September 24, 2006
jet li is the best he still making movies but not epic movies anymore his new movie coming call rogue hes the bad guy in that one a mafia leader. and hes discussing a role with jackie chan
September 24, 2006
Our worst enemies are our best teachers.
September 24, 2006
this movie sucks os bad
September 24, 2006
That was so good!
September 24, 2006
Bruce Lee meets Hidden Dragon - action movie with a cool plot.
September 24, 2006
An Action packed Jet Li! Plus has a message of redemption. And even the subtitles, help to bring out the magic of this one. See it, you won`t be disappointed.
September 24, 2006
A beautifully told story....incredible cineotography! The cheography will leave you on the edge of your seat.
September 24, 2006
so pround f him.
September 23, 2006
Enjoyed it but not the best martials arts film ever. Though it brought back memories when I was a kid watching Bruce Lee films with my Dad.
September 23, 2006
Great film..amazing!!
September 23, 2006
Amazing Film. Great Storyline, Best Action I`ve Seen, and It had a message that everyone can learn from. Revenge only leads to more bloodshed. A true accomplishment and awesome film to make his last martial arts epic. Well Done.
September 23, 2006
Unlike Jackie Chan, who does his own stunts,he barely does actual martial arts fighting nowadays, putting like, 98% comedy, 2% action. Jet Li, though still fights as a martial artist, and he proves it in his last martial arts movie. Go see it, it`s well worth your time. And Jackie, please put half action, half comedy!
September 23, 2006
If this is Jet Li's last martial arts movie, then he has taught people who either want to be a martial artist, or people pretending to be martial artists at school, that when fighting and kicking some serious !#@&, also put pride and honor in your victories and your losses.