Jimmy Neutron: Boy Genius - User Reviews
Thank you for rating this movie!
Read your review below. Ratings will be added after 24 hours.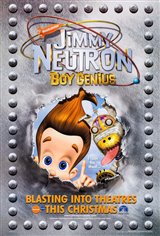 3.13 / 5
User Rating
Based on 1071 votes and 36 reviews
---
Please rate movie 1 to 5 stars
Showing 1 to 36 of 36
March 20, 2005
this movie was amazing hilarious and action packed and it was just fun to watch it!!! any 1 who trashed this movie needs there head checked by a doctor because this movie was the best....definitley on eof my favourite movies!
July 17, 2002
Dear James Iceic Neutron (Jimmy) I really liked it.It was cool,sad,and brave.My sister and I are going to get Jimmy Neutron on our birthday. It is my top ten favorite.Ricky.
July 09, 2002
It`s a fun kid movie.I think that little kids would enjoy a lot.
July 03, 2002
it was to good
April 01, 2002
It was funny and cool. dustin (8) & mikaela (6)
March 26, 2002
Dear Jimmy N. Cast: I raely liked the movie. I took my friend to the movies to see it with me the first day it got out. My favorite part of it is when they are all trying to build something to make them able to fly to a planet where the parents are trapped and the Jimmy and his friends have to save them. Jamie
January 20, 2002
I Thought it was a good movie and I`m 11. I don`t care what other people think. The movie was great!!!!!!
January 13, 2002
The kids sat through it and followed the story. They liked it. They are 5. Enough said.
January 12, 2002
SO BORING OMG, U HAVE NO IDEA. LIKE SHREK HAD INSIDE JOKES FOR OLDER PEOPLE BUT THIS MOVIE WAS ALL KIDDY CRAP, DON`T SEE IT, IT WAS HORRIBLE.
January 10, 2002
This movie was the BEST, most AMAZING movie I`ve ever seen! I can`t stop buying tickets to go see it! I can`t wait for it to come out on video! This movie is about a genius, made by a pure genius himself! The voices, characters, the plot, the setting, the names, the imagination and creation is so perfect! I LOVE THIS MOVIE!!!
January 07, 2002
This was the most amazing movie I have ever seen. Shrek`s got nothing on this fun filled sci-fi kiddie adventure.
January 06, 2002
tis movie suck sooo much..........DONT GO SEE IT! ITS A WASTE OF UR MONEY!!!! well, unless u got some 5 year old friend of bro who wants to see it anyone over 10 would not like dis movie!!
January 06, 2002
well i thought that it was great for a cartoon... but yeah it was REALLY funny Donc je pense que c`est tres bien, et tres drole!! lmao!
January 05, 2002
i took my nephew to see it and he watched the whole movie. Now that`s something.
January 03, 2002
i`d have to say , not bad for a KID movie. i only went to see it cause i had to go along with my brother, otherwise i wouldn`t have wasted 5 bucks on it. I find there`s nothing extraordinary with the plot, you know, it`s not one of those creative , smart , well written stories. I`d say Shrek is way better than it.
January 03, 2002
I think the movie was really cool.He envents cool stuff . I like it lotz!!
January 03, 2002
I think the movie sucked crap!!!!!!!!!!
January 03, 2002
It was the greatest movie I`ve seen. It was funny and had alot of teamwork and I enjoyed it!
January 02, 2002
this was awesome
January 01, 2002
too much for children 6 year old was bored and scared not enough laughs
December 30, 2001
Pretty Good, as some one said, it should be up there with Monsters Inc. and Shrek... ...
December 29, 2001
it was so cute but i think little kids would enjoy it more than i did
December 28, 2001
its good
December 26, 2001
it is the best movie ive ever since
December 26, 2001
Adorable, lovable, and extreamely funny! Should be up there with Shrek and Monsters Inc.
December 25, 2001
it is smart, cool and a bit funny!!!..
December 25, 2001
JIMMY NEUTRON:BOYGENIUS THE MOVIE IS TAIKING ABOUT A GENIUS BUT THE PERENT HS BEEN STOLD BY STUIPD ANIMAL SO THEY SAVE THE PERENT THNKS TO THE JIMMY NEUTRON BOY GENIUS.
December 24, 2001
crapy,that movie was so boring!
December 22, 2001
it is smart and cool
December 21, 2001
Just brilliant....and funny!!