John Carter - User Reviews
Thank you for rating this movie!
Read your review below. Ratings will be added after 24 hours.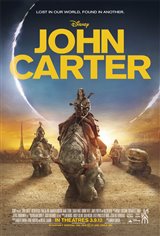 ---
Please rate movie 1 to 5 stars
Showing 1 to 50 of 90
September 18, 2022
Such an underrated movie. Much better than the predictable generic MCU borefest.
April 27, 2018
This movie definitelly doesn´t deserve the bad reviews from the critics. As for the Star Wars or Avatar influence, it´s in fact the other way because John Carter is based on books about 100 years old! These books were before Star Wars and it´s very likely that Lucas took some inspiration from them. Cameron even said in some interview he wanted to create a story somewhat similar to adventures of John Carter. Why this movie didn´t succeed is beyond my understanding because it´s much better than Star Wars prequels.
April 24, 2018
Funny sci-fi fairytale with cool aliens and alien creatures. Somewhat reminds me of Star Wars world.
December 21, 2012
This was one incredible movie, and the lead actor was perfect!
December 20, 2012
not nearly as bad as the critics suggest - good special effects, but a rather weak plot. Also, the lead actor was horrible...a moe likeable actor could have saved this movie.
August 05, 2012
this movie was very good amazing well done good job i say for the people who didnt like the movie you cant even tell a good movie when you see one the movie was not boring it reminds me of avatar
July 16, 2012
visually striking but the story is cliche ridden and way past stupid
July 09, 2012
given the bad reviews i initially read, i waited til this came to dvd. i wish i had not waited, as i was very pleasantly surprised by this movie. great fun and i want to see it again, maybe see it in a theatre somewhere next time. perhaps they should have used a different title, as many people may not have made the connection to edgar rice burroughs, tarzan, early american science fiction etc.
June 10, 2012
disney has done this plot to death for seventy years! lame and predictable. it's okay if you're under twelve years old, but if you're a true science fiction fan you will not get your fix from this one!
June 08, 2012
really enjoyed the movie and even bought the dvd
June 05, 2012
terrible plot
June 04, 2012
boring movie. easily forgettable. don't recommend this movie.
June 02, 2012
loved the movie
June 02, 2012
actually really liked the movie
June 02, 2012
enjoyed the movie wished there would be more to come
June 02, 2012
unusual fantasy movie.
May 31, 2012
such a good movie!
May 31, 2012
weird fantasy.
May 31, 2012
fun movie, good graphics/effects.
May 30, 2012
funny parts, but story was kinda boring.. just ok, but not great.
May 30, 2012
not normally a sci-fi fan but i found this movie very enjoyable.
May 28, 2012
amazing graphics! interesting storyling, overall i really enjoyed it.
May 25, 2012
great visual effects. the love story thing doesn't work, but still worth watching.
May 25, 2012
phenomenal effects/graphics and finally a sci-fi story line that i got interested in :) great plot and interesting ending!
May 25, 2012
best movie of the year
May 24, 2012
great movie, great special effects and now my son wants to read the books
May 24, 2012
amazing effects and interesting storyline. really enjoyed it!
May 24, 2012
i enjoyed it, the cgi was really good - the martians were fabulous, the action was a bit overboard at times - but i expected nothing less, a fun action movie.
May 23, 2012
i loved this movie, action adventure, it kept me thinking throughout!
May 23, 2012
this one was good. better than i thought.
May 23, 2012
liked the books and now the movie. are they going to do the rest of the story?
May 22, 2012
good movie i enjoyed it.
May 22, 2012
i thought this was a pretty good action adventure movie though it did drag a bit at the end.
May 21, 2012
plot was pretty good, and of course the action was great as well.
May 20, 2012
compelling story.
April 20, 2012
excellent movie, totally enjoyed every minute of it and would go see it a 2nd. time. don't miss this one on the big screen you'll be sorry if you do.
April 17, 2012
i felt like a kid again. such a great movie. go see it.
April 04, 2012
this is a wistleblower movie revealing mars!!!wakeup people!!!
April 03, 2012
was amazing to finally see this book come to the screen. an excellent adaptation of a book from my childhood, long before star wars.
April 03, 2012
you are either very entertained or very disappointed. lots of action interesting story. a little rushed through with some holes. very star wars like but don't compare it to the frist three.
April 01, 2012
i really liked this movie it had all that i like to see...good guy verses bad, romance, fighting, it was very entertaining! thank-you for bringing it to me! love always joannie :):):)
March 29, 2012
total big screen fun! everyone needs a little sci-fi action adventure in their lives.
March 27, 2012
the year's best comedy.
March 25, 2012
better than star wars? are you kidding, more like suck wars. john carter sucks.
March 24, 2012
wow wow wow!! this movie was fun!! taylor kitsch did an amazing job!! can't wait for battleship and i can't wait till they make part 2! my wife who hates sci fi watched this with me and a couple of other friends and loved it!! we watched it in avx 3d and it blew our minds. the only problem with this film unfortuanly do to disney buying all the right to comics is that this movie came from a graphic novel with blood sex and violence but unless your a hard core fan i must admit it was done true to the source of story line and you will appreciate it regardless. plz go watch it bring the kids and have a ride of your life wow!!
March 23, 2012
great fun!