John Wick: Chapter 3 - Parabellum - User Reviews
Thank you for rating this movie!
Read your review below. Ratings will be added after 24 hours.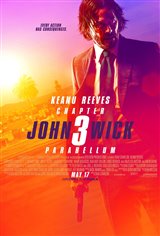 ---
Please rate movie 1 to 5 stars
Showing 1 to 50 of 90
September 27, 2019
excellent must watch for John Wick fans
September 19, 2019
One long shooting, slashing, fighting repeat movie. Don't waste your time!
July 29, 2019
Packed right from the start with incredible action!! Lots of killing though-if that gets to you-but ofcourse if it does you shouldn't be at a Wick movie!
July 28, 2019
Plot, chase scenes, unique action sequences. Dogs! And guns... lots of guns!
July 23, 2019
Just outstanding! Wick movies get better with each one!
July 21, 2019
Absolutely terrible. Loved the first two. This was a major disappointment. Obviously they were trying to capitalize on the series for more money
July 19, 2019
can't wait for 4, 5, and 6
July 18, 2019
Love the John Wick series - Keanu is perfect as John Wick !!!
July 14, 2019
We saw this movie 5 times just Awsumawesome!
July 10, 2019
Don't waste you money on this piece of crap
July 01, 2019
Wick is the best!
June 29, 2019
no real storyline...boring. too much violence. stupid. the one star is for the shepherds...loved them
June 28, 2019
Wicks movies keep getting better can't wait untill 4 and 5!
June 28, 2019
Worst of the 3. The dialog was idiotic. But the action was entertaining and you can't help rooting for Mr. Wick.
June 26, 2019
I can't wait for John Wick 4 !!!! Keanu works diligently to perfect his gun and fighting skills and he fits his character perfectly and I liked the addition of Halle and the trained dogs
June 24, 2019
Basically the same scene over and over. Don't waste your time and money.
June 21, 2019
I love the John Wick movies!
June 21, 2019
Action from the first scene to the last scene. If you have followed the series you will not be disappointed. One thing that many do not know is that he trains with firearms and can shoot as well in real life as he does in his movies..look it up on line. I will be back for John Wick #4, and every one if the series continues.
June 21, 2019
Walked out! Violent, no plot, too much action to follow.
June 19, 2019
Too much action, NO plot or story line. Keanu fought and fought and fought and fought and fought and fought an showed his phony karate skills. If you enjoy this kind of movie, you will be love it.
June 17, 2019
I love Keanu Reeves. I found the previous movies more interesting. I did appreciate the effort that went into all the fighting choreography, however, as others have stated, too much fighting, not enough story, a bit too graphic at times. I did leave disappointed. Keanu, I also would have liked to see you with a bit shorter hair cut this time. I realize that it is part of your character, but it's John Wick 3. You are a bit older, more mature, and a slight change in hair would have looked better. They could have found a nice balance in shortening the hair without changing the image too much. Halle seems to have the angry, tough woman roles lately. I'd like to see her in a role that shows other sides of her too, other emotions, different character roles. Kind of reminds me of Elizabeth Taylor who moved into raging, angry, screaming characters and stayed there. Maybe its just me, but that's how I've seen Halle lately.
June 17, 2019
Amazing choreography of fights, creative use of dogs and horses + of course classic gun-fu! My only complaint is that the final fight wasn´t the best from the whole movie. The best was IMHO that part with fighting dogs.
June 16, 2019
I loved the other two movies, but HATED this one. Non stop fighting, from beginning until I walked out. Horrific . No story, just fighting, stabbing, eye gouging, shooting.
June 15, 2019
It was an endless fight scene basically. There was more fight than story. I was very disappointed as I loved the last two movies. They just want to make another movie for a cash grab. They could have ended this perfectly as a trilogy if they had just cut out some of the fight.
June 15, 2019
This surpassed my expectations! Keanu Reeves is just amazing and the action is on a whole new level.
June 15, 2019
Awesome I like the John Wick movies. For me it is fantasy. Could do that in real life no. If you don't like blood or or cuts don't go but the way they trained for this movie action great betrayal by friends good or bad shows what some would do.
June 13, 2019
Endless killing without much story.
June 11, 2019
OMG what a horrible movie! My husband and I walked out after sitting uncomfortably waiting for it to get better, but it never did. I like Keanu, but this movie just didn't cut it. It did not do him justice. If killing, stabbing, shooting, slicing and dicing is your thing, then have at it! totally disgusting and a waste of money. I'm sorry, but I refuse to pretend that this movie was worth watching. I hated it. Can you tell???
June 10, 2019
If you like this kind of action movie you will enjoy this one..he doesn't have a lot of lines but he sure has a lot of killing and fighting to get through!! Not a dull moment!
June 09, 2019
Packed full of action and gun fu choregraphy...so awesome and exciting!! Had me sitting at the edge of the seat. Can't wait for John Wick 4!!
June 09, 2019
I watched this one twice in the theater. Keanu Reeves and Hally Berry spent 6 months training with live ammunition, and it shows. I wish I didn't have to wait two years for the next one.
June 09, 2019
To be a fan of John Wick takes a stretch of person's sense of entertainment and justice. One must enjoy swiftly administered death by a highly capable killer, done justly, as in 'self-defence' or protecting the innocent! I eagerly await John Wick IV. Halle was a sweet bonus!
June 08, 2019
I didn't think I could write a review about a keanu Reeves movie that I did not like. It was too boring, too repetitious, with very little plot. If you see the first 10 minutes it's only a repeat and downhill after that. I just had to see the gun fu choreography. Now that I know what to expect, I don't have to see you another one. And that saddens me because I love Keanu!
June 08, 2019
Best action movie ever! Cant wait until 4 and 5 come out
June 07, 2019
At an hour and twenty minutes in I suddenly realized I didn't care about these characters or the plot anymore and left the theater. I won't be watching any more of this franchise - it's just the same thing, over and over.
June 06, 2019
Great action and suspense from start to end. The producers are already working on 4 and 5. This should tell you how confident they are these movies are terrific!
June 05, 2019
Keanu as John wick again resets the bar for action, bad@* movies. Fight scenes, driving, acting and shoot out scenes are first class! Love it!
June 05, 2019
not much of a story. Keanu Reaves played his typical role w/ mediocre acting. Non stop killing. I like action, but beyond that, there's not much to this movie. don't pay to see this movie unless you really liked the first two. Wait for it to come out to the public domain (netflix for example).
June 04, 2019
I really like the movie and all the action. The only part I partially didn't think was realistic and I know this is a movie was the end where he was shot about 5 times and thrown over the top of the building and then bounced off steel railing and then hit the ground and lived. Kinda far fetched even for a movie
June 03, 2019
Along with John Wick 1 and John Wick 2, John Wick 3 represents one of the finest, hard hitting, professionally accomplished movie franchise in the history of high end action movies. They even have a tightly constructed Shakespearean screenplay built into the non-stop action drama. That is almost impossible to pull off, but the screenwriter, director, and main star did pull it off with a classical standard of the unities of plot, character, time, place, and theme. World class actors rise to the challenge in these John Wick action movies. The razor's edge action sequences appear flawless, but we know they are extremely dangerous to train for, stage, film, and edit in the film editing room. Appreciate the fact these movies hire expert-level military operatives who have been in combat and are heavily trained in advanced, deadly martial arts. It elevates the movie as a noble undertaking when they hire our military men and women and bring them into a high end professional movie production, like John Wick, the movie franchise. Allows the audience to understand just how dangerous are the missions undertaking by our Special Forces and Navy Seal operatives. Truly a remarkable achievement for the entire cast and crew. Extreme violence. Not for the faint hearted.
June 03, 2019
Best movie I have ever seen and I am 1187 years old, although Methuselah disagrees.
May 31, 2019
Great movie action from beginning to the end. Nothing boring in Wicks movies.
May 30, 2019
Worse than the previous two.
May 30, 2019
Chapter 3 is definitely the best movie in the franchise so far! Once again the action is on point and there is never a lull in the movie. Just amazing!
May 29, 2019
Best movie ever! Can't wait for number 4 and 5
May 28, 2019
Love all the action and blood. Best movies I have watched in a long time.
May 28, 2019
Totally awesome and now going to buy it!
May 27, 2019
Love the actor, but three in a row is too much. No story, no reasoning, just kill them all jaunda and it really gets old. Come on time for a plot and to allow audience to get to know the people involved..l will pass on another replay and hope for better things from such a great actor.
May 27, 2019
Great as always