John Wick - User Reviews
Thank you for rating this movie!
Read your review below. Ratings will be added after 24 hours.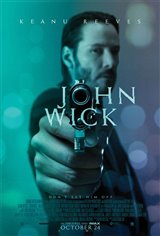 ---
Please rate movie 1 to 5 stars
Showing 1 to 50 of 53
November 26, 2016
He so bad ass in this film....great movie....simply classic...
November 26, 2016
Awesome movie ...waiting for John Wick 2 ....I am big fan of Keanu Reeves...
October 06, 2015
Good action, story....Keanu is awesome. I don't know why Tom Cruise is so popular. Go figure!
May 30, 2015
I loved this movie ! Keanu reeves is awesome in this movie
February 14, 2015
It kinda had a "Kill Bill" like vibe to it. Full on action practically throughout the whole movie. A definite guy movie, but as a girl at least it draws you in at the beginning with some emotion or I probably wouldn't have watched it. Keanu is straight laced as usual - at least he got mad in one scene at least (not really a big fan, but he does action well enough, but not emotion). The stunts and fights are flawless, and some great car/gun scenes as well. Kinda corny at times, but in a good way.
February 08, 2015
One of the worst movies I have ever seen.
February 07, 2015
awesome - he's back can't wait for the next one
January 26, 2015
It's one of those movies that is SOOOO BAD & SOOOO CHEESY its AWESOME.
January 22, 2015
good show gets right to it lots of action such wicked stuff in this movie that the car he drive at the end of the show has no engine transmission or drive train now thats a wicked car lmfao
January 11, 2015
Awesome... good action movie.
December 28, 2014
The movie is like the trailer. A little dialog and a lot of action. They weren't going for an Oscar. As long as you get that this movie was made as entertainment for men you won't be disappointed. If you saw the trailer and expected The Equalizer then it's your own fault.
December 15, 2014
Killing, killing & more killing....I don't believe this is a good thing! I won't own this movie at all. Great acting for every character....thanks for the watch! LOVE ALWAYS JOANNIE :):):)
November 30, 2014
Unusual motivations and world-building make John Wick a fresh, brilliant take on the vengeance thriller.
November 16, 2014
a revenge film. Not as good as the best revenge flicks but still better than most. If you're expecting more than that, well , that's your fault.
November 13, 2014
A foolish film and a waste of time and money.
November 11, 2014
Fantastic! I lost track of the body count - great action
November 09, 2014
too violent non-realistic. All of the battles are in the dim light which make it hard to follow who is beating who. I would give 3 stars
November 09, 2014
garbage ..waisting of time
November 08, 2014
This could be a great movie in the 80s' or 90s'. Like someone already mentioned,not enough meat and not as good as the equalizer. Better wait for DVD.
November 07, 2014
I loved it. Whoever said Keannu didn't display emotion missed the point. When they kill his dog he is dead to emotion and becomes a killing machine. It's harder to act without emotion. He played his part perfectly.
November 07, 2014
Tell me what happened?? Just a couple weeks ago Denzel Washington in The Equalizer killed all Russians (all 150 million) and they are all over America again! Does the movie call us to get our rusty guns out of the holes for the sake of humanity? If such mob movies make Americans happy the world is in a real danger. It's a low quality, highly politicized rubbish, I bet White Hose paid to create that one too. Minus 5 star to me - too bad there is no such option :(
November 07, 2014
So many holes in the storyline, action was entertaining but the more I think about the movie, the more I find wrong with it. The Equalizer was better on so many levels.
November 07, 2014
Oddly it's entertaining in a mindless, predictable way. It lacks substance.
November 06, 2014
Just Awesome!
November 06, 2014
this was awesome!! no nonsence to frills just action... loved it... well worth ticket price..
November 05, 2014
Complete nonsense! Too bad that Keanu Reeves agreed to play this role. Could not wait till it ends. Stay home!
November 05, 2014
Solid actioner from Keanu Reeves. Would love to see a sequel.
November 05, 2014
This movie is Amazing!! So much action, great story and acting. Love Mr Reeves! Don't listen to the bad reviews!
November 04, 2014
Awesome movie!
November 03, 2014
Great action and interesting plot, really great movie, kept me on the edge of my seat the entire time.
November 03, 2014
Average action flick that some how is getting great reviews???
November 02, 2014
Keanu is the wrong character for this movie you can tell he is acting and cannot portray emotions realistically ! Good action but doesn't compare to the equalizer
November 01, 2014
Unfortunately I saw the equalizer first which knocked this movie down about two notches. Its entertaining but there were many mistakes. Especially heros car a mustang that was not was it was described as, not even close. Dont people check simple things like that.
November 01, 2014
Excellent movie
October 31, 2014
Loved it, good story, action!!!
October 31, 2014
piece of s""t - for young boys ONLY
October 30, 2014
Quite good. Keanu Reeves is so well suited to this type of flick
October 30, 2014
Definitely full of action and Keanu puts on a great show!!
October 29, 2014
I do like Keanu despite his sometimes lackluster movie selection or performance. He is in good form here; this definitely is his type of movie. I would pay to see a sequel.
October 29, 2014
ACTION PACKED!! Haven't seen an action movie like this in a long time...and i want more! A prequel and a sequel! Keanu at his BEST since Matrix. Awesome!
October 29, 2014
One of his best movies... trying to forget Ronin and Tai Chi
October 29, 2014
Did not know anything about the film going in, but had lots of fun. Unexpected laughs, amazing supporting actors. Hope there is a prequel that brings all the characters back to find out what happened at the hotel 5 years ago. Good times!
October 28, 2014
Decent choreography and the director seemed to try to keep the movie realistic by I felt by keeping the movie more realistic by making the character reload a lot.
October 28, 2014
I was actually really excited to see John Wick. I didn't see any trailers and barely any advertisement, and it received rave reviews. I also haven't seen a good, PURE action film in a while (The Equalizer was mediocre). Well, though I found it to be slightly overrated, I was very entertained by John Wick. John Wick follows...John Wick: a retired hit-man seeking revenge on a group of mobsters who took everything from him. The plot of this movie is very simple, and seems a little clichéd for an action movie. There isn't anything new here, but the story is actually pulled off very well. It never gets too absurd or too dumb, yet it isn't taken too seriously. The thing I love the most about
October 27, 2014
great fun, awesome movie and i hope for a franchise. Keannu, welcome back to the speed of things,lol.
October 26, 2014
More entertaining than I had expected. Good pace through the movie. Potential classic.
October 26, 2014
Heart-breaking beginning with a beautiful ending.
October 26, 2014
So ridiculous it was funny. Unending and unrealistic shooting and killing! Kind of entertaining, though.
October 26, 2014
Awesome action packed! Well done!
October 25, 2014
80% of this movie is action sequence. They spend minimal time developing the back story but it is enough to give the rest a foundation. Keanou really outdid himself here. The action is great without the over the top Hollywood exaggeration. I definitely enjoyed the dark hum or in the movie. It was very entertaining, I would watch it again! an instant classic...