Jojo Rabbit - User Reviews
Thank you for rating this movie!
Read your review below. Ratings will be added after 24 hours.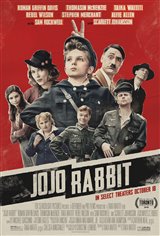 ---
Please rate movie 1 to 5 stars
Showing 51 to 62 of 62
November 12, 2019
I'd give it 10 stars if I could. It's rare that a movie of this quality comes around. Mainly a comedy with only a few distressing scenes which pass quickly. This is not a historically accurate documentary but is a fictional account of one boy's attempt to deal with the times he has been born into. Perfect casting of all the major characters makes it all the better. If this film doesn't win an Academy Award then it proves that Hollywood is corrupt.
November 08, 2019
It very epic, tikita waitika can do no wrong
November 08, 2019
Loved every minute. Funny, touching, well written, well cast, and well acted. Truly heartwarming. I rarely say "must see in theatres" but this film deserves it as it's beautifully shot.
November 07, 2019
Truly one of the best movies I have ever seen. Brilliant job of taking a very difficult subject and focusing on the human aspect of living in a time of great uncertainty.
November 04, 2019
This movie is a "10"
November 04, 2019
This is one of the BEST movies of the year or the last few years.
November 03, 2019
Really good movie. Saw it with my 2 girls 21 and 17 and they loved it as well. Funny, sad, well acted, all around a great movie to see with a great story.
November 03, 2019
Good movie to watch with a packed audience. All the actors are superb. The difficult subject matter weaves into comedy and seriousness effortlessly. The musical choices were also well done.
October 31, 2019
My 21 yo son texted that he 'cried like a man' at the end of this movie. He said it is among the best he he's seen. When he told me that a friend of JoJo Rabbit "stole the show" I was curious if the movie might be somehow a comedy that normalized or was sympathetic to the racist nationalism that led to WWII. He said, "No, not at all. It was sympathetic to the real lives of people who actually lived and died in that horrible time." The parallels to life today are frightening. That kids and families all over are experiencing the same realities in similar violence is sobering.
October 30, 2019
Genius writing! Awesome satire of the Natzi plague. The little historic details weaved into this script are as good as it gets. Movie Entertainment at it's best, look out Oscar her comes JoJo.
October 23, 2019
So funny, but surprisingly, quite heartwarming as well. So many hilarious performances, from Scarlett Johansson, Taika Waititi as an imaginary version of Hitler, Alfie Allen, Sam Rockwell, who really surprises in his role, and really, the entire cast.
October 21, 2019
This is one of the best movies I have seen ..... ever! The writing is fantastic acting amazing and the comedic-dramatic balance is perfect. Everyone in high school and up should see this as a reminder of what happens when small minds, lies and fake news are allowed to fester and spread. This is a most fitting reminder of what comes next if we don't correct our current course.