Journey to the Center of the Earth (2008) - User Reviews
Thank you for rating this movie!
Read your review below. Ratings will be added after 24 hours.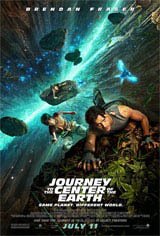 4.08 / 5
User Rating
Based on 750 votes and 122 reviews
---
Please rate movie 1 to 5 stars
Showing 1 to 50 of 122
January 28, 2010
Absolutely stunning! You've never seen anything like it!
July 16, 2009
This movie was also better than I thought it would be. The graphics were good and there was some humour incorporated into the storyline. A good family movie. 3.5 stars
February 04, 2009
it was the best movie ever! i'm a huge fan of Josh!
January 10, 2009
funny movie.great movie with a capital G.
November 14, 2008
my favourite character was trevor anderson/brendan fraser
October 31, 2008
This was the worst most unbelievable movie I have ever seen, even my kids were crying to have it turned off
October 26, 2008
FUN FUN FUN a terrific action filled crazy movie I loved it
October 12, 2008
WOW AMAZING MOVIE
October 12, 2008
An amazing and very insirering movie as the story fills our hearts with amazing aspirations and tons of goals in our future and teaches children to belive that they can do anything there heart wants to belive in and do!!!! 5 stars -Mckenzie Mason, 12 yr old. Winnipeg MB
October 10, 2008
two words: LOVED IT!!!!!!!!!!!!!!!!
September 25, 2008
I quite enjoyed this movie, especially the 3D. Good family action movie.
September 17, 2008
great from begining till end!
September 13, 2008
i say its i preety good movie well it is preety cool
September 13, 2008
its the best movie i ever sen in a life time i was shocked
September 13, 2008
i say journey to the center of the earth is awesome
September 13, 2008
this movie is great
September 13, 2008
it rocks
September 08, 2008
Made for a young audiance, but still enjoyed it fully.
September 06, 2008
It was very entertaining. And the movie was better than 'The Mummy' this time. But people should have the option to watch it with no glasses too. It wasn't necessary to give it only with the 3D version. There should be a second theater with no 3D effects.
September 06, 2008
Very good movie!
September 06, 2008
Good but Don't forget your 3D glasses like I did the whole movie will look blurry!
September 01, 2008
Thoroughly enjoyed the movie. The special effects were good too, although a few of the 3D effects were a little predictable.
September 01, 2008
Great movie, kids and adults all enjoyed very much. The 3D was the best I've seen.
August 30, 2008
half-decent no plot, but adventure!!!
August 27, 2008
A Fun Time! We didn't know it was in 3D, but were very well entertained. A good time for the buck.
August 21, 2008
Enjoyable film; especially in 3-d.
August 20, 2008
excellent movie, edge of the seat adventure for the whole family. hope to see more like this.
August 18, 2008
Good, clean adventure family film. Wish there were more on the way.
August 15, 2008
wow exotic things you could see in this movie and in 3-d its a great kick of frightening scenes. great for the whole family. 4 stars Look for more of my reviews. E.B.A.
August 12, 2008
didn't know it was 3D 'till we got there...an extra $3 for a pair of glasses is pushing the limits of greed don't you think? Having said all that ...EXCELLENT movie! My 7yr old loved it and so did I.
August 12, 2008
This movie was very entertaining. I enjoyed it's action and spirit more than the Indiana Jones movie.
August 11, 2008
Haven't seen anything this much fun in years!
August 07, 2008
I saw this movie last night in 3D and it was AWSOME!!! The first actual good movie in 3D that was in these theatres!!! When the piranahs jumped at you it seriously looked like they touched you!!! Wicked 3D man!!!
August 06, 2008
it is a must watch movie. so full of adventure n fun. it is not just watched but also experienced. i luved it
August 06, 2008
the 3-D was awesome!My little cousins tried to grab the rocks as they come 3-D.It was AMAZING!
August 06, 2008
good movie, 3D is cool, lots of actions, funny movie, didn't expect this movie to be this good =] and i think it's better than Mummy3... it's just too bad that it's a "kid" movie
August 06, 2008
great movie. lots of action and you have to see it in 3D.
August 01, 2008
none stop action...love it...can't wait for the sequel.
July 31, 2008
Be careful with this one. Firstly, most showings are not in 3D...read the fine print. I didn't, and it wasn't until the show started that myself and the people sitting around me realized it was a 2D showing. Okay, my fault, should have been more careful...BUT, the picture quality was shoddy (fuzzy), and the interesting parts of the movie were clearly designed for 3D. My family felt ripped off, and were heard similar grumbling from people nearby. Skip it, unless you can see it in 3D.
July 31, 2008
It was OK, most definetly a "PG" movie indeed. Predictable, but at the same time it makes you question what will happen next. Personally, not my cup of tea, but it wasn't bad at all. The 3D makes it worth it.
July 30, 2008
This movie was amazing, not predictable at all! Non stop thrills can only imagine what it would be like in 3 D. Definately worth the price of ad!mission!
July 29, 2008
A very fun abridged version of the story - well-suited for today's Generation ADD. Usually I don't go in for the post-modern "Hey look we're in a movie called "JOURNEY TO THE CENTER OF THE EARTH" and we're also talking about the book called "JOURNEY TO THE CENTER OF THE EARTH" but it worked because of Brendan Fraser's amiability. Enjoyable for adults and kids.
July 27, 2008
Amazing special effects. Well worth watching in 3D.
July 26, 2008
This Movie was sooo good I would watch it over and over again
July 26, 2008
very good ride in 3d - very entertaining family movie