Joyful Noise - User Reviews
Thank you for rating this movie!
Read your review below. Ratings will be added after 24 hours.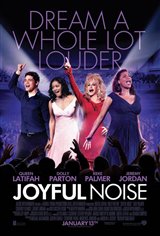 ---
Please rate movie 1 to 5 stars
Showing 1 to 19 of 19
February 23, 2012
i've seen this movie twice - it made me want to join a choir or go to church, that's how powerful it was. i've bought the soundtrack and will probably buy the movie when it's released on dvd. the music is outstanding, the acting so-so, but all in all, it was entertaining and very uplifting.
January 30, 2012
excellent movie! predictable but entertaining!!!
January 29, 2012
i enjoyed the story and music overall. i liked the singing when done solo portions, and not so keen on exuberant chorals of any kind (gospel or not). there was an unusual element (for american cinema) where east asian characters (two) are portrayed as being american... (one was for comic relief (no surprise); the second was 'happy or positive' even if secondary to the story, a first if not rare). slowly, but surely, hopefully, someday, such characters will be 'one of us' (inclusion) rather than 'just them' (exclusion).
January 29, 2012
it was very boring
January 26, 2012
this was predictable,and disappointing, expecting better for queen l, and dolly, the last 15 mins the movie picked up.
January 26, 2012
an all around joyful movie to watch. the music was very inspirational and the story uplifting. loved dolly and queen together and the young and new up and comers were also great. an excellent feel good movie!!!
January 25, 2012
this movie was really good .
January 23, 2012
i enjoyed this movie, but i think my expectations were too high. on one hand it was nice to see queen latifa play a more serious woman and the music was awsome. on the other hand there was extremely formulaic and some of the lip synking was waay over the top.
January 21, 2012
the movie was wonderful. i felt like singing and dancing.
January 19, 2012
this movie, made me laugh, cry & be amzed! don't wait or you will miss out on this wonderfully put together 10 star music lovers dream!
January 19, 2012
what a joyful movie - the music is amazing, the story line, albeit a bit on the unbelievable, is inspirational. i've seen it twice - i'm thinking i'd like to go to church now!! highly entertaining, very funny, the young stars are adorable and dolly's as plastic as ever. i recommend it for the feel good movie of the year!
January 16, 2012
well done keke, jeremy, queen latifah and dolly
January 15, 2012
Wonderful movie to watch, it's fun, entertaining, life lessons, good for both young and old, would recommend it to everybody!!!!, most people in the theatre were clapping their hands after the movie! yes it was that amazing!
January 15, 2012
that what is missing in the church today realy good movie i would go see it again and again that how good that movie is.
January 14, 2012
Good thing for Dolly and Queen, otherwise a sleeper.
January 14, 2012
AWESOME, uplifting, musical, emotional, fun, light hearted and fantastic music. Finale was terrific performance beyond expectations and there were so many make you smile moments in the different relationships as well as a few give me a hanky moments. Overall very entertaining well worth going to see with the family but suits all ages.
January 14, 2012
AMAZING! Loved every minute! Dolly and the Queen are great together! :D
January 14, 2012
great movie....love it