Julie & Julia - User Reviews
Thank you for rating this movie!
Read your review below. Ratings will be added after 24 hours.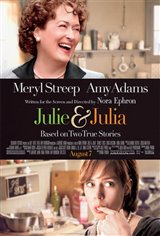 ---
Please rate movie 1 to 5 stars
Showing 1 to 50 of 90
December 11, 2009
Juxtaposes the difficulties faced by two women with similar interests who lived in different times and places. The younger one draws on the experience of the older to make sense--and some measure of success--of her own life. The act of re-creating the recipes in the famous cookbook as faithfully as possible, within a limited time frame, provides not only a challenge to the woman in the modern era, but also the link with the older woman who originally created the recipes. A thoroughly charming premise, and enjoyable performances.
October 11, 2009
it was so amazing i saw it 7 times
September 25, 2009
I really enjoyed the movie. I thought Meryl was excellent and funny. If you don't love food or the kitchen, don't even try to go...Simple and charming, nothing unreal. The european touch is my favourite I am from there...but I have a but too long I agree.Don't go hungry!
September 24, 2009
This movie was amazing!!!! I thought it would of been super boring but I loved it! The only thing wrong with it was that it was so long
September 21, 2009
delightful to watch.
September 13, 2009
THIS WAS ONE OF THE MOST BORING MOVIES THAT I EVER SAW. I ACTUALLY LOOKED AT MY WATCHED WONDERNG WHEN THE DAMN THING WAS GOING TO BE OVER. IT WAS PAINFUL, BORING, BORING, BORING
September 11, 2009
Outstanding! Amy Adams holds her own against the as-usual-powerful performance of Meryl Streep.
September 10, 2009
VERY PAINFUL....2 hours of my life I will not get back.
September 10, 2009
Meryl is flawless as usual and the movie is fun and light. Very refreshing!
September 10, 2009
Loved it and I am not a fan of chick flix. but it was great and broke my heart!!
September 07, 2009
Simply Amazing.
September 06, 2009
Meryl Streep has outdone herself again . She portrayed Julia Child brilliantly . I thought this movie was wonderful .
September 03, 2009
Fantastic. The acting the story, the whole thing was outsatnding. Perhaps an oscur nomanation for the new young actress who does so well.
September 03, 2009
Brilliant script and great performances all round. Kudos to director Nora Ephron.
September 02, 2009
It was alright. I hate amy adams and I have the same birthday as her...
September 02, 2009
Something to see, there's some old fashion humour, and sensational acting all around.
September 01, 2009
best movie out there. I strongly recommend it to everyone
August 30, 2009
Hey, you guys out there, dont say you dont like a chick flick. I went with girlfriend, I'm 58, I LOVED it!!!!!! I would go and see it again and again, wonderful story and the acting is second to none. Love you Merryl!!!!!!Keith
August 28, 2009
I loved the movie. I laughed out loud that is good. They did not need profanity of flashing frantic scenes to make this one great. I loved it so much I am going back to see it again. The book is not worth buying however. Sheila
August 27, 2009
OMG thats was such a great movie i loved it! i would see that again!!!!! <3
August 26, 2009
it was a very good film loved it! But the only downer is that it was a little too long. would see angain.
August 26, 2009
ITS SOOO FUNNY IT MADE ME LAUGH SO HARD ITS GOOD FOR ANYONE TO SEE WOULD SEE IT AGAIN!!!
August 24, 2009
so funny, and such feel-good movie, would see it again. loved it!
August 21, 2009
ANY MOVIE THAT MAKES THE AUDIENCE LAUGH OUT LOUD DESIRES A 5 RATING FROM ME...I LOVED IT...
August 20, 2009
if you love cooking then you'll love this movie. Meryl Streep is amazing as Julia Child. Very funny.
August 20, 2009
FANTASTIC & FUNNY MOVIE!!!! Loved it!!!!!!!!
August 19, 2009
GREAT movie! Meryl Streep is a wonderful actor who made everyone in the theatre laugh out loud. There were also a few moments when the audience was saying 'mmmmmmm' at some of the food that was being prepared. It was an ambitious project Julie undertook. Sometimes I wonder if the people making negative comments (they seem so generic and ranty) about great movies have even seen the movie. Or if they just like to see what they've written turn up on the internet!!
August 19, 2009
Totaly boring a wiast of time,one wonders sometimes at what do producers and directors think who waist their time and mony making movies like this one!
August 17, 2009
If you can deal with Julia's voice, you might like it. I found I was looking at my watch so that rather tells how I felt about it
August 17, 2009
Fun movie. Biographical story. Interesting presentation. Julia Childs is an icon. She was well represented in this film
August 16, 2009
Thoroughly enjoyable movie with a fabulous portrayal of Julia by Streep. Also wonderful as Julie was Amy Adams. I felt Julia's joy when she was cooking and eating and could feel Amy's grief and fatigue in the tiny little kitchen. 5 stars!
August 15, 2009
I laughed so hard that I was almost crying. One of the better movies that I have seen in a long time.
August 15, 2009
I really Enjoyed this movie...well acted...great story line...a must see!! :)
August 14, 2009
It was a lot funnier than I expected, but my friend and I are recent culinary students. We've done a few of the things in the movie.
August 13, 2009
Loved Meryl. Would have been just as happy if it was all about Julia, but the Amy / Julie piece was fun too. Get Meryl her next Oscar
August 13, 2009
Amy Adams was amazing. Loved the mix of the two stories. Meryl Streep and Amy should both be norminated for an academy award. Great movie so see it will make you forget your worries.
August 13, 2009
very boring... long.. dragged.. the trailor looks better...
August 13, 2009
There was absolutely NO PLOT to this movie. I guess I should have guessed when it was based on a cookbook. I just never thought Meryl Streep would agree to do such a stupid movie. I kept waiting for something, anything, to happen. Disappointed Lara
August 12, 2009
Fun...delicious...joyous....Meryl Streep totally rules!! 4 stars...
August 12, 2009
A truly wonderful film. Laugh-out-loud funny, touching, and sexy. Haven't enjoyed a movie so much in a long time. Meryl Streep is a wonder. Tucci is utterly charming. I want a man just like him... heck I'll take him. Go see this movie.
August 11, 2009
This was one of the best movies I have seen in a long time! It was entertaining from start to finish...if Meryl Streep isn't nominated for an Oscar I will be very surprised.
August 10, 2009
Absolutely delightful and funny. Julia Child/Streep and Julie Powell/Adams are an unforgetable pair. I haven't enjoyed a movie as much in a long time.
August 10, 2009
I loved this movie. It was fun a cute, Meryl did a phenominal job! Loved Julie's Story too! Very funny!
August 10, 2009
I was disappointed with the Movie. Would have like to seen more of Meryl Streep as Julia.
August 10, 2009
Truly entertaining ! It delivers big time with plenty of sentement, taste, recent history, humor, current society, culture and much, much more. If you've ever been to Paris you'll want to go right back and if you haven't you'll now want to. See it ! See it ! See it !
August 08, 2009
good movie
August 07, 2009
This movie was really entertaining, had brilliant performances especially by Meryl Streep and surprisingly was very romantic too! Loved it!
August 07, 2009
shes got to get her 3rd Oscar , meryl streep ,
August 04, 2009
2 stars. Meryl Streep made the movie hold together. otherwise it would collapse... like a shouffle
August 02, 2009
A Rancid Taste Still In My Mouth