Killing Them Softly - User Reviews
Thank you for rating this movie!
Read your review below. Ratings will be added after 24 hours.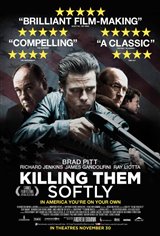 ---
Please rate movie 1 to 5 stars
Showing 1 to 50 of 53
March 26, 2014
movie put me to sleep
September 18, 2013
horrible...the title of the movie describes my experience in watching the movie.
July 07, 2013
brilliant commentary on the current state of social decay in the US. A must see if you want to see something that is not trite.
May 03, 2013
Horrible...simply horrible.
May 01, 2013
Waste of time! Disappointed with Brad Pitt in this show!
April 18, 2013
So Boring! Avoid!
April 13, 2013
I wish ther was a way to give this movie zero stars.
April 09, 2013
Highly boring
April 05, 2013
TERRIBLE!! Boring. Don't waste your money renting this one. :(
April 01, 2013
This movie was a true deception. I found that the story goes of topic too often with numerous accounts from the characters pasts that have nothing to do with the storyline. I can however say that excellent acting kept me from stopping the movie. Still, what a waste of an all star cast.
March 07, 2013
Not your traditional gangster flick, which is what I was hoping for and those are usually interesting. This movie was more like a play due to the heavy reliance on dialogue and lack of action. I can appreciate clever and intelligent dialogue spoken by suitably casted characters and this movie certainly has that but the scenes drag on forever and you keep anticipating some action to come but it pretty much never does. I thought the two robbers were played impeccably and I found them to be very interesting. However, I wish I didn't pay money to watch this and would have been better off watching it on dvd or something. The only thing that made me stay and watch in the theatre is the fact that t
January 28, 2013
Very captivating film where Brad Pitt plays a gangster double agent. It is the crime managed by the court of the crime, i.e., the execution without lawsuit. Comic? Serious? The human direction of justice loses all its direction and it is confine to the regulation of the gangsters of the street. Freedom does not have any more a direction. When one thinks of the American dream of freedom: one dream brings the envy of going far and one dream brings another. To leave to avoid the disorders of its entourage, to leave to avoid our entourage, etc To leave behind a chapter of our lives in a one-way direction. What a beautiful gangster movie!
December 19, 2012
If it were possible to rate this film as the worst movie ever I would do so!!!!
December 15, 2012
This movie was terrible. I could not believe that Brad Pitt took on this role in such a disaster of a movie. The ending like the movie was meaningless.
December 13, 2012
A brilliant lamentation on the moral ambiguity of sociery through a conflation of murder and political power.
December 12, 2012
Terrible
December 12, 2012
Unbelievably crude and boring. A complete waste of time. How can such a top notch cast ever see the value in taking on such a weak script? It can't be for the money is it? The biggest regret is that it took us an hour before we finally had enough and walked out! Brutal.
December 10, 2012
wasn't a very good movie
December 09, 2012
Reading these reviews was 1000% more interesting than the movie. When i wasnt disgusted, i was bored, and the only anticipation i felt was in the expectation that maybe i had watched the slow part and it would get better...it never did. My husband and i finally walked out after about 45 min ...all the most interesting parts were in the trailer...they should have just stopped there and skipped making the movie. Stayed too long to get my money back ...just could not believe that it wouldnt get better...hope spring eternal i guess...sad, sad, sad...lesson learned.
December 09, 2012
16 people in the theater when it started and only 10 when it was over. The movie was discusting on all levels. Lost all respect for Brad Pitt for being involved in such a poor poor movie. It would get a zero on my rate scale, but the scale starts at one.
December 09, 2012
OMG the scenes drag on so much!!! People walked out, it was so bad. There were a lot of awkward lines said and pointless boring scenes. The whole time I kept thinking when is this going to end? I really wanted to walk out but I kept thinking, maybe it'll get better but it never did.
December 09, 2012
Worst movie ever. What a disappointment!
December 07, 2012
I totally see what thye were going for but they fell horribly short. The scenes drag on like every second of footage made the movie with no editing. Well developed characters but who cared, they weren't interesting characters. Actors probably worked cheap to hone their skills.
December 07, 2012
this is the most money waste movie i ever watched, i watached in scarborough town center, 35% of the people inside fall a sleep........
December 07, 2012
It should have been called Killing ME Softly. Brad Pitt, Ray Liotta, James Gandolfini...how bad could it be? Trust me, it's even worse! Don't waste your time and money.
December 07, 2012
I agree if you go expecting a traditional mob action flick you will be disappointed but if you put your guts aside and switch to brain mode then it is an interesting tale of the parallel of the American Mob like mentality of the political and banker elites as compared to the mob micro economics and politics. Maybe too many people don't want to see the plain ugly truth and this movie does a good job showing the vulgarity of both sides . It's all business people and with all business the onus of responsibility still lies with the customer ....buyer beware ! I liked it!
December 05, 2012
BORING BORING BORING..One of the worst movies i have seen in a verrrry long time..waiting for action to happen and when it did it was still BORING..The preview looked like it was going to be a GREAT movie..What a dissapointment..Got really sleepy watching all the people sitting around talking..DO NOT Waste your money on this movie
December 05, 2012
How did they get Brad Pitt to play in this movie? Teaming him up with Ray Liotta is like teaming Harrison Ford & Peewee Herman together for an action flick...dumb,dumb,dumb
December 04, 2012
thoughtful movie
December 03, 2012
Political film what makes you to think. Not many spectators do that this days. The one who walks out of this movie is the no brain guy.
December 03, 2012
You guys should know that if you don't like a movie that you watched at the theatre for 20 minutes you can get your money back. When i saw the trailer for this movie i knew it wasn't that great. It looks boring.
December 03, 2012
must be one of the worst movies l`ve ever watched, and l`ve seen alot! not even worth watching on dvd at home.
December 02, 2012
We should have known, lots of stars equals crappy movie. The players in this movie should be ashamed of themselves. We've never walked out on a movie, but after 30 minutes we couldn't stand any more . Thoroughly disgusting. Out of theaters by next weekend!!!
December 02, 2012
Pretty slow. Story was meh. Like a college student, tried to make a Tarantino movie.
December 02, 2012
First movie we've ever walked out on...boring, predictable and scuzzy. I give it a 1 for Ray Liota's performance.
December 02, 2012
I would give this movie 0 star but have to put at least 1 to voice my opinion... SH!T.
December 02, 2012
Very stupid and slow movie. Don't waste your time or money.
December 02, 2012
Bad movie from beginning to end. No plot and looks like brad pitt put this movie together in 5 minutes. Horrible ending, I want my money back back
December 01, 2012
Terrible movie..I kept waiting for it to get better...SAVE YOUR MONEY!!
December 01, 2012
Absolutely the worst movie I have ever seen!!! So boring and slow! Kept waiting for it to get better, but it didn't!
December 01, 2012
So boring way too many scenes with just sitting there talking. Was falling asleep during this movie.
December 01, 2012
Horrible movie...Just really, really bad...Save your money and skip this one.
December 01, 2012
People were leaving the movie scene by scene. It was just a bunch of well known actors sitting with each other talking their the lines as if people really want to see sopranos plot taken to a different level. It would have fit better with commercials as a single episode while cooking stew.
December 01, 2012
First time I've ever walked out of a movie. How many blood splatters and curse words do you need in a bad movie. What a waste of talent.
November 30, 2012
This was self-indulgent claptrap by all those involved in putting ts movie out. Waste of $ and more importantly, a waste of time. And why would anyone take the political musings of the lowlifes depicted in this movie. I was being generous in giving this movie 2stars
November 30, 2012
So watching this was tough....brad was just a waste. Take a pass
November 30, 2012
I agree.Boring,boring.