Kong: Skull Island - User Reviews
Thank you for rating this movie!
Read your review below. Ratings will be added after 24 hours.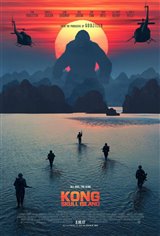 3.45 / 5
User Rating
Based on 332 votes and 121 reviews
---
Please rate movie 1 to 5 stars
Showing 1 to 50 of 121
December 15, 2019
It's trash made by people who have no comprehension of the Kong mythos. How is "Kong" supposed to climb a New York skyscraper when he can just walk over them?! Ughhhhhhhhhhhhhhhhh!
March 04, 2018
BRIE LARSON IS A BAD ACTRESS AND MOVIE IS GARBAGE
September 11, 2017
Worst Kong film since King Kong Vs. Godzilla. No story, no characters, just lame.
September 11, 2017
Entertaining but not a movie I want to watch a second time.
August 09, 2017
BORING!!!!! AND BRIE LARSON IS UGLY!!!!!!
July 22, 2017
Good movie.
July 12, 2017
the suspense. meaning was great
July 12, 2017
great movie. with some crime scenes other wise great to watch!
June 24, 2017
It's original. King Kong has been played out. But this movie has a new story line. Was great.
June 06, 2017
The movie sucked so much I fell asleep
May 25, 2017
Yikes, bad is all that can be shared about this movie. Lots and lots of staring and posing by all characters including the animals. It was almost funny to watch.
May 15, 2017
Belated sequel to 1998's The Mighty Kong is little more than a generic action film with not a single memorable character in sight. Might play better on tv, but I kind of doubt it.
May 11, 2017
Best Kong Ever. A must see if you like monster movies.
May 08, 2017
I grew up around violence and prefer not to pay to see it but I also know sex, drugs and killing is entertainment to most people. My sisters invited me and against my principles, i went. After viewing it, unbiased, the graphic of King Kong was outstanding. However, the outstanding rate was canceled by discriminatory scenes of Samuel L. Jackson and King Kong to be similar in image. It was degrading, demeaning and depicted African Americans as animalistic people. In fact, after the movie ended, my sister verbally started arguing with me right in the theater lobby then demanded to physically fight outside. I truly believed this movie and others like this ONLY promotes discrimination and violence.
April 22, 2017
Loved it best 1
April 18, 2017
"Ride as a leader of men."
April 12, 2017
one star cause I could not enjoy with screaming kids...PARENTS...Please do not take your 4 year olds to this type of movie,you ruin it for other people trying to watch
April 12, 2017
Best kong movie ever!
April 08, 2017
At least King Kong Lives had heart.
April 07, 2017
Great movie, with the worlds worst helicopter pilots. Keep a substantial distance from the giant ape.....lol
April 07, 2017
A lot of action but it would have been nice if the movie could have figured out " what"it was trying to be.war,horror,action,pick one and stay with it.
April 05, 2017
It is a terrific time waster...poor acting,draged out scenes but predictable and fun,kinda like a bad godzilla
April 04, 2017
Fell asleep, which I could have done at home. Definitely not worth what I paid to see it in IMAX.
April 03, 2017
Very graphic ...good movie...WHY do theaters let 4 year old kids into these restricted movies ,a father had to take his screaming kid who was terrified out
April 03, 2017
My son and I gave it a nine. Great action. Good story line, and a few poignant moments
April 03, 2017
Best Kong movie ever/ Monster Movie
April 02, 2017
Excellent movie.....really enjoyed it.
March 31, 2017
awesomeist movie 2017 CANT WAIT 4 GODZILLA 2 KING OF MONSTERS
March 31, 2017
Wildly entertaining, and never one moment of boredom. Great action movie, enjoyable. Great plot.
March 30, 2017
Worst Kong movie since King Kong Vs. Godzilla.
March 29, 2017
best kong movie I had ever seen Samuel L. Jackson is all the LIT.
March 29, 2017
Best Kong Ever
March 29, 2017
It's this year's Groundhog Day.
March 28, 2017
À vrai dire, ce film était même pas dans ma liste à voir et le timing a fait que je n'avait rien de mieux à voir. Je m'attendais plutôt de voir un Kong traditionnel ou quelque chose à la Godzilla. On se retrouve plutôt dans une ile inconnue un peu comme le monde perdu de Jurassique ou Kong est finalement qu'une seule des nombreuses créatures y vivant. Ma belle surprise cette année jusqu'à maintenant !!
March 27, 2017
All this just to set up a remake of the awful King Kong Vs. Godzilla?! Good grief!
March 27, 2017
It was better than the average Kong movie, but considering that it's 2017, they could have done much more.
March 26, 2017
After 20 years of fighting, soldiers are sad to go home. Hey let's drop some bombs on innocent creatures on a remote island. To be honest I walked out when the soldier saw Kong and said kill that thing. Typical american attitude, if you don't have the patience to understand it, just kill it. The movie should be renamed Kong vrs the US army. The last Kong was such a beautiful love story.
March 26, 2017
Good movie. When the blood n decapitation was too much atleast I had the main character to drool over. Yum!
March 26, 2017
Good movie! Make sure to stay for extra scene after credits!
March 25, 2017
It was a great movie...Enjoyed it from start to finish!!
March 24, 2017
Better than I thought it would be. I had fun watching it.
March 23, 2017
Ok actioner but completely bereft of the tragic pathos so necessary to Kong's story. Certainly not a patch on the '33, '76, and 2005 classics. 2.5 stars out of 4
March 23, 2017
Good action movie with great special effects - don't overthink this one - just sit back, eat your popcorn, and enjoy
March 22, 2017
Ok action movie in places. Maybe the helicopters should have stayed further away from Kong. Loved the makeup on the islanders. Pay attention to the back-ground of the credit list (which is long) there are some tidbits at the very end. Afternoon at the movies, gotta love them.
March 22, 2017
boring....slow....painfully long fight scenes. Pass this one up.
March 21, 2017
This was a nice up to date revamping of the Kong story, whereas Peter Jackson's was a redone on the original Kong story line! So why would you want another original story line version that wouldn't make any sense as Peter Jackson's was well done! This story line was very interesting & Kong was a lot larger - Acting & CGI monsters were also very believable! Over all a very well done film!
March 20, 2017
Kong meets Platoon. Fade in '60s choppers and hippie rock 'n roll. Eventually big ape meets beauty, completing the symbolic beauty and the beast analogy. Monsters get hungry for humans too. Humans fight monsters - Kong fights monsters too. Fade in more '60s rock 'n roll. Greedy entrepreneurs get eaten by digital part-lizard monsters. Kong kills pixelated monsters by the score and eats one which has long giant octopus tentacles. Kong has no large testicles (none whatsoever) but he likes tiny little white-women photographers shooting Kodachrome film anyway - no reason given. More '60s nostalgia music. Early in the movie, soldiers stupidly fly into Kong's swinging ten-ton fists and are decimated. Bad training? No, the producers are rewriting the history of the war in Vietnam. Says the general, "We didn't lose the war, we abandoned it!" Perfectly explains how they could inexplicably misjudge Kong, at ten stories tall, 20 tons of steel and granite, they oddly blindly fly directly into his gigantic thrashing arms. Go figure! Kong in the end is victorious and beats his mighty barrel chest to show the tiny puny little white Englishman he's still King and also show the tiny little white American woman that she is still "his" - testicular braggadocio by any other description. Yea, this could all just be a metaphor for Drumpf and Kellyanne "bimbo" Conway. The alpha male reigning supreme, white ape supremacy maybe, or so it would seem. End. Roll credits.??