Krampus - User Reviews
Thank you for rating this movie!
Read your review below. Ratings will be added after 24 hours.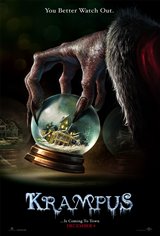 ---
Please rate movie 1 to 5 stars
Showing 1 to 17 of 17
August 29, 2016
Excellent comedy/horror
June 05, 2016
If I was 6 years old I might be scared. Really bad movie ..stupid not scary and not funny either ..just blah
April 23, 2016
I loved this movie! The perfect Christmas horror movie I've been waiting for!
January 16, 2016
Best movie I've seen in months. Thumbs up.
January 13, 2016
Really enjoyed this movie. Nice blend of horror and humour. Hope they make a sequeal.
December 23, 2015
Great movie! Nice blend of horror & comedy with a excellent ending. Michael Dourghety is masterful at incorporating myths / legends into his movies.
December 22, 2015
Krampus was awesome! it was like a great b movie! Spooky with a sense of humour. Great story too! Perfect Xmas movie for the kids!
December 21, 2015
stupid movie, characters are retarded and plot doesn't make sense Do ur self a favour and not watch this
December 17, 2015
This... was... TERRIBLE...
December 13, 2015
This movie was NOT scary, a few laughs but the family was so awful i wanted them all to be killed..lol all the creatures wore masks, so that was a RIP off! i would NOT recomend this.
December 12, 2015
Silly, clever, funny, campy, with a few good chills ... good fun.
December 10, 2015
Ummm, not good ??
December 09, 2015
Movie was DUMB, NOT scary & NOT funny.... Well actually some parts were so STUPID FAKE N U REALISTIC that I laughed. Do NOT SEE THIS MOVIE! I got a FREE ticket and I still feel like it was a WASTE!!!
December 08, 2015
This movie was more of a comedy than a horror, not a good comedy either. Don't waste your money.
December 07, 2015
That wasn't the worst movie I've seen but it sure ranks up there. What a dud!
December 05, 2015
I jumped a couple of times. I had a great time watching this movie.I am so glad I saw it.Not a dumb ending iether
December 04, 2015
Not overly scary, but it works. Loved it.