Kung Fu Hustle - User Reviews
Thank you for rating this movie!
Read your review below. Ratings will be added after 24 hours.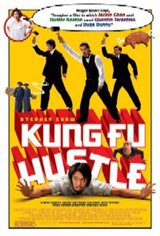 3.36 / 5
User Rating
Based on 3933 votes and 81 reviews
---
Please rate movie 1 to 5 stars
Showing 1 to 50 of 81
July 27, 2006
too stupid,but it was ok,spose fer a luagh at the stupid scences in the movie,bit entertaning!
February 04, 2006
I really enjoyed this movie on DVD. Although why was there a tenant wearing his pants falling off w/ his booty showin?? I think Big Brother was cute.
September 09, 2005
Decent Stephen Chow style movie. Good if you like Chinese movies. But not as good as Shaolin Soccer.
August 12, 2005
This movie is an action comedy everybody in my family liked!Stephen Chow...YOU`RE THE BEST KARAOTE DIRECTOR!!!!!!!!!!!!!!!!!!!!
August 12, 2005
This movie is soo hilarious because it`s so stupid. And I like it =)
July 23, 2005
KL Wow I really loved this action comedy flick, which stars the amazing Stephen Chow who also directed it. I saw this the first day it came out and I saw all of the commercials on "@ the movies" and it just interested me so much that I`m goingto buy it when it comes out. 5 stars out of 5
July 21, 2005
its the best
July 10, 2005
ahaha although the plots doesnt realli make sense.. its stil reali reali funni!! ahaha!! dat fat lady is so jokes!! and its not a typical movie so its good!
July 08, 2005
It is the best stephen chow is so funny better than Chris Rock.
July 03, 2005
great movie if you`re looking for cheesy kung fu action...otherwise you`ll probably hate it...I thought it was quite funny and entertaining, a no brainer movie.
June 17, 2005
to quote from the song..."everybody was kung-fu fighting...HUH !!" an absolute blast that builds on the Shaolin Soccer foundation and ups the ante considerably. you`ll laugh, and be visually amazed at the sheer wizardry onscreen. as entertainment goes, you cant go wrong. well worth the coin.
June 13, 2005
The plot wasn`t very good but I like chinese humor but it not to funny but it had its times and its realy corny and some things were just plain dumb I give 3 out of 5.
June 02, 2005
Awsome eye watering funny I loved it.
May 29, 2005
even jackie chan can do better then this...
May 20, 2005
Good but not Great. Better than Sholin Soccer.
May 14, 2005
If you watch the Chinese version of this movie....it will worth every penny!! I`ve actually watched it 4 times now and it still gets me!!! I have watched his movies since 7 yrs old. Stephen Chow is the BEST!!
May 13, 2005
Great movie! Funny, entertaining, and just all-around fun. It`s like Enter The Dragon meets The Matrix meets Dumb And Dumber. Or something like that. In other words, action/comedy with incredible special effects. See it!!
May 12, 2005
It`s hilarious, artistic, and the characters were really interesting. If you have the chance to see it in Chinese, do so, just cuz dubbed versions can never translate all the emotions of the original actors. Movies should be entertaining and this one certainly is one of them!
May 10, 2005
BEST MOVIE EVER YOU MUST WATCH
May 08, 2005
I was born in the Stephen Chow ERA. He had been one of the most influence in Hong Kong movie. Desperately waiting for your next movie
May 07, 2005
Man that was stupid! Terrible Terrible Movie! Don`t waste a penny on this moronic movie.
May 07, 2005
hilarious,amazing,its worth your time and money
May 06, 2005
Slapstick Kung fu.. bring a sense of humour and you will laugh and laugh and laugh
May 05, 2005
I laughed, I cried - it was better than Cats!
May 05, 2005
What a great Kung Fu movie in this century!!!!!!!!!
May 03, 2005
One word summarizes this movie - FOB-ulous!
May 03, 2005
Genius movie!
May 02, 2005
Awesome movie, brilliant. End of story.
May 02, 2005
horrible movie...i dont know how anyone found that nonsence to be worth while. i just wish i didnt waste my time watching it.
May 01, 2005
Amazingly funny and entertaining
May 01, 2005
Ihave not laughed soo hard as long as I can remember, from begining to end. I just Loved it.
May 01, 2005
THE MOVIE WAS PURE JOKES!!!
April 30, 2005
Teh beginning is corny but it gets much better after that. I enjoyed it overall.
April 30, 2005
Absolutely an unsual pleasure! I had no idea what it was all about and it was a very welcomed surprise.
April 30, 2005
I cannot believe that 31.6% of the people only gave this film one star. What the heck were they thinking?
April 29, 2005
Great movie! Kind of different from his others, in that there is a definite emphasis on the fighting in this one (and the fighting is done very very well). Everything in this movie looks great and is a lot of fun. Stephen Chow does it again!
April 29, 2005
This was a great movie. For those of you who didnt like it, it is probably because it was a movie that was made in Hong Kong, and most of Stephen Chow`s Movies are for the Chinese audience, so for a Western audience it may be different. Stephen Chow is the comedian of the East, and most of his movies are really funny. This was no expection. 4 stars.
April 29, 2005
this film was made for the international audience~ so it`s not stephen chow`s best performance~ but he`s tryin and gettin there~ props to him!
April 28, 2005
its great! also really funny!
April 28, 2005
very good with good super fu fighting....
April 28, 2005
Great Comedy
April 28, 2005
I watched 3 times already! super funny!
April 28, 2005
I wonder when will they have Kung Fu Hustle 2
April 28, 2005
This is the best Kung Fu Comedy of the year!
April 28, 2005
Best of Steve Chow`s movie ever! two thumbs up!!! you rock man!!!
April 28, 2005
Steven Chow !!! I love you!!!! >O<
April 28, 2005
IT IS NOT ANOTHER HEOR ; NOT ANOTHER HOUSE OF FLYING DAGGER ; IT IS KUNG FU COMEDY!!!! SUPER FUNNY, I AM SO IN LOVE WITH THE MOVIES ; I CAN`T WAIT TO SEE KUNG FU HUSTLE 2 !!!
April 28, 2005
This was my first time watching one of his movies on the big screen. Thank goodness Miramax did not have their hands on this, else the movie would have been ruined. It was the most enjoyable foreign movie that I have seen in some time.
April 28, 2005
Either you`ll hate it or love it.
April 27, 2005
worst movie ever