Lady in the Water - User Reviews
Thank you for rating this movie!
Read your review below. Ratings will be added after 24 hours.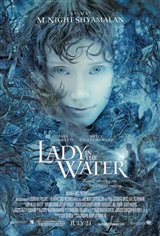 3.56 / 5
User Rating
Based on 3365 votes and 251 reviews
---
Please rate movie 1 to 5 stars
Showing 1 to 50 of 251
September 12, 2013
Excellent mystery !
May 22, 2009
I love this movie!
June 14, 2008
AWESOME!!!!
April 21, 2007
I loved this movie it was really good!!:)
January 04, 2007
well, personally i think there was too much to take in at one time. I mean, swarfs and nurfs, monkeys that are evil ? I did not understand the concept of the movie. Also i thought the lady in the water could of used some hair product or some make up :S
December 24, 2006
Another one of his best movies, I was not disappointed by this film at all. Can`t wait for his next film
December 21, 2006
A little slow at times, but well worth the watch. If your imagination is a little bland, you should stay away from this movie. Very creative in its approach to the fantasy genre. Great acting, well placed characters. Very smart and intreaging movie
November 05, 2006
that was a good story
October 25, 2006
was an amazing surprise, so well done.
October 21, 2006
well... real stupid commercials so i would never waste my money on this movie
October 11, 2006
I think that Lady In The Water is a pretty elaborate plot. But might be way out there that some people might not appreciate it. I do have to say that I am losing faith in M. Night.
September 17, 2006
good entertainment
September 11, 2006
I think M. Night is losing it. He needs to get back to a good scare movie. This is just some fairy tale without the fairies..
September 03, 2006
i really really thought it would have been better.....:( sry i was disappointed
August 30, 2006
scary, intriguing, weird but good to watch for a horron fan!
August 30, 2006
wasn`t that great
August 28, 2006
had me on the edge of my seat
August 28, 2006
Not the best from this director
August 27, 2006
kind of wierd and scary at the same time
August 26, 2006
For such a drowsy title, an excellent film
August 26, 2006
I was excited, sad (I cried), fearful (I jumped once) and amazed at the performance of Paul Giamatti and cast. Believable (at least most of it). I was less than satisfied with how quickly the others in the complex took part and believed who she was, but, very entertaining none the less.
August 25, 2006
Poor effort by MNS.His weakest effort yet.He should have left this movie as a bedtime story for his kids.i am sure they had several good giggles in this bloated story with ape-like creatures ,some sort of werewolf and "holy shazaam", a giant eagle.All this and a beautiful woman living under a swimming pool in Philadelphia???Whooo hoo M! What were you drinking/smoking when you thought of this tale.If not for his name ,I doubt that any studio would give a novice film maker the money to make this mess of a movie.Wishe that I had left before the eagle arrived...MNS continues to spiral downward and needs to find a vehicle that uses his talents OR
August 25, 2006
Again, M. Night keeps you thinking, sitting on the edge of your seat and thinking... I thought it was very well done.
August 25, 2006
Very disappointing and not nearly as good as his earlier movies
August 25, 2006
I was very disappointedin thsi movie. It was a terible story.
August 25, 2006
another enjoyable tale from M. Night Shaymalan. I would give it 4 stars
August 25, 2006
I really enjoyed the story. Great movie.
August 25, 2006
KINDA DIFFERENT
August 25, 2006
I found the movie to be not as bad as everyone else feels it was. The story has an interesting premise. The only bad mark against it was M Night playing a substantial character. It was a distraction.
August 24, 2006
Riviting, a suprisingly deep movie, look below the surface, go into this movie expecting nothing, and you will get more, it goes into the core of man, and the fact that we may not deserve to be saved, I am definately going to buy this movie when it comes out
August 23, 2006
I love M. Night Shaymalan and I loved Lady in the Water. I`m always surprised how many people go to his movies expecting a horror flick. That`s not his style people! This movie is a beautiful interpretation and telling of an old chinese fairytale. Paul Giamatti really makes this movie. What an amazing actor!
August 22, 2006
I thought it was a nice movie. I would watch another similar.
August 22, 2006
I fould this movie very hard to follow. You have to watch very closely. Not great in my opinion
August 22, 2006
I think it was a fantastic movie, one hell of an emagination. DB
August 21, 2006
good fairytale
August 21, 2006
breath taking
August 20, 2006
i love thrillers-it scared the cr** out of me!
August 19, 2006
A work of pure genious. M. Night Shyamalan is a brilliant storyteller. Five stars.
August 19, 2006
Not bad at all. check it out.
August 19, 2006
I personly love thrillers this was riviting this is one that you must see!!!!!
August 18, 2006
The movie didn`t live up to the hype. I was expecting a lot more suspense. I did however stay until the end. I wasn`t impressed. Wait for the rental.
August 18, 2006
On the surface a it seems to be a rather simple film, however, it insinuates much more. An unusual and pleasant change.
August 18, 2006
What a disappointment!! I expected more from M. Knight Shyamalan and was looking forward to the release of this flick...bummer.
August 17, 2006
I enjoyed this movie, I like the suspense that kept the movie going, the horror scenes were pretty good, and the storyline was well done.
August 17, 2006
I found it slightly enjoyable, but I can see where others might like it a lot.
August 16, 2006
good movie et my old mother 91 has seen it
August 16, 2006
I kind of liked it! I am a hard to please animated person. Some think everyone enjoys `cartoons` but this has soemthing appealing.
August 16, 2006
I would have to say this was the worst movie that I have ever seen in my life. I`m surprised that they actully made it, that`s how bad it was. It was a disgrace to movies in general, especially because it was classified as a "thriller". I laughed through the whole movie not because it was funny, but because the movie was the biggest joke I have ever seen, every single detail of it was a joke. I was hoping and praying it would end but it was the longest moment of my life. The plot is stupid and the set never changes. This is a movie that should be seen as a force of punishment to someone. DO NOT see this movie, the biggest waste of life and mo
August 14, 2006
pretty good but expected more
August 14, 2006
Okay, could have been better.