Lee Daniels' The Butler - User Reviews
Thank you for rating this movie!
Read your review below. Ratings will be added after 24 hours.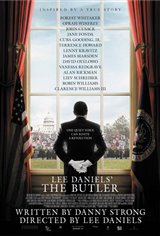 ---
Please rate movie 1 to 5 stars
Showing 1 to 50 of 66
February 03, 2014
very well made movie with great performances, especially Oprah
January 20, 2014
this movies showed me alot of things i didn't know about my people and i find that this kind of movies are good to show to people who think or act superior then other people no matter what color they are.
January 18, 2014
Absolutely outstanding movie! Will definitely watch again and again.
December 30, 2013
wonderful film ... congratulations
November 17, 2013
About time the civil rights movement was taught to the young people. Very well acted with big name actors who certainly didn't need the $
November 15, 2013
Fantastic film!
November 15, 2013
Great depiction of the times and era. Oprah Winfrey was wonderful in her role and was a stand out for me. The soundtrack is also quite enjoyable; we stayed to the end (like we always do) to read the credits! See it!
November 14, 2013
Interesting true story of a butler to many U.S. Presidents. Also very much a family story with 2 sons who had different ways of dealing with civil rights. Oprah gives an amazing performance as The Butler's Wife. Perhaps a Best Supporting Actress nod?
November 14, 2013
jfk actor was the only one remotely resembling the real jfk! but overall well acted!and captured those times well....
November 13, 2013
I enjoyed this movie. Forest Whitaker was incredible and heartbreaking. Was a wonderfully crafted movie; dark, but not so dark that it is difficult to watch. Definitely a must see. Potential Oscar winner.
November 11, 2013
Absolutely loved it! Brilliant cast and superb acting. Can't wait to see it again
November 11, 2013
Excellent movie - looking at history through the eyes of the butler to several Presidents. Well-acted, great characters.
November 10, 2013
Loved it!!!
November 10, 2013
Touching. A remarkable portrayal of life in that time and how it was.
November 06, 2013
This movie was a captivating experience drawing you into dark periods of American history. As a young man having never seen those decades of racism, I was very moved, of course by the portrayal of excellent actors, but also of what people did to people, the segregation, and their plights. You also shared in the triumph of the lives depicted and came to understand them and our history a bit more (for we could no truly understand it fully without experiencing what they had). It was both heart-wrenching and beautiful. Anyone who watches this movie will be better for, and our society will be better for it.
November 04, 2013
eye-opening movie
November 03, 2013
An interesting view of history and the struggle for racial equality through the eyes of a butler. Heartwrenching at times, this is a brave film that speaks about important issues.
October 31, 2013
This was a thought provoking film and Oprah was by far THE stand out performance!! Surprise cameos were a delightful treat and the story line compelling. We enjoyed it (3.75***)
October 31, 2013
Very well rollout of a 'man' in turbulent years of obtaining freedom and equality. Great acting. Oprah hasn't been in a movie for so long and I thought her acting was great and how it looks changed throughout the times. Definitely a movie worth seeing.
October 31, 2013
Moving, but maybe trying too hard to be everything to all people.
October 30, 2013
The entire cast did a fantastic job of acting. Excellent story. Well worth the admission.
October 30, 2013
I was very interested in The Butler. It had an incredible cast, an interesting story, and a very good story. Walking in, I expected a breathtaking film. Well, I was a tad underwhelmed, yet the movie was terrific! THE GOOD: Excellent acting (mainly from Oprah and Whitaker), beautiful soundtrack, gut-wrenchingly sad moments, excellent entertainment, incredible direction. THE BAD: Slowish pace, weird scene transitions. THE UGLY: Way too much going on at once. OVERALL: Lee Daniel's The Butler is a terrific movie that I don't see winning any Oscars. See it if you like political dramas. RATING: 8.5/10
October 30, 2013
I really enjoed the storey and acting
October 30, 2013
All around a good movie that let you see characters grow. I like that in a movie.
October 29, 2013
It's good until we realize where it's headed. And that turns out to be: the crowning of Obama as our saviour - complete with heavenly choir. And not to mention being sanctioned wholeheartedly by Oprah! And then we go home & hear the news re: the imminent destruction of America & the collapse of the American dollar.
October 29, 2013
Story moves a bit too slowly to be a 5-star event, but great acting in what is really a superb historically accurate docu-drama a must-see for anybody interested in understanding our messed-up neighbours to the south
October 04, 2013
Well cast, brilliant acting, powerful message especially for those who have no memory or experience of the Civil Rights Movement. For those of us who remember a humbling experience
October 04, 2013
Very good movie.
October 01, 2013
Excellent movie. It brought tears to my eyes. Very intelligent movie for all to see.
September 27, 2013
Wow, wow, wow.....the BEST movie that I have seen in years. The acting was INCREDIBLE. Hats off to Oprah. I was so drawn into her character roll, that I eventually forgot that I was seeing "her"...and grew to feel great empathy for the character that she played. Fabulous cast. Go see it folks!!!!
September 18, 2013
Great cast, great performances, great story.
September 18, 2013
This movie is REALLY GOOD. It was a bit long, but very touching and the cast was absolutely sensational. You have to be in the right mood to watch it, as it was quite a serious movie BUT there were light-hearted moments of humour as well. Prepare to get teary-eyed at certain parts! Kudos for getting the story out there for those who don't know about the civil rights movement.
September 15, 2013
OUTSTANDING!! Everyone was fantastic! The story was unbelievable! To think this really happened OMG! Way to go EVERYONE for getting the message out there!! I LOVED IT! LOVE ALWAYS JOANNIE :):):)
September 11, 2013
First Nations peoples should watch this and rise up like they did. Still to this day, the overt racism FN people experience is sad.
September 11, 2013
White people: ya'll need to give your heads a shake on how you treat people. GREAT MOVIE!!!!
September 09, 2013
Slept through a good part of it; don't know what that says about it. Should probably see it again.
September 08, 2013
Superb movie. Acting was excellent. A must see and
September 07, 2013
A poignant and historic movie which left the audience applausing at the end. It is also a commemoration of the accomplishments of extraordinary people - whether presidents or students - who through their bravery changed the course of history. An amazing cast of true artists. Well done.
September 03, 2013
Awesome movie, love Forest Whitaker and Jane Fonda, all the cast were exceptional
September 01, 2013
This movie needed a kick-ass soundtrack (Jay-Z, Justin Bieber, etc.) to put it over the top.
September 01, 2013
once, just once, it would be nice to see a movie with blacks that isn't just about racism.
September 01, 2013
If you didn't like this movie you weren't listening the most compelling movie on the racial tensions in the USA bar none. Forest for best actor is no contest the rest of the cast was amazing. Bravo to all involved.
August 31, 2013
Amazing how they captured the struggles of the times. An awful reminder of a turbulent part of US history, but one that shouldn't be forgotten. Will be a real eye opener for anyone born after 1970.
August 31, 2013
Very powerful, sad and angry.
August 30, 2013
Excellent movie highly recommended
August 28, 2013
Excellent movie, particularly if you lived through that period and can relate to what happened. Oscar for male actor would not surprise. My only negative comment is that it was just a bit too long...draggy at times. Would recommend to everyone.
August 26, 2013
Magnificent. Forrest Whitaker and Oprah Winfrey gave a phenominal performance. I loved this show. So sad in parts and yet so true in others. AN Oscar performance.
August 25, 2013
The best picture I've seen since Out of Africa. Just magnificent. It will remain in my memory forever.
August 25, 2013
The Butler part with the interaction within the White House was great. The other part was sh**
August 24, 2013
Good movie, I would definitely recomend it. Not entirely sure what was missing to make it great. A revelation, a guiding principle a feeling of never again, or somehow we as a society learned our lesson. Racism comes in many colours and flavours, social inequalities and issues still haunt us at every turn. Perhaps it is simply a story from a "coloured" perspective. It would have been nice to have a developed white character that one felt close to to find redeption and true friendship in the spirit of the true transformation to an integrated culture that took place. The movie "Brian's Song" with James Caan and Billy D Williams from the 70's comes to mind.