Legally Blonde - User Reviews
Thank you for rating this movie!
Read your review below. Ratings will be added after 24 hours.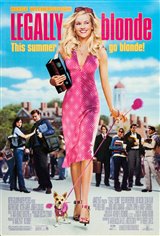 3.90 / 5
User Rating
Based on 1159 votes and 40 reviews
---
Please rate movie 1 to 5 stars
Showing 1 to 40 of 40
September 12, 2017
Love this movie! Great actresses and well made!
July 13, 2006
ok...i`m blonde..ahahaha this was definetely my kind of movie!! woooohoooo! GREATEST MOVIE
June 30, 2006
Wonderful! I loved the show!
March 06, 2006
i soooooooooooooooooooooooooooooooooooooooooooooooooooooooooooooooooooooooooooooooooooooooooooooooooooooooooooooooooooooooooooooooooooooooooooooooooooooooooooooooooooooooooooooooooooooooooooooooooooooooooooooolove this movie it is really the best movie i love this movie and i soooooooooooooooooo love reese witherspoon she is sooo my fav actor, i loooooooooooooooooooooooooooooooooooooooooooooooooooooooooooooooooooooooooooooooooooooooooooooooooooooooooooooooooooooove this movie!!! rock on reese go grl!!!!!!!!!!!!!!!!!!!!!!!!!!!!!!!!!!!!!!!!!!!
January 03, 2006
A great story, I love the happy ending the actors are just wonderful...Credits to you... With warm regards from Diana D. from Prishtina, Kosovo, Yugoslavia
September 15, 2005
I love the happy ending, it is the best movie ever!!!!!!!!!!!!!!!!!!!!!!!!!!!!!!!!!!!!!!!!!!!!!!!!!!!!!!!!!!!!!!!!!!!!!!!!!!!!!!!!!!!!!!!!!!!!!!!!!!!!!!!!!!!!!!!!!!!!!!!!!!!!!!!!!!!!!!!!!!!!!!!!!!!!!!!!!!!!!!!!!!!!!!!!!!!!!!!!!!!!!!!!!!!!!!!!!!!!!!!!!!!!!!!!!!!!!!!!!!!!!!!!!!!!!!!!!!!!!!!!!!!!!!!!!!!!!!!!!!!!!!!!!!!!!!!!!!!!!!!!!!!!!!!!!!!!!!!!!!!!!!!!!!!!!!!!!!!!!!!!!!!!!!!!!!!!!!!!!!!!!
September 15, 2005
It makes me relize that being a blonde is not all about having dumb blonde moments, it is about going for a dream and being successful.
August 09, 2005
i love it so much stand up for the blondes!!!!!!!!!!!!!!!!
August 09, 2005
i love elle and emmette and warner in legally blonde,i wish they can be my friends and mail me.ok
July 27, 2005
I love Legally Blonde and I love Reese Witherspoon! She was the perfect person to play Elle Woods!
July 12, 2005
I Love Legally Blonde Soooo Much! It Is my most favourite movie of all time. If im ever feeling sad or down or anything, i watch Legally Blonde and it boosts my spirits with joy and happiness:) this movie has made me want to study to become a Lawyer. It is so touching and so insperational! :D I Love It!
November 16, 2004
It`s the best film i`ve seen, its really cool......and pink! If Reese Could read this, i`d be over the moon with joy that i`d be talking to such a special person. Miss Millar. UK.
July 15, 2004
I LOVE legally blonde movie, 1&2. Its my favrite movie since the very first one came out, I love it so much I have all my clothing in pink, and my chihuahua, Tinkerbells clothing in pink also, Just like Elle and Bruiser!
March 21, 2004
I thought it was awsome its still one of my fave movies, that and Legally Blonde 2 of course. Cant wait for another one!
December 21, 2003
Great movie! It was funny, and it had a pretty good point.
December 18, 2003
This one is very good compared to the second thier was alot more story.
November 17, 2003
I thought that it was pink and i love it excelent characters > well done!!! Nice Wording grate chatacter emotians!!!
October 07, 2003
i think its totally awomse becuase i`m blonde and i`m tryin to become a lawyer when i`m older so its really inspiring
September 01, 2003
It was a really good movie, Reese is just so cute. Plus it gives us little town people hope in life.
August 23, 2003
My favorite movie of alllllllllllllllllllllll times, I watched it at least 15 times!
July 23, 2003
Reese Whitherspoon Lights Up the Screen As Elle Woods!
July 21, 2003
I LOVE THIS MOVIE SO MUCH!!! And legally blonde 2 is just as good. These movies make you feel better about yourself!!!
July 17, 2003
what can i say reese is my fav actress and any movie shes in it has to be one of my favs anyways legally blonde was one of the best movies.Its one of those movies where you sit there and watch it over and over again and not get sick of it -loved it
July 03, 2003
it was the greates movie i had ever seen and plua it was funy to.
June 29, 2003
Best movie i have ever seen! Loved it! it`ll never get old!
June 28, 2003
I thought it was the best movie ever. It made me laugh, it made me cry it was awesome.
June 24, 2003
i thought it was awesome and made me realize a little more that if you put your mind to doing something it could get done.
June 21, 2003
cool the best movie i wached
May 20, 2003
To boldly go where no blonde has gone before
July 30, 2002
it was a fun movie that tells people the things you try so hard to get arent always worth it.
May 17, 2002
"Legally Blonde" is a great movie that shows where you can get if you only try. People will believe in you, even if you don`t. Reese is a wonderful actor and was able to portray her character perfectly, down to the way she wlaked and talked. Great job to everyone who worked on the film!
April 24, 2002
Reese is really sexy! She was so great.
March 20, 2002
It was great the first time but you can`t watch nore than once
February 12, 2002
Legally Blonde was an ok film...it definitely wasn`t one of the best tho! It was pretty unrealistic but pretty funny too!
January 31, 2002
I thought it would be better. Bur it`s not realistic, is that really how students dress and act at Harvard law school? It made me think of a dumb blonde movie for teeny boppers!
December 03, 2001
I was expecting much but it was great! Really enjoyed it!
November 05, 2001
Oh it was so interesting at the end. Where the end was so unexpecting. it was so awesome.
October 23, 2001
I really went into this film expecting some lame-o chick-flick. But no...this film was well written, clever and Reese does quite a good job.
October 23, 2001
From start to finish, Witherspoon had up to three hairstyles a day while shooting the film. That makes over 40 different styles throughout the movie.