Let Him Go - User Reviews
Thank you for rating this movie!
Read your review below. Ratings will be added after 24 hours.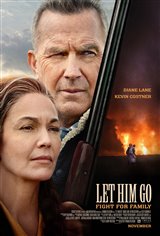 ---
Please rate movie 1 to 5 stars
Showing 1 to 17 of 17
February 01, 2021
Terrible storyline. I'm sorry I watched this. And when are we going to get couples who are actually close in age? Costner is 10 years older than Lane. I mean, I suppose it happens but not as often as they'd like us to believe in movies.
January 15, 2021
I sat down with a friend to watch this POS, and after 15 minutes we looked at each other and agreed, the more boring movie we've ever seen. Click.
December 02, 2020
grandma didn't play
November 20, 2020
Sad subject. Intense. Characters to love and hate.
November 19, 2020
Lane & Costner always bring such authenticity to their characters. Not exactly a "feel -good" movie because of its content, & an emotionally charged subject . Though fiction, excellent. portrayal of what occurs in reality, minus a couple of scenes. However, in the early 60's in very rural America, who knows. And must mention Lesley Manville for the Mafioso like mother & her clan. It's nice to see characters with a moral compass , when there's so much superficial these days. IT'S VERY EASY (& LONELY) TO SOCIAL DISTANCE WHEN YOU'RE THE ONLY PERSON IN THE THEATER ! There's room for more. AMC is a great movie experience. COME-ON, there's room for at least 5 more. At this particular movie there were ~ 9 people.rh
November 17, 2020
The acting and actors were excellent. Although a very disturbing subject, the story depicts the situations that people can find themselves in along with the love of a family for a child and the extent people will go to protect one. I recommend the movie but do know that is tearful and disturbing.
November 15, 2020
Very well acted,, although not a happy topic it would make one think about domestic violence that is scary and out of control... Also find the movie theatre experience to be positive and safe
November 15, 2020
A Movie for mature audiences about mature adults, a mature love, mature behavior against white trash. A slow moving movie (negative not intended) that evolves to an intense dramatic conclusion. Well directed & acted .by two seasoned actors. .RH
November 15, 2020
This movie was good but, hard to watch at times and quite sad, acting was really good.
November 14, 2020
Frustrating ...... 2 Polarized women ....who are always right.... a group of bad guys (that you don't see do anything wrong)....It is never right to hit a child or a spouse.. But Social Services should be brought in on the entire cast.... Grand parents want to take their grandson back without asking the mom.. endless crap...
November 10, 2020
Acting was good. Intense, drama, hard to watch at times. Bring tissues.
November 10, 2020
I think this movie was well acted and well designed.
November 10, 2020
Sad but very very well done. Thank you.
November 08, 2020
The movie was set in the early sixties and they were true to the time period throughout. Didn't notice a single thing out of place. Great writing acting and producing.
November 06, 2020
Terrific movie!
November 06, 2020
Fantastic thriller, really enjoyed this.