Letters from Iwo Jima - User Reviews
Thank you for rating this movie!
Read your review below. Ratings will be added after 24 hours.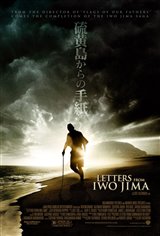 ---
Please rate movie 1 to 5 stars
Showing 1 to 20 of 20
March 15, 2009
my friend and i both fell asleep during the first half hour
January 01, 2009
One of the greatest war movies of all time!
July 26, 2007
one of the best movies of the year. as they say a story has two sides and until now most americans didnt know what the other side of the story was. i hope they can see that no matter who you are fighting everyone has their own reasons to fight and you are fighting people real people with families and lives. really powerful acting in this movie.
June 01, 2007
Incredible film. Check out Ken Watanabe's performance. My favourite movie of last year.
May 26, 2007
An adult film strictly for adult minds. Love the black and white, with the splash of red; how easily we misunderstand; the horrors of war pitting one human being against another. Brilliant work and companion piece to Flags of Our Fathers. As Adam Beach so poignantly opines, " I dont want to be called a hero...what I saw...what happened...that's not something to be proud of" Kudos to Eastwood, who continues to astound as a director.
April 25, 2007
The War from the perspective of the Japanese - and they're not all suicidal maniacs but certainly people like you and me thrown in the deep end of a big war!
February 22, 2007
I`m not sure why people watch movies like this expecting to see tons of action and excitement - that`s not what this movie is about. This movie (along with FotF) is centered on that one small island - Iwo Jima - that so many people fought over and died on - and about some of those people. Anyone can turn on the TV nowadays and get the shallow crap they pass for `entertainment` nowadays - this movie is about a whole lot more. Too many people nowadays take luxuries for granted nowadays...
February 12, 2007
Very disappointing
February 11, 2007
Did someone compare that mediocre horror snoozefest The Hitcher to the emotional cinematographic GENIUS of this movie? Ouch. Just ouch. This is worth the ridiculously high price of admission.
February 09, 2007
sickk movie
February 08, 2007
A worthy companion to THE POSTMAN ALWAYS RINGS TWICE.
February 03, 2007
To those who did not enjoy this movie. Are any of you more than 10 years old?? A great movie that is why it is up for best picture!!!
February 02, 2007
A truley outstandig movie with great performances.
January 25, 2007
A yawner; for some REAL excitement, see "The Hitcher" instead.
January 25, 2007
Don`t open the mail!!!
January 21, 2007
given there is always the other side of a story, it`s very seldom to see a director make films from different perspectives but Eastwood does it, with all of his heart! acting is awesome. Highly recommended.
January 15, 2007
KEN WATANABE deserves an Oscar. Awesome actor. He out acted Tom Cruise in "The Last Samurai" and got himself a Oscar nom but should have won.
January 14, 2007
I thought this was a poignant, and well done film. I don`t quite understand why such limited release. One theatre in Toronto, and one in Vancouver. Why is this? I found Flags a bit disjointed, and this film was far superior.
January 14, 2007
A real disappointment!! the trailer is more well-done than the film itself; very slow, dull beginning made me yearning even more for the war scene to come on sooner. could not really immerse myself into the whole thing except maybe sadistically admired their suicidal killings now and then.
January 14, 2007
Excellent film from start to finish, from the grittiness of war, to the bonding of fellow soldiers. Another great contender for the 79th Oscar.