Life As We Know It
Thank you for rating this movie!
Read your review below. Ratings will be added after 24 hours.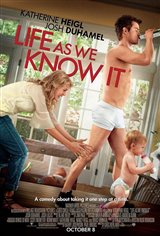 3.98 / 5
User Rating
Based on 604 votes and 231 reviews
---
Please rate between 1 to 5 stars
Showing 201 to 231 of 231
October 03, 2010
We loved it, sad and funny all at once.
October 03, 2010
Very good and really funny movie.
October 03, 2010
nothing new,i believe there are other movies talk about the same condition and situation. scriptwriting was weak and even the acting was not that good. I like the movies of katherine but i'm sorry this movie was expected
October 03, 2010
My husband and I went and we loved the movie...it was a great date movie and I would even watch it again!!! I will definately be telling my friends to go see this movie.
October 03, 2010
We really enjoyed the movie. It had tender parts and lots of funny parts.
October 03, 2010
Fun movie and Catherine Heigl showed great range of acting ability, silly to serious moments well done, not a 5 as plot was a little predictable
October 03, 2010
The movie was nice
October 03, 2010
I liked it, but it wasn't as funny as the previews made it look. I knew it would be emotional, afterall the little girls parents die, but I expected to be weeping just then, when they find out about the accident. It was more serious than I had expected. But it was very very enjoyable...for those of us with kids, makes you think about who you choose to be their gardian. Thanks for the advance screening opportunity!
October 03, 2010
More sadness than I expected
October 03, 2010
Great movie. Sweet storyline with believeable characters. Loved the soundtrack.
October 03, 2010
It was a fun, non-thinking movie. The acting was good - the baby cried a ton. I couldn't quit thinking that the baby was always crying. It is a good chick flick but meant more for video than good $$ at the theatre. Pretty funny parts if you are a parent.
October 03, 2010
Absolutely loved the movie. I laughed so much I was crying.
October 03, 2010
Really cute and funny movie :)
October 03, 2010
Loved it! So not appropriate for kids though - lots of humor around sex, and inuendos around sex - there was a kid in the audiance and at one part she was almost in tears - she just did not belong there - everyone in the theater could hear her. For a mom like me, it was dead on in humor, so funny, so real. Loved it!
October 03, 2010
I thought the movie was very sad, when I was expecting a romantic comedy. Although there were very funny parts, the sad is what stuck with me.
October 03, 2010
This movie is perfect for the ladies and men! It was a combination of hysterical laughter and teary eyes for me. Definately a must see movie! I'm very happy I went to see this one!
October 02, 2010
excellent movie - I was expecting a light, slapstick comedy, but this movie had a lot of heart.
October 02, 2010
Excellent movie! My husband and I went to see it tonight and we both enjoyed it, so much better than the previews.
October 02, 2010
Terrific story, well acted. However, I do not get the connection between the movie title and the movie itself. Life as we know it really does not describe the movie nor give it justice.
October 02, 2010
Feel good movie that looks at many aspects of love, life, death and parenting.
October 02, 2010
Although great acting by Heigl & Duhamel, it was the usual "Hollywood" predictable flick, however, a "feel good" family film. Melissa McCarthy deserves credit for being a natural...she stole the show. The movie however does not beat Diane Keaton's 1987 role in "Baby Boom". Thanks to Tribute.ca, we enjoyed a nice evening out watching a family movie.
October 02, 2010
It was very well made. It's an absolute delight! This is one of those movie that you cannot judge the picture by its movie poster! The script was perfect and to the point. I really liked the theme that something unexpected happens in your life but turns out to be great! It is very true that life is a learning process, you don't know what you get
October 02, 2010
seriousely funny
October 02, 2010
It was a great movie. It is a movie hat I want to tell all my friend they should see. It was funny.
October 02, 2010
I forgot, I would give it 5 stars.
October 02, 2010
We thought it was a true to life heart-warming movie. We enjoyed it thoroughly.
October 02, 2010
A very real film. Heigl and Duhamel make a covincing couple in an awkward situation. The baby scenes were not overdone and sugary, but just right. However, the ending seemed to be tacked on, and several questions were left unanswered about the leads' relationship at the end.
October 02, 2010
It was a good movie with funny parts in it. It's definately a good date movie.
October 02, 2010
My husband and I both loved every minute of this movie - very enjoyable!!!
October 02, 2010
predictable but enjoyable,made me laugh, feel good movie, will recommend
October 02, 2010
Cute..but totally predictible