Life of Pi - User Reviews
Thank you for rating this movie!
Read your review below. Ratings will be added after 24 hours.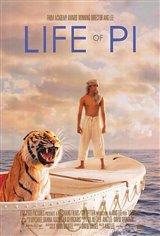 ---
Please rate movie 1 to 5 stars
Showing 1 to 42 of 42
November 04, 2013
well done! a very good adaptation of a great novel.
April 30, 2013
One of the best movies I've ever seen. Read the book years ago, not only I wasn't disappointed, I don't think the movie could have been done better.
April 05, 2013
such an amazing movie. an amazing story
April 01, 2013
Nothing short of mesmerizing. This is a gorgeous movie and the story is unforgettable like I've rarely seen before. The 3D is epic and comparable to Avatar's 3D. You'll want to show this film to everyone you know.
March 30, 2013
I saw this movie on Shaw Demand the other day and it was a good one!!
January 27, 2013
Too much time spend in the ocean. Got pretty tedious
December 28, 2012
A visually wonderful movie with substance ... great acting of young Pi and the rest of the cast. Go watch it in 3D!
December 26, 2012
this movie was the best movie i have ever seen
December 18, 2012
If I could I'd give this movie 3.14 stars.
December 16, 2012
Unexpectedly good! Excellent story and beautiful! Highly recommended!
December 15, 2012
It was not my cup of tea found it very slow seemed to drag on and on but to each their own.
December 14, 2012
Nice full of adventure
December 13, 2012
Amazingly true to the book. An emotional tale that will keep you thinking long after you leave the theater.
December 11, 2012
As a huge fan of the book, I was very happy that they stayed true to the book. Beautiful cinematography.
December 09, 2012
Very good movie, one of my best all time.
December 08, 2012
It was a great movie.
December 08, 2012
Excellent film!!! Great story telling that is enhanced by the use of 3D - Ang Lee is truly a master of spinning a great tale!
December 06, 2012
best movie I have seen this year.
December 05, 2012
love it
December 04, 2012
animation was nice..some scenes were really funny...this movie does question your belief...
December 03, 2012
I LOVE RICHARD PARKER!!!!!! Great movie! Must see in theaters :)
December 03, 2012
Excellent movie. I liked it better than the book -- and that's unusual for me.
December 03, 2012
This artistic thoughtful film has good acting, a compelling narrative, and it's bedazzling in 3D. I would have given it a five star rating. This film exists in 2D as well, but the 3D format adds a lot to the stunning visual experience.
December 01, 2012
it's so touching and sad!!!!!!!!!!!
November 29, 2012
loved this movie... previews looked good.. was a bit nervous at the same time...was such a beautiful story.. don't go expecting and adventure, this was a building drama.. really liked it..had some funny moments. never found that there was an excess of animal cruelty..the people that walk out missed a good movie..
November 28, 2012
never heard of/read the novel fiction. but LOP is an interesting story of someones personal religious beliefs (even if i disagree with) told in survival-adventure story form, with vivid visuals. i have no problem about animal losses/animal-eat-animals, as death is a natural reality. the trailer was sufficient not to raise expectations (how interesting can a sole survivor and tiger be? 'not'), and i wasn't disappointed; if anything, pleased by things not revealed till i saw the movie. (i didn't read the synopsis till after seeing the show). some funny parts. enjoyed it.
November 28, 2012
Not worth the ticket price. Only good parts: narrator, 3D effects and scenery shots. Otherwise you will be wanting to fastforward to the end.
November 27, 2012
I loved the movie but was a little upset over the loss of the animals. I KNOW ACCIDENTS HAPPEN BUT I'M SUCH AN ANIMAL NUT and couldn't stop crying.
November 27, 2012
What's with all the animal cruelty?
November 27, 2012
So boring. Soooooooo boring.
November 24, 2012
What started out as a very lovely movie, took a terrible turn during the ship wreck. A zebra was literally thrown into a boat and we had to watch him suffer and then get eaten by a hyena The tiger was trapped and coerced throughout and he was terrified. Not for any animal lover or children. The director has a streak of cruelty in him. We walked out. Laurie Burck
November 23, 2012
Great movie, 3D was well done and in support of the story for once. If you're going to see it 3D is a must. This is coming from a person who thinks most "3D" movies are a scam/rip off. Great movie 5 out of 5 !!!
November 23, 2012
Powerful, audacious, and beautifully scripted story. In my humble opinion, "To LOVE GOD, is to recognize the RICHARD PARKER in us all,... ...must must see film experience.
November 22, 2012
This movie was good go see this movie .
November 22, 2012
Excellent movie, completely loved it but not a good movie for children or even preteens. Especially for children sensitive to animals. Graphic story of survival. Wonderfully done.
November 22, 2012
a visual poetry
November 22, 2012
GREAT MOVIE
November 21, 2012
Best movie this year!! And possibly top 3 life time!!!
November 20, 2012
For people crying spoiler alert, the book description IS the synopsis. I HOPE its a good movie; because the book was great!
September 24, 2012
i read the book and it was really well written.... i hope this movie does it justice!
June 14, 2012
read this book in high school - can't wait to see the movie, should be unique and interesting.