Lights Out - User Reviews
Thank you for rating this movie!
Read your review below. Ratings will be added after 24 hours.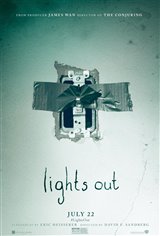 ---
Please rate movie 1 to 5 stars
Showing 1 to 20 of 20
July 21, 2017
So, the original lights out is a short film on youtube. I liked that one better. Just saying.
November 02, 2016
the creepiest
September 05, 2016
Good grief! What a bad movie! Terrible script, acting, story, everything. I knew this wasn't going to be Citizen Kane going in, but was really hoping for a clever, little scary film and ended up laughing through many parts. The search continues ...
August 29, 2016
Made me jump but it was pretty damn dumb crappy story with a few good scares is how to put it nicely
August 27, 2016
One of the most nerve-shaking movies I've seen in a long time! Kept me on the edge of my seat. Although the actors were not the best well-known they were well chosen for the roles they were playing. I don't usually see a movie more than once in a theatre but I think I'll make an exception for this one!
August 07, 2016
Loved the movie! Scary!
August 03, 2016
I don't know what the people are saying this movie is spactcular this movie is so worth it and had an understandable story and was just amazingly amazing this is a true horror a lot of the scenes were scary go ahead and watch
August 03, 2016
This movie was AMAZING the acting was spotless super realistic, what can I say this Movie is my top favourite ever
August 03, 2016
It may have been from the same people as The Conjuring, but needed more somehow. I jumped several times but might have been better to just wait to rent it
August 01, 2016
Awful movie even though it had you jumping out of your seat a few times. Story was terrible!
August 01, 2016
This is one of the worst movies I have ever seen!
August 01, 2016
keeps you on the edge of your seat...must watch...n be scared :-)
July 28, 2016
a few scary bits but really DUMB story.
July 28, 2016
Better than Tarzan
July 28, 2016
As far as horror movies go, this one was pretty good, more original than most and with an actual story (albeit fatfetched) , instead of just the usual slash and gore.
July 25, 2016
Good but didn't like ending, sad and left you hanging. Scary like the Grudge. Kinda predictable.
July 23, 2016
Scary movie without gore. Lots of children (girls) screaming! My teenage granddaughter screamed also!
July 23, 2016
Lacked storyline. Not many scary scenes.
July 23, 2016
Better than the new Ghostbusters.
July 23, 2016
The ending was dissapointing. Everything else was fine though, not anything special, but it's still worth watching if you're a big fan of horror movies. If not, then I recommend just waiting until it comes out online.