Limitless - User Reviews
Thank you for rating this movie!
Read your review below. Ratings will be added after 24 hours.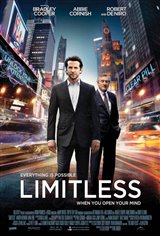 4.16 / 5
User Rating
Based on 438 votes and 152 reviews
---
Please rate movie 1 to 5 stars
Showing 1 to 50 of 152
August 04, 2017
Good movie!! Love Bradley Cooper.
April 19, 2015
One of my favorite movies. It's so much fun. Very original.
May 20, 2014
Saw it once, saw it twice, and I could still see it plenty more times. Bradley Cooper plays his role as he is expected to, keeping the suspense... intense!
September 22, 2012
just like a movie i knew i'd love to watch and when i did get to see it; i absolutely loved it!! most people want to be able to live to their top potential. doing things that they know they can do, but can't like in the movie! we were born to do those things in the movie, but because of our imperfection we unfortunately can't do 75% of them or 80% at best...
September 21, 2012
i really liked this movie. totally original and good humor, a must see.
September 07, 2011
Not nearly as good as hoped...a bit silly and stupid....although Bradly Cooper was good!
August 19, 2011
Not nearly as good as expected. Predictable plot and sub=par performances,other than Bradly Cooper who does do a good job.
August 15, 2011
expected more from this movie. Overall a bit dull and boring. Cooper was good.
August 14, 2011
Excellent movie !
July 18, 2011
Nothing special - the trailor shows the best parts
July 16, 2011
Entertaining. Worth a watch.
July 16, 2011
I liked the premise....but could have been better. Didn't like the ending.
July 16, 2011
interesting concept...bradley cooper keeps the movie rolling.
July 15, 2011
A good movie all around - some of the effects seen after taking the drug are a bit dizzying - overall an interesting plot - who knows, maybe they are working on just this kind of drug now???
July 15, 2011
Great movie!!
July 14, 2011
Evil rules.
July 14, 2011
Very interesting and unique
July 14, 2011
This movie was all right wasnt realy crazy about it.
July 13, 2011
Really good! I didn't really know what the movie was about when I went into it, but I loved it! And Bradley Cooper was in it, total bonus ;)
July 13, 2011
loved this movie!
July 13, 2011
Well cast, well acted, very original plot. This is the perfect escapest movie. A times a film noir, at times action, with some drama and mystery mixed in. If you haven't seen it, its worth seeing. You'll enjoy it
July 13, 2011
Wow! What a trippy movie this is, I was very impressed with Bradley Cooper plus he is very easy on the eyes. haha This movie will take you through a roller-coaster of being at the bottom and then over the top, drug useage, and relationships. A must see!
July 12, 2011
Good movie definitely worth seeing. Good plot and action.
July 12, 2011
Better than I expected. Pretty solid all around.
July 12, 2011
The movie was okay. I liked the idea of it but it leaves you wanting more.
July 12, 2011
It was decent. Expected a little bit more. Especially the conclusion
July 12, 2011
i dont like the movie because at the end it says that whatever happened in the past you can get away with it as long as you can bribe or worst scenario kill people and its really not explained what's the substance all about
July 12, 2011
Great performances and interesting plot twist.
July 12, 2011
Pretty good movie.
July 11, 2011
good movie to watch on an average night
July 11, 2011
I enjoyed this movie more than I expected to. Superb cast - fast paced - intelligent action flick. I'd watch it a second time.
July 11, 2011
A very cool and clever movie. A great contemporary science fiction.
July 11, 2011
Better than I expected, I was pleasantly surprised. Good storyline!
July 11, 2011
Not bad, a pretty cool plot, Cooper was good.
July 10, 2011
Excellent concept, good acting, fun escapist movie.
July 10, 2011
REALLY enjoyed this movie. Great acting and Loved the ending!
July 10, 2011
Loved this movie. Lots of action and the acting was excellent. Bradley Cooper is very talented The story line was super.
July 09, 2011
Not morally relevant.
July 09, 2011
Love the movie - well executed
July 09, 2011
Okay movie for a night out. No oscars.
July 09, 2011
Awesome, awesome flick. I've seen it 4 times.
July 08, 2011
I found this movie enjoying
June 28, 2011
Flash from the past with a preformance by Johnny Whitworth of Empire Records ... okay film overall
June 03, 2011
Very entertaining movie. The acting was done very well!! The idea and premise of the movie was really cool! Full of action! Made me think how the human race would handle this if this drug was here now!! I loved the concept and where the film took us!
May 23, 2011
Wow...what a movie!
May 10, 2011
Ok. I love Robert de Niro so of course he was wonderful as usual. Bradley Cooper played well - but the movie was very disappointing in itself. Sorry to say - I don't know how it earned a 4-star rating. Sorry I could not be more positive.
May 05, 2011
Great movie... not boring...
April 30, 2011
Well done. Good thriller. Bradley Cooper gives exceptional performance.
April 21, 2011
awesome movie a fresh new idea