Little Miss Sunshine - User Reviews
Thank you for rating this movie!
Read your review below. Ratings will be added after 24 hours.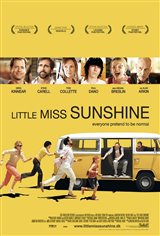 4.15 / 5
User Rating
Based on 3497 votes and 139 reviews
---
Please rate movie 1 to 5 stars
Showing 1 to 50 of 139
March 12, 2017
Super Freaky!
May 14, 2009
Really good movie
September 02, 2007
perfect just perfect, finaly the little film maker gets a break.one of the best movies of the last few decades!!!
March 03, 2007
For an oscar nominated movie it was very good.What i loved about it was that the characters were so different and the story was different.Olive was so cute and it showed that she was very special even though she didn`t look the other girls.Great movie.
February 08, 2007
Most insane, unorthodox, and respectable comedy.
February 04, 2007
Absoulutely amazing. I wasn`t really sure about it.. but it came out on DVD and we heard it was good so we bought it. I am so glad we did. The movie was amazing.. simple, and different from a lot of movies i`ve seen lately.. that was what made it so great. It is honestly now my favourite movie, it was really funny, but at the same time I definitely cried a lot at some parts. My favourite charater was Dwayne, he was soo funny. And I loved how much he really cared about his sister. And Olive was sooo adorable!! It has a great message, I recommend it to EVERYONE.
January 27, 2007
Different! I Loved it.
January 21, 2007
one of the best movies of the year. i laughed, i cried. steve carell i must say was sooooo good. its a must see ****
January 16, 2007
Nothing original or funny. Yet another nothing movie about an American disfunctional family. In Hollywood, there are LOSERS and there are WINNERS. This one is a LOSER. 2 **`s.
January 07, 2007
AWESOME MOVIE!!!!!!!!!! i think it reminds everyone that they have a little bit of the hoover family in their very own. Steve Carrell was hysterical, and newcomer paul dano was euqally as funny.
January 03, 2007
My favorite movie, no jokes. Very well done, and very funny. Morals are found in this messed up family. Paul Dano has mastered the art of being silent in a movie. Extremely enjoyable, i absolutely loved it.
December 30, 2006
Very well done BUT, don`t expect it to be a laugh out loud comedy. I`ve seen it listed as a dramedy....it is more drama than comedy until the end. FABULOUS acting!
December 28, 2006
Another movie about nothing! BORING
December 22, 2006
The best movie americans have made in a very long time.
November 28, 2006
I wanted to see this ever since I saw the trailer for it, and it was even better than I expected. Abagail Breslin is adorable and a wonderful young actress, Alan Arkin was great as the grandfather, and this movie made me see Steve Carrell as much more than just the 40-Year-old virgin. It was a sweet story, very funny, and very smart. Recommended to just about anyone who likes good movies.
November 09, 2006
A wonderful movie, perfectly cast, flawlessly directed, refreshingly "non hollywood" vibe. If you don`t laugh `till you cry during the last ten minutes of the movie you should seriously consider seeking professional help. The character of 7 year old Olive Hoover played by the super talented Abigail Breslin just steals the show. Her performance alone is worth seeing the movie. Don`t miss this one, you can buy it December 19.
November 04, 2006
great movie, I really enjoyed it, I can`t wait for it to come out on video so I can watch it again!!
November 04, 2006
hilarious
November 02, 2006
she a cutie
October 15, 2006
great moving! funny, smart and original. laughed hard and when i thought about the funny moments i started laughing again. the whole theatre was in an uproar. a great movie that i will want to own.
October 12, 2006
i haven`t laughed so hard watching a movie in a very long time...and this one did it! highly recommended!!!!
October 07, 2006
My friend recommended me this movie. I like it very much! What is a disfunctional family? How do they deal with the most important issue in their life? The movie raised lots of controversies issues in our society and leave us a lot more to think after great laughs! Bravo!
October 06, 2006
Goofy though lovable in their human-ness. fun and whacky
October 01, 2006
Brilliant. Laughed `til I cried. Refreshingly not at all `Hollywood`. Fantastic cast.
September 25, 2006
Boring, predictable and implausable. I went mainly because of the positive feedback here, but what a waste of time. For one thing, the kid recorded beauty pageants and watched them over and over on her VCR but she still did have the slightest clue of how to participate in a pageant? And she came in second in another one (before the movie starts)? Not believable. Can`t say much more without giving it away, but it was just stupid. Poorly written and directed. Acting was good though.
September 24, 2006
GREAT movie!
September 23, 2006
LITTLE MISS SUNSHINE IS ONE OF THE BEST FILMS OF THE YEAR!!! BRILLIANT!!!
September 22, 2006
did not like it
September 20, 2006
This movie is a comedy, but it is a very thoughtful way of the competitive world where we live, the "losers" who are not always by choice, the issue of double-standards, and other hot every-day topics that we face in our society
September 18, 2006
the best part about this movie is that it is totally original. after a summer of crappy high budget films with more special effects than you can handle, little miss sunshine is cute, funny, and refreshing. it`s offbeat, just like abigail breslins charm. 5 stars!
September 18, 2006
This movie was so hilarious and though provoking...it reminded me of my own family and how crazy they are! At the same time the movie is very uplifting and clever. I would see it again in a second!
September 18, 2006
One of the best movies I`ve seen in a long time. It was absolutely hilarious and surprisingly touching.
September 16, 2006
Very well done! One of the best moovies I`ve seen in a long time. It will make you laugh, cry and just sit back and enjoy the simplicity of the moovie.
September 16, 2006
OMG...What a beautiful film! I dont think i have ever laughed so hard and had my heart broken so much as i did in this movie. Perfect date movie, girls night out movie, perfect flick to catch in whatever mood! Absolutely a MUST SEE and possibly even a MUST OWN! Please enjoy!
September 16, 2006
Excellent movie, haven`t seen such a funny movie in years. Olive is great and truly is "little miss sunshine".
September 15, 2006
never thought i would laugh this much
September 14, 2006
I was not expecting it to be this funny, but it was! My ribs are sore!Little Miss Sunshine = Sweet.. Sweetness!
September 13, 2006
loved the movie! A dysfunctional family on a road trip ... poignant and humorous at the same time!
September 12, 2006
What a surprise!!! Excellent movie---highly recommend it! I don`t laugh out loud too often at the movies but this was hilarious--laughed "till I cried!!!!
September 12, 2006
Extremely intelligent, entertaining and poignant. Perfect.
September 11, 2006
Went to see this movie with three girlfriends and we all laughed so hard we had tears running down our cheeks! Especially enjoyed Olive`s shorts and her cowboy boots!! Good humor and touching story-line. Loved it!
September 10, 2006
very nice to see smart comedy, not quite enough edge.
September 10, 2006
One word: BRILLIANT
September 09, 2006
Really cute movie. Don`t come in expecting some hollywood drama because it gives you simply a glimpse into the lives of a very socially disjunct group of individuals that exist in some form as a family. Great storytelling in a short period of time. Truly, sad, touching, and makes you smile at the most inopportune momments.
September 06, 2006
Best movie in many years, each personality presents a section in our society, splendid, the child is just wonderful.
September 06, 2006
Go see this movie for the performances. This is a stellar cast who commit to each and every scene 100%. Alan Arkin is superb. Simple story, complicated, touching performances.
September 06, 2006
The best comedy i`ve seen in 2 years!!!Marc...
September 05, 2006
funny, sad, and touching. great movie!
September 04, 2006
Very funny, touching and original with some very genuine laughs from everyone in the movie theatre. Forget dumb ass comedies like "Little Man" & "You, Me & Dupree". This is the real thing and do your self a favor and please go see it. -Luc
September 04, 2006
Such a great film. I could hardly sit still I was laughing so hard! What a fantastic show!