Lost And Delirious - User Reviews
Thank you for rating this movie!
Read your review below. Ratings will be added after 24 hours.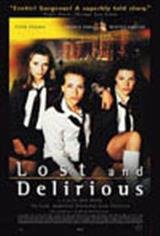 3.60 / 5
User Rating
Based on 2104 votes and 56 reviews
---
Please rate movie 1 to 5 stars
Showing 1 to 50 of 56
July 26, 2013
Very emotional
March 04, 2007
One of the best love - friendship movies ever seen. Great difference of play from Piper (cfr. Coyote Ugly).
January 09, 2007
Lost and Delirious is a film of substance and quality that few "coming of age" films possess and convey. Piper Perabo`s performance as "Paulie" is remarkable. She is a true gift to the big screen and we are sure to see more remarkable performances by this most talented actress. Thank you Piper for freeing yourself of any inhibitions and letting this beautiful, yet tragic story unfold. It has touched the heart and soul of many and we are forever thankful to you and all of those involved in its creation...simply put...YOU ROCK!
November 04, 2006
is the movie in thhe world!!i love it allll!!!!that scenes!woww great!!!#1~!!!!!!1!11is a real movieee.................!1!!!
September 30, 2006
I think it`s an amazing movie!!! i mean...it can really open up your mind...seeing this movie makes one think about other peoples choices and how it`s necessary to respect them...When i was watching it i could feel the smiles, the cryings and especially the angst...I believe that to watch this movie, you gotta have the courage to be able to accept what`s to come...My rating for it was 5*, how i wich there was some kind of sequel or some kind of spin off :`/ but wellit`s amazing!! i mean...it can really open up your mind...seeing this movie makes one think about other peoples choices and how it`s necessary to respect them...When i was watchi
September 25, 2006
Amazing movie, my fav movie ever! So full of emotions!
September 04, 2006
THIS MOVIE WAS AMAZINGLY BEAUTIFUL...every1 should watch this movie and not see the lesbians but passionate love between two people! two people who would go to very dramatic stages to luv one another...Must see Must buy- c
August 10, 2006
I love this film!!And i love Piper,she`s so beautiful in every way!There is noting more to say!
June 25, 2006
amazing movie. piper perabo performs extremly well. jessica also potray very heart wrenching scenes when she was torned between love and loyalty to her parents.
June 17, 2006
i`ve seen the movie like 6 times now and im plannig to see it again.. i`m an addict!
June 16, 2006
L&D is my absolutly favorite movie and Piper Perabo totally sweet :-) Sorry for my bad english. Love you, Sylvia from Germany!
June 01, 2006
The most beautiful movie that i never see!!!! that is the true love, is my dream!!!! my ilusion, my live.
April 03, 2006
Amazing movie!! I know no one the same. `Tis ma favourite. Greatest movie ever!!!
March 13, 2006
I`ve actually written my own sequel to lost and delirious
February 11, 2006
One of the best movie ever made. Really....
December 16, 2005
brilliant movie!!!
August 11, 2005
Amazing movie. Very touching. I can`t stop thinking about it.
July 11, 2005
Is one of the best movies ever its a beatiful story gorgeus you would fall in love with it and in a way is true the peer preasure can make you feel you have to take a decision even if its wrong. it really shows every aspect of love.
June 01, 2005
The most beautiful mivie,and so dramatic...Just amazin XD
March 27, 2005
i think that the movie had a really strong story line and the movie was good the whole way throu
March 17, 2005
its a really cool movie...maybe the best movie i ever seen
February 25, 2005
Most Beautiful, Gorgeous, and Lovely Movie I`ve Ever Seen.
January 21, 2005
I think this was a great movie that shows some of the heartache that comes out of a first gay relationship, as well as societies attempt to shun the gay and lesbian community. I was glad to see a movie that was about love ina gay/lesbian relationship,instead of just protrying us as just sex hungry people...
December 14, 2004
Most beautiful movie in the world
November 14, 2004
that is the most facinating movie ever! i`v seen it just once,but i`v red the script..such passion..love.. you know i think that this movie hast to get the Oscar prize! there is no movie like it
November 13, 2004
THE BEST MOVIE EVER AND FOREVER !!!!!!!!!!!!!!!!!!!!
September 12, 2004
I`ve lost count; that`s really scary.
September 01, 2004
this movie owns all its the best movie known to man
August 12, 2004
One of the most beautiful movies i`ve ever seen
July 09, 2004
lost and delirious shows the reality of the love... and i thik everybody can feel that pationated love in different ways.
May 25, 2004
lost and delirious is my favorite movie. it can be much related to life situations. granted i`ve never really had that problem it`s still an awsome movie. CK
April 29, 2004
It was brilliant AN i enjoyed everything about the film AN i laughed alot too in the films It was one of the best films i`ve ever seen
April 11, 2004
i thought lost and the delirious was an awsome movie
April 03, 2004
the best :) i live in montreal and the film was made near montreal at lenoxville very good movie
March 22, 2004
lost and delirious opened doors and reality for me...i learned to accept who i am after watching the movie...i love it! piper perabo was so sexy :)
February 25, 2004
I really likt his movie. Very captivating.
October 24, 2003
I thought that the movie was awesome
July 29, 2003
We have all felt like that, usually just once and around that age. Piper Perabo gives an amazing performance that people that have felt that kind of terrible hurt can really relate too. Unfortunately, the movie stays on the surface of many of the subjects and conflicts presented. Too bad. Nevertheless, good movie. A lot better than I had thought.
July 29, 2003
Haunting movie. Still thinking about it today. Enjoyable to watch.
June 26, 2003
It was a great movie..i would watch it over and over..i recommend this movie to everyone!
June 14, 2003
It was just beautiful. I loved it. Its my favorite movie ever.
April 17, 2003
i`ll give the movie 6 star...and it`s like watching my own life...
April 11, 2003
It was a beautiful and amazing movie! Its a movie that makes your think, it even makes you feel emotions with the characters. Brilliant! Perfect casting too.
July 18, 2002
I thought it was an amazing film. Because of what it stood for. And I think it sends the statement that any two people could fall in love.
July 05, 2002
I can`t believe there are people who of the same mind as me. I thought this movie was outstandingly beautiful. i just borrowed it from my library and now I`ve ordered it to buy. When I finished this movie I just sat there for a few minutes letting it all soak in and then I cried for about an hour and a half, but not because of the movie it was more of something inside me. Never have I had such a reaction from a movie.
June 20, 2002
It`s a masterpiece !
May 06, 2002
the most cool film ever!!!!why????because looks like my life only my life is rather with an happy ending now but there was a time when i thought like paulie and i wanted to do exactly what she did .i cried like a baby at this movie and i think piper and jessica play the roles vary good
April 09, 2002
it`s great!!it`s the best film i`ve ever seen!!! i love this movie!!!!and the actors!!!
April 09, 2002
It`s the most beautiful movie i`ve ever seen!!It`s very reality!!It can happend everybody!!and it`s just so fantastique that I can`t sleep the first night!! and I told everybody about the film, more than once!! I think everybody needs to see him!!
February 27, 2002
GOOD MOVIE *****