MacGruber
Thank you for rating this movie!
Read your review below. Ratings will be added after 24 hours.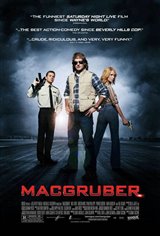 ---
Please rate between 1 to 5 stars
Showing 1 to 50 of 72
April 18, 2013
Comedic genius! When you are sending up cheesy movies you have to step in the cheese to mine comedy gold. The cast does a great job, but I think that is why you see so many negative reviews. People don't get that this is supposed to be an abrasive homage to those action movies we love. The comedy is throughout this movie but try not take it too seriously.
November 02, 2010
This movie might be funny if you're under 5 years old... If you like stupid pointless swearing... this movie is for you...
October 08, 2010
Worst movie I have seen in years. Very diappointed; stay away!
September 14, 2010
I realize it is a spoof movie but it is beyond absurd. Not worth even a rent.
July 22, 2010
This had the potential of beiung great, but gets bogged down on trying too hard. Wasted performance by Val Kilmer doesn't help much. It's like he's the only one who forgot this was a comedy, except it's not that funny.
July 21, 2010
Yeah, so another Saturday Night Live skit made into a movie. Not the best notion that's for sure. A one note script made into a mess and a joke. Laughs are so rare here its hard to believe this is a comedy.
July 20, 2010
Sometimes you miss by an inch, sometimes you miss by a mile. This movie misses by a mile and a half! Could have been much better, but resorts to gross-out humour, sophomoric humour and easy laughs. Too predictable to be original, too juvenile to be good.
July 19, 2010
Not exactly a 'time waster' but almost. If you want to kill some time and watch something mildly entertaining, then go for it.
July 17, 2010
Too silly for me.
July 16, 2010
I would wait for the video and watch it if you have nothing better to do.
July 16, 2010
This is not even a good bad movie. Mind you, I like cheesy and raunchy comedy but this movie had few jokes and a lot of bad puns. Too bad as I love Val Kilmer. Not this version of Val though.
July 15, 2010
This movie was ok.Seen better.
July 14, 2010
Very funny!
July 14, 2010
why are they still turning snl skits into movies?
July 13, 2010
I did not enjoy this movie at all. I found that the movie seemed to drag on and on for me, I didn't find it funny or amusing in any way. I couldn't wait to get out of the theatre. I would not recommend this flick to anyone, unless of course you were in prison serving 20 to life. That is about the only captive audience this movie would ever have.
July 12, 2010
Made for the SNL crowd. I doubt it would reach too many other people.
July 12, 2010
some laughs -- i couldn't believe the vulgarness, i don't know how it will be shown on tv too much will have to be bleeped
July 12, 2010
silly movie but a great way to pass time with
July 11, 2010
MacGarbage is more like it. What a waste!
July 11, 2010
Another Saturday Night Live skit turned into a movie. Better than most SNL skits turned movie.
July 09, 2010
It was okay. I think my 19 year old son would enjoy this type of movie over me.
July 09, 2010
I didn't think they could take mediocre skit from SNL and turn it into anything worth watching. But I was wrong. This won't be the best movie you see this year, but it IS funny and it's worth seeing.
July 09, 2010
Hilarious, you have to know what you're getting into, but if you're a fan of stupid humor, then you've found the right movie.
July 08, 2010
Saturday Night Live spin off was ok
July 08, 2010
Whoops, they made this into a movie. The laughs are few and far betweeen in this latest SNL spinoff. Very funny in places... very few places mind you. Works as a one minute skit, not so well as a full length movie. Nice try though.
July 08, 2010
I've had enough of these SNL to screen pics
July 08, 2010
better as a 1 minute skit on TV
July 06, 2010
Sophomoric script sinks this sad, sorry excuse for a film. Not even a few decent laughs can save this sinking ship. A one minute skit made into a full length film? No, no, no and NO!
July 05, 2010
MacCorn MacCheese Mac why bother?
July 05, 2010
Funny character for a short SNL comedy sketch but not enough substance to sustain a full length feature. Betty White could have helped this film by reprising her role as his mother!
July 05, 2010
I love it. So funny.
July 05, 2010
It made me laugh, which should be good enough, but I felt embarrassed for the people in this movie. I felt embarrassed for the people watching this movie, including myself. It's not the highest, smartest of humor. It's ridiculous.
July 05, 2010
If I want to see an SNL skit, then I'll watch SNL.
July 05, 2010
Moments of sheer comedic brilliance swimming in a lake of garbage. Could have been much better, but wasn't. Another movie in need of a script BADLY! Sometimes expanding on the original is just a bad idea. Case in point - MacGruber.
July 04, 2010
Totally, guy humor. Stupid, stupid ,stupid .
July 03, 2010
NOt as funny as the skit on SNL
July 02, 2010
I like the skit, however stretching it into a movie did not work. Too many raunchy jokes. Character development was lacking. And it deviates too much from the main skit.
July 02, 2010
Pretty funny.
July 02, 2010
I can't tell you how much I was looking forward to this film. I love Will Forte and Kristen Wiig, but this movie was LITERALLY a 90 second sketch stretched to fit the running time. I wouldn't recommend it to my worst enemy!!
July 01, 2010
clumsy unfunny
June 30, 2010
A one minute skit on TV made into a feature length film? Nope, doesn't work. Funny bits surrounded on all sides by not very funny bits, this film could have been a minute long and it would have worked. As is its just a goofy mess.
June 30, 2010
Entertaining, but again not mind blowing challenging. It will pass the time, but it's not one that your going to run out to buy. Rent it and laugh, a few times, but don't expect too much.
June 29, 2010
I thought the whole McGruber concept was dumb on SNL, and I can't believe they made a movie with the same dumb concept
June 29, 2010
Hilarious and stupid.
June 29, 2010
An under-appreciated comedic gem that will most certainly form a cult status in the future.
June 29, 2010
Any movie with cameos from wrestlers or starring any wrestlers usually turns out to be crap. This isn't any exception.
June 29, 2010
i was expecting alot more!
June 29, 2010
Who is funding these SNL skits turned movies? You gotta stop this waste of effort.
June 29, 2010
Another "almost" comedy that almost collapses under the weight of its own expectations. Gross-out humour abounds, which is exactly what one can expect from the makers of MacGruber. Funny and slow in equal amounts. Worth checking out after checking in your brain at the door.