Madagascar: Escape 2 Africa - User Reviews
Thank you for rating this movie!
Read your review below. Ratings will be added after 24 hours.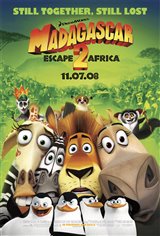 ---
Please rate movie 1 to 5 stars
Showing 1 to 50 of 52
June 14, 2012
great movie ,not quite as good as the first but still wort watching
July 01, 2009
This was one of my favorite movies.
March 20, 2009
it was very funny, but 2 short
March 01, 2009
Hilarious!!!!! The sequel was better than the orignal.
February 15, 2009
Totally hilarious. Enjoyed myself throughout the whole movie, kept me entertained, and had lots of adult inuendos, but great for kids too!
February 06, 2009
Really good movie...so funny and kids love it!!
February 01, 2009
sweet movie it entertains the whole family
January 31, 2009
i liked all the actors except alec baldwin
January 30, 2009
This was a great movie, it's just too bad BERNIE MAC (Zuba's voice artist) has died. I'll never forget thee!
January 24, 2009
It was one of the funniest, most coolest movies i've ever seen!It was waaaaaaaaaaaaaay better than the first Madagascar movie!
January 22, 2009
it was the best thing ever... the movie was a comedy!!! hahahaha!
January 12, 2009
I could have just watched the last episode of friends.
January 11, 2009
so.. great
January 08, 2009
Loved this movie!
January 02, 2009
Simply hilarious.
December 27, 2008
Amazing! But MADAGASCAR 3 (which comes out in 2011) may be better!
December 19, 2008
escape to the exits because this film was bad!!
December 18, 2008
it is a really good movie
December 16, 2008
Great for young people (6 to 14 yrs.) and a little entertaining for adults. The drawing and animation of the background is really worth seeing, because it looks so real. The drawing of characters is cheap and poor.
December 13, 2008
this movie is good
December 13, 2008
Fun, kids loved it.
December 07, 2008
The 1st was way better.
December 04, 2008
crazy movie
November 30, 2008
it was OOOOkkkk... not the greatest... the first one was better.
November 24, 2008
It's sooo funny! kept my boyfriend and I laughing till the end!! Highly Recommend!! :)
November 22, 2008
this was the best madagascar movie ever i even liked it better then the first madagascar movie
November 21, 2008
AMAZING! if i was broke id sell my kids to watch this again
November 21, 2008
BEST MOVIE EVER!!!!
November 21, 2008
No real creativity. The penguins are the only saving grace as is Bernie Mac! Save your money. You will never get those hours of your life back!
November 21, 2008
Obviously cutting room floor clips for a quick release. The "humor" was lame (ie. picking noses and eating eat). Also too violent for kids (running over an old lady and punching her repeatedly in the face). Insulting to kids and adults alike. What a disappointment from the 1st release. DO NOT WASTER YOUR MONEY. It is only just over an hour but could not end quick enough. The ONLY good thing was Bernie Mac and Sherri Shepherd as the Lion parents.
November 20, 2008
loved it! laughed nonstop!
November 18, 2008
cant wait for MADAGASCAR 3!
November 17, 2008
Excellent and funny movie for kids.
November 16, 2008
Hilarious!!! I laughed my head off, and found it extremely enjoyable.
November 16, 2008
this is a wild movie i would rate this movie a 4/5
November 16, 2008
I really really liked this movie.
November 16, 2008
it was an ausome movie. I hope they make another one.
November 15, 2008
It is so awsome!! Like Baby bootom smooth!!! K.H
November 15, 2008
Verrrry Funny - loved it!
November 15, 2008
Loved it!!! Need more penguins
November 12, 2008
Hilarious! Better than the first. You gotta love those penguins!
November 12, 2008
The movie was awesome. Rest in peace Bernie Mac.
November 11, 2008
This movie was great! Better than the first one by far. This is a must see in theatres! Definetly a 5 star!
November 10, 2008
This sequel is hilarious. I actually was giggling out loud at some parts and love the adult-oriented comments that sail over our kids' heads but make it that much more enjoyable for us parents.
November 09, 2008
Loved it!!!! Very funny and original!!!!
November 09, 2008
Great movie!!! I found it even funnier than the first with all of the original characters returning and the introduction of new and unforgettable characters!
November 09, 2008
u cant stop laughting from the first min of da show
November 08, 2008
Really funny and cute
November 08, 2008
Very hilarious, and a sequel better than the first. Definetely a must see in theatres everywhere. The cast is yet again, the best there is. A four star. Look for more of my reviews. E.B.A.