Madagascar - User Reviews
Thank you for rating this movie!
Read your review below. Ratings will be added after 24 hours.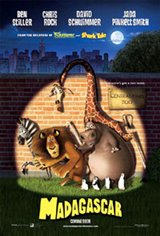 3.84 / 5
User Rating
Based on 6141 votes and 253 reviews
---
Please rate movie 1 to 5 stars
Showing 1 to 50 of 253
January 22, 2011
absolutely brilliant, love the scripting, acting,music and a must see fun movie for all - kids and all.
January 29, 2009
this movie is soooo funny! i love it especially king julian!!!! his the best! my daughter loves when he sings move it.
September 16, 2006
i hope the # 2 is better and more funny. this movie was the best of all time. King Julien is so cool. and the panguins rock.
September 12, 2006
madagascar is the best movie in the universe. I especially loved the littly apriaciated Monkeys. I mean why dont they get the attention they deserve.... who would be more suited to saY... "iF YOU GOT POOP NOW`S THE TIME TO THROW IT" lol it cracks me up every time. this movie is really enjoyable, it deserves 123456789000 stars*. i mean really not just because i like to move it move it, but it really sent out a good messege to the younger children, that if our friends but is in your mouth dont say your not bitting it!!!!
August 21, 2006
madagascar is funny packed with comedy.Its made by my favorite movie company"DREAMWORKS".The problem was good.plus the movie was so randommmmmmmmmm!!!!!!
August 02, 2006
i thought this was a good family movie
July 04, 2006
MADAGASCAR is probably the best mosie ever
June 24, 2006
madagascar was brill, ali g, who plays king julien is fantastic, i like to move it move it!
June 09, 2006
Madagascar was boring. I found only a single line, partially funny.Still, I have to say, that one line was hilarious. I would have laughed if the characters had not destroyed their reputation with crude humor, such as when one of the animals smacked the giraffe in between the legs. I probably would have enjoyed it more if the producers had not put the greater humor in the commercials. Such as the lion with clap activated lamp. (That was rather funny) I would not recomend buying this movie unless you`ve seen it and have a better report than me. If you are a huge fan of this movie, than I mean no offense. But I have two more good things to say
May 26, 2006
Story line is not enoth, but full of laughs
May 21, 2006
A very cute movie! Lots of laughs, great family film.
May 13, 2006
Madagascar was so cute! King Julian made it my favorite movie and it it was to funny! I hope there is a number two.... With King Julian.. hes so cute... I could go on for days about that movie. Anyway i give it a five star.
May 07, 2006
mdagascar was OK I would recamend it!!!!
April 28, 2006
Madagascar was so great! King Julian made it my favorite movie ever!!!
April 09, 2006
i LOVE madgascar
March 15, 2006
king julien rocks i love this movie
March 10, 2006
I like to move it, move it..........MOVE IT
March 07, 2006
This was by far the most funniest movie. If you do make a # two you better not make it dumb. it better be funny. More funny that the first one and a lot better. usaually the second movies are dumber than the first. But i love king julien. he was by far the funniest looking thing ever and the voice is perfect. keep him in for # 2 if there is one. don`t change the look of king julien it is perfect. no ajjustment should be done with him. I love this movie i have watched this movie i swear 25 times. I usaully don`t like movies like that. Ben stiller rocks. But i really like king julien. they didn`t show much of him on the biographry
March 07, 2006
Boring. Just plain boring. And I usually love cartoons.
February 25, 2006
I Like to Move it Move it - Me and my daughter dance every time this comes on. We love it!
February 17, 2006
most definatley the best movie EVER i loved it and if you didnt like it then why in the world did u write such rude comments and why did you go to that web site thats so mean but most def. the best movie IN THE WHOLE WIDE WORLD!!!!!!!!!!!!!!
February 16, 2006
I loved this movie!!!!!!!!!!! And i really hope they come out with a number two. King Julian is the BEST!!!
February 11, 2006
Smile and wave, boyz, smile and wave!
February 02, 2006
This was the funniest movie Ive seen in a while, I own it and have probably watched it a million times! The penguins are the icing on the cake!
January 23, 2006
I LOVED THE MOVIE AND EVERYONE WHO SEEN IT WITH ME THOUGHT THE SAME IT IS A GREAT KIDS MOVIE.!!!
January 18, 2006
this is the best movie in the whole wide world. i watch it all the time. it is the bomb!!!!! "its sooo cute, and flashy!!"
January 13, 2006
the funnest movie i`ve seen in a while!!!!! Loved it!
January 10, 2006
This movie is so awsomelllyy awsome!!!!!!
January 09, 2006
It is the best movie ever!!!!!!!
January 09, 2006
I THOUGHT IT WAS A GOOL MOVIE I DID NOT LIKE THE MEDS PART MELMON SEMED LIKE A DRUG ADDICT
January 06, 2006
i like to move it move it
January 03, 2006
A really great movie.... especially when the entire family is watching it. Brought smiles to both adults n kids alike. :)
January 02, 2006
This movie has somehting for everyone?
January 01, 2006
This movie has something for everyone. Our whole family loved it. King Julian just "ruled"...we laughed until our sides were sore. The nay-sayers that cut this movie down have all their good taste on their tongues, or are deaf and blind, or all of the above. You have to see this three or four times to get all the little side-bar humour bits. Thanks so much for a truly entertaining experience.
January 01, 2006
Madagascar is far most the funnyest move in the worlt!!!!!!!!!!!
January 01, 2006
Two paws up! I just love those guys! I saw the movie twice, and for a sequel. The DVD will soon be in my collection.
January 01, 2006
it`s a move great realy good
December 31, 2005
This movie is so cutee.I bought this movie and my young children just love it.We are the type to watch good movies over and over again(only if it`s good)yes cute movie and worth watching.Buy it.You won`t regret it.
December 22, 2005
I think Madagascar was by far the best movie this year espesially the penguins
December 21, 2005
halarious... i hate cartoons so this one really surised me. i aready wanna see it again. wow very entertaining
December 13, 2005
I LIKE THE PAWANS!! THEY ARE KEWL!
December 10, 2005
its so funny it is so much better then Chicken Little ! ! !
December 10, 2005
Tha characters were so well designed. I`ll take Madagascar over Shrek any day!
December 05, 2005
it was hilarious!!!!!!!!!!!!!!!!!!!!
December 03, 2005
Goodsense of humor with cartoon charecter....
December 01, 2005
I LOVEEEEEEEEEE MadaGAsCAr!!!it`S a VERYYYYY cute MOVIE AND i LOVEEEEEE IT!!<3<3<3<3<3<3<3<3<3<3<3<3<3<3<3<3!!!
November 30, 2005
totally excellent movie...my son is addicted to it! All he wants to do is "roar" and watch Alex!
November 26, 2005
it is ok ! but nothing against ICE AGE ! the pingus are the best! Yeah... ok my friend´s i have to go ! eviva madagascar! the 1th time the movie wasn´t so good. but now after the 3th time, the movie will be every time better! it is, because there are so many little things that you can´t see all the first time!
November 21, 2005
i like to move move it !!!!!!!!!!!!!!!!!!!!!!!!!!!!!!!!!!!!!!!!!!!!!!!!!!!!!!!!!!!!!!!!!!!!!!!!!!!!!!!!!!!!!!!!!!!!!!!!!!!!!!!!!!!!!!!!!
November 20, 2005
i emerged from watching this movie with a pleased feeling inside. although this movie had next to no plot, the penguins were insanely fun and the lemurs were amazing!