Magic Mike XXL - User Reviews
Thank you for rating this movie!
Read your review below. Ratings will be added after 24 hours.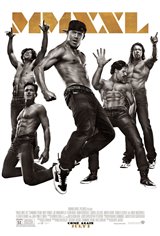 ---
Please rate movie 1 to 5 stars
Showing 1 to 38 of 38
May 13, 2017
the only good thing about this movie was Matt Bomer being shirtless, thats it.
March 01, 2016
Women deserve better than this.
March 01, 2016
Make a movie for women only. Most movies out there that have something for the girls only lasts a few seconds and the actor is almost always unattractive. Men have more then enough out there to keep them "up", what straight woman wants to see that much of other women? More dancing, less boring scenes. What I'm trying to say is study the hottest movies for men and reverse them for women. Ugly girls, sexy guys, no revealing clothes or nudity unless it's all showing the guys. Why do you think girls watch these movies? I have not met a single guy who would choose to watch these movies because all men whether they admit it or not do not feel comfortable enough to watch movies like these unless they are about the chicks instead but we watch their movies and some will watch ours but they would never want to do it. Be sure to have a more hardcore rating next time.
November 06, 2015
Can't wait!
November 04, 2015
Disappointed in Channing. I used to be a big fan, but this and Jupiter Ascending have changed my mind.
November 04, 2015
Worse than the first.
October 21, 2015
Good movie. I liked it better than the first because of the comical story line, however, there wasn't much dancing.
September 02, 2015
Love love love this movie!!! This is way better than the first one!! I was glued to the screen from beginning to end!!! Must buy dvd when it comes out, there's lots of scenes that were cut out due to running time and too hot and steamy for movie goers, keep the steam for the home where you can sweat all you want and then go take a cold shower!!! LOL I recommend this movie 100% you will not be disappointed :) :)
August 31, 2015
It was a great movie. Great dancing. I would highly recommend it.
August 06, 2015
terrible!
July 22, 2015
Those who are saying it wasn't good need to remember what kind of movie this is. The dancing quality was MILES higher than the first and the story was simple. Which suited me just fine! Hells yes it was a great flick to go see with the girls!! We had a riot. I will sooo be buying the bluray!!
July 17, 2015
Very good funny and stays with the story one hell of a good show
July 17, 2015
Terrible acting; even cringe-worthy at times... but oh so much fun! I am off to see it again tonight. Joe and Channing can move!
July 16, 2015
waste of time that you can never get back!!
July 14, 2015
4 stars for being so entertaining!!!
July 12, 2015
poor plot - completely sexist don't bother
July 10, 2015
a sequel that shouldn't have been made - don't even bother with the blue-ray - don't waste your time
July 10, 2015
a poor, poor plot - inept acting to say the least - don't waste your money
July 08, 2015
Save your money! There was no plot in this movie it dragged on for far too long. The first movie was way better.
July 08, 2015
I was very disappointed and I didn't enjoy the movie at all...Waste of money to see this one...no story or much dancing moves at all compared to the first one. I was shocked and expected a lot more this time around.
July 07, 2015
While Magic Mike was fun, this sequel is simply a money grab. The only redeeming feature is the dance off between Channing and Twitch. Ladies, save your money!
July 07, 2015
Make it in 3D please :)
July 06, 2015
a real snoozer - ending was too abrupt
July 06, 2015
Fun and entertaining
July 05, 2015
waste of your time & money
July 05, 2015
oh la...what the heck...story line sucked..they totally lost the focus of true fun and passion of what the male dancer world was way back.. they have tried to be more graphic, aiming at the younger generation now..made women in their 40s look desperate, and hmmm used mostly obese women and colored..which makes it look like they are trying to keep everyone happy.. house with Jada and separate rooms was ridicules.. guys.. you so have to realize what your core audience was first time around..
July 05, 2015
This movie was all over the map. But, of course I didn't go for the acting, I went for the hot dance numbers. I gave one star for Channing Tatum and one star for Joe Manganiello because they were the only two actors that could actually dance. The choreography was terrible in this movie and not even close to the first movie. Furthermore, Andie MacDowell playing such a bawdy character just left a bad taste in my mouth. Even when she played a hooker, she played it with class. This movie was definitely beneath her. Don't waste your money. You'll just be disappointed.
July 05, 2015
No wonder Matthew left after first show - terrible!! don't waste your money
July 04, 2015
The only reason I did not give this movie 5/5 stars is because the ending was quite abrupt. Otherwise ladies - get ready to drool!!
July 03, 2015
Not worth the cash of a ticket. Long uninteresting scenes and minimal dancing. No story at all. Shocked that it was rated as a 14A for attending. Wait for Netflix.
July 03, 2015
This movie was a big disappointment. Tried too hard to have a plot and it didn't work at all. A big waste of money!
July 03, 2015
Terrible movie! No story & very sexist
July 02, 2015
Hilarious!!!
July 01, 2015
What I was expecting from the first one :) Fine entertainment!
July 01, 2015
Lots of eye candy but lacked good story. Still worth seeing but I liked first one better
July 01, 2015
Wow this was embarrassing at times. Dancing aside (& even that was just okay) this should put an end to Magic Mike movies
February 12, 2015
The one sequel this year you must not miss!