Maleficent - User Reviews
Thank you for rating this movie!
Read your review below. Ratings will be added after 24 hours.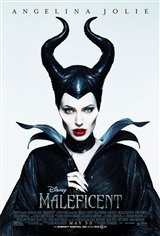 ---
Please rate movie 1 to 5 stars
Showing 1 to 45 of 45
December 08, 2019
like this movie a lot Angelina jolie did a great job as maleficent is my favorite . the end is really good to great movie.
March 17, 2018
Better than I expected and the visual side was well done too - from the cute creatures who lived with young Maleficent to the dark, thorny wall she let grow around her reign when her heart was broken. Also - SPOILER - the point of the movie wasn´t about romantic love but about mother love.
April 23, 2015
A bit unbalanced, but the great performances pull the movie through
December 13, 2014
LOVED IT! Wasn't expecting to love this gem, but was thoroughly impressed with the acting, storyline & film quality. 5 stars!
November 26, 2014
well crafted movie - better than expected.
November 18, 2014
A bit cheesy, but just the right amount in this surprisingly entertaining movie.
November 10, 2014
very well crafted movie based on a old time tale.
November 02, 2014
I was disappointed by it. I was expecting a more epic and sophisticated storyline.
August 15, 2014
I saw this movie twice and can't wait to own it. I loved the story line. It is a beautiful movie to watch. Both times I saw it, I cried.
August 02, 2014
This movie will only disappoint the worst of people. If your date doesn't like it, you should probably break if off as soon as you can! Extraordinarily beautiful with a completely unique grin-coaxing plot from beginning to end.
July 29, 2014
My husband and I saw it twice and will buy it. We loved the twist on "true love" at the end. Having met her for 1 minute, the prince could not possibly be Aurora's true love, but after 16 years, Aurora's love for Maleficent heals her broken heart. This really is true love and much better than the original story.
July 25, 2014
The best movie ever
July 22, 2014
Loved the movie. Angelina was amazing! 5 stars
July 08, 2014
The movie Maleficent met my expectations. This movie was very interesting- I love the way it was put together. I would not rate this movie 5-star, though. Maleficent was not the 'best movie of the year'. I would recommend this movie for people from ages 5-16. Adults may enjoy it, as well.
July 02, 2014
Not for everyone, but for those that don't look for te flaws or predictability in a movie will really enjoy it. Jolie was amazing, perfect in her role. Didn't want to see the movie, but really enjoyed it. Would see it agai without a doubt. I'm not a emotional, sentimental guy, but this movie really touched me
July 01, 2014
Excellent movie with great fx. Angelina Jolie was great but she is a little too skinny - perfect for the part, though.
June 28, 2014
A must see!! Loved Angela Jolie Empowering retelling of an old Fairy tale. I can't wait to see this again.
June 27, 2014
Awesome! Enjoyed this movie from start to finish. Angelina was amazing in this role. We were captivated through the whole time.
June 26, 2014
Things did not end so well for Maleficent in Sleeping Beauty, on which this film is supposedly based!
June 24, 2014
waste of time
June 19, 2014
Would see this movie again if i had to :)
June 15, 2014
Repetitious, boring, and the kids in the audience were yawning and asking how much longer before the movie was over. We went because we love Jolie but this was a real disappointment.
June 12, 2014
Angelina just can't act so special effects and make up have to bail this one out
June 07, 2014
Best movie of this genre since Avatar. Rarely will I consider paying twice to see a movie, but planning to do so again this week. If you soul can embrace the wonders of dragons, magic, fairies, elementals and such, then you will totally enjoy this movie.
June 07, 2014
LOVE LOVE LOVE. Those cheekbones!
June 04, 2014
Did not live up to the hype and a little corny.
June 04, 2014
A woman scorned... I wish we could see a movie with Angelina seriously evil. I thought Mal was supposed to be the most evil of the Disney evil people. What's with disney adding twists on true love. See Frozen, it was 2 sisters. See this and they start to lead you another way and bam it was something unexpected. Effects were good but Copley (played the king), is getting type cast as villans. (see Elysium).
June 04, 2014
Great special effects! Angelina is an excellent actress! Me, my hubby and two kids enjoyed it so much! My daughter loved it and can't wait to buy the DVD. Angelina's daughter is so adorable and beautiful like mommy.... I think that is Vivienne who portray the little Elle Fanning.
June 04, 2014
Angelina and Elle Fanning are such great actress! Angelina Jolie is awesome! Beautiful movie! Can't wait to buy it on Bluray. This movie is worth your money!
June 03, 2014
It is extreme disappointing. It is the same story i.e. true love lift the curse or the wrath, same as Christian theology. Too many movies to brain wash the public with Christians theology.
June 02, 2014
Loved it! It was super funny and many great action scenes :) Also love the Aurora/Maleficent relationship and Prince Philip was adorable! (is he a secret one direction member or something)
June 02, 2014
loved it!!! Angelina was amazing!
June 02, 2014
Wonderful visuals and acting .greta story twist
June 02, 2014
I like the hat Angelina wears in this; perhaps they will catch on...
June 02, 2014
If I had to leave half way through I wouldn't have been too sad. It was very slow. The visuals were fantastic which is why it's not getting a one star. People laughed during some serious parts. There were a lot of people bored. You could tell because there were a lot of people leaving to go to the bathroom. When the movie is awesome no one leaves, or talks - lots of talking and moving around.
June 02, 2014
loved it!!!
June 02, 2014
I really looked forward to seeing it was very boring. You could hear and see the audience shuffling in their seats through most of the film. Costumes and set were great. It was just edited wrong or something. Save your money and rent it. Really.
June 02, 2014
This movie was supposed to be dark. What happened???
June 02, 2014
love this movie!!!!
June 01, 2014
The movie was absolutely fantastic. Everyone coming out of the packed theatre loved it. If you love the story of sleeping beauty, you will find the movie amazing. A must see.
June 01, 2014
loved the movie
June 01, 2014
We loved it. The grand kids loved it. It has been critized for having too many effects and not enough story. We all, heartily, disagree. Yes the effects are epic but they never take away from the power of the plot. Jolie was perfect in the role, and, in the crucial scene - her performance made me cry. And I'm the grandpa!
May 31, 2014
The movie is fantastic! Loved loved loved it. Angelina makes bad fairies have a heart. Great family movie. The special effects are awesome great story not what I expected.
May 31, 2014
good movie for children and adults who enjoy watching children's movies. I really liked it and rated it a 5 star and my hubby gave it a 3 star thus the 4 star. Many people clapped at the end of the movie
May 31, 2014
It's this year's Hobbit.