Man on a Ledge
Thank you for rating this movie!
Read your review below. Ratings will be added after 24 hours.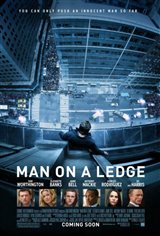 3.62 / 5
User Rating
Based on 266 votes and 124 reviews
---
Please rate movie 1 to 5 stars
Showing 1 to 50 of 124
February 04, 2013
A lot of nonsense...what was Kyra Sedgwick doing in that c-part role? What were any of the actors doing in this lame movie? Not good.
August 20, 2012
awful movie
June 18, 2012
was entertaining for a rental. i agree that the acting is not high calibre. that said it is better than many movies i've seen lately.
June 12, 2012
one of the worst films i've seen in years. plot is disjointed and messy. acting was horrible, especially elizabeth banks. waste of time.
June 09, 2012
good revenge movie about a man who outsmarts the guy that had him framed to clear his own name.
June 06, 2012
despite some thrills, the movie is flat, with a messy story and plot.
June 06, 2012
a bit dumb...performances were awful
April 18, 2012
Good thing
April 13, 2012
not as bad as others say; it was better than expected. an unusual plot... unexpected twists... interesting, even though any 'man on a ledge' can get boring fast... what happened around the man kept me interested... and guessing who's on the take or not... enjoyed it (in budget theatre; unfortunately missed the last 2 minutes... as the film actually got torn, and a burnout appeared on screen...; compensated with a free pass on another movie) :d
April 03, 2012
awful!!!!!!!!!!!!!!!!!!!!!
March 31, 2012
great thriller, just when you think you know whats going on, it turns out you've been wrong the whole time! twists make this movie a great film to watch and keeps you at the edge of your seat!
March 20, 2012
fell asleep during this laughable film. what a waste of time!!
March 08, 2012
dumb movie....awful acting
March 07, 2012
silly and a complete waste of time.
March 06, 2012
better than i thought. i liked it.
February 20, 2012
soooo gooooooood , but was bad.
February 17, 2012
so bad it's funny
February 17, 2012
a good one
February 13, 2012
horrible movie!!!
February 12, 2012
i enjoyed every min. it keeps you guessing and the story consistantly moves forward.
February 10, 2012
not a movie i would recommend.
February 06, 2012
pretty good movie, the ending could of been better. i`d wait and catch this one at the cheap seats.
February 05, 2012
i enjoyed it. some components were not realistic, but it was still enjoyable.
February 03, 2012
absolute nonsense
February 02, 2012
awesome movie the acttion was awesome go see this movie .
February 01, 2012
cheesy..but fun, and ms.rodrigues is worth the price of admission.
January 31, 2012
do not be fooled by those reviews written here that give this movie a bad name. do not be fooled by critics who are clueless enough to rate badly a film that is indeed worth the money. trust the majority of reviewers here, take the time to look at each comment; they all give the film 3+ stars! this one will not disappoint action-lovers! at any rate, this movie is much better and far more sincere than "contraband"...so if you are going to pick between these two action films, i strongly advise you choose "man on a ledge". just saying.
January 31, 2012
i really liked it and i have read all the reviews, not one person mentioned the best part in the whole movie. the beautful genesis rodreguez. too me, she made the movie. 5 stars for her alone. guys, trust me, better then magen fox
January 30, 2012
an awful movie, filled with below-average performances. elizabeth banks as a tough new york cop?!?!..seriosuly?!?!? i couldn't understand what worthington was saying - finniest attempt to hide an accent ever!
January 29, 2012
"blockhead on a ledge" is what this movie should be called. sam worthington is a moron, and i would hope he would fall off the edge, and end this terrible movie.
January 09, 2012
WoW - i was absolutely blown away by this movie.... after a very long time ive seen such a good suspense script! Good one summit ent. A must see - i'm definitely going to watch it again - Sam worthington, jamie bell, and genesis have done a fabulous job!
January 09, 2012
Good movie!
January 09, 2012
Saw a screening of this and it was a interesting concept to see. The supporting cast was great and the use of the ledge at the Roosevelt hotel was an incredible sight. From the actual vantage point of this ledge, a story unfolds and we find out there is something more. Great movie. (Code 28582)
January 09, 2012
despite being somewhat predictable, the movie was still entertaining and enjoyable.
January 08, 2012
Lots of twists and turns that keep you engaged and wondering if you really know who is who.
January 08, 2012
A definite must see! Code #28582
January 07, 2012
I enjoyed this movie. I highly recommend it.
January 07, 2012
Very enjoyable movie. Will definitely recommend the movie to friends. Code 28582
January 07, 2012
The movie was o.k. I was entertained but found it to be a little slow and predictable. Code 28582
January 07, 2012
The story was a bit slow at the beginning but it picked up to keep you at the edge of your seat. Code #28582
January 07, 2012
Really enjoyable...thans tribute!
January 07, 2012
Man ON A Ledge was funny action packed and had the twist needed for a good action movie code 28582
January 07, 2012
An non-stop action-packed thriller with surprising twists to keep you thinking. The ending is far-fetched but fun. Integrity and justice prevail! Code #28582
January 07, 2012
A thrilling fun time. Go see it!
January 07, 2012
An edge-of-your-seat ride. Fun from start to finish.
January 06, 2012
I really enjoyed the movie. It was full of action, suspense/thriller. I would recommend this. Code #28582
January 06, 2012
Never a dull moment - the time went by very quickly. Some nonsense, but overall a good movie.
January 06, 2012
I really liked this movie. I highly recommend it!
January 06, 2012
An enjoyable movie with a race against time. A desperate ex-cop who will try anything to prove he is innocent. Does he jump? You need to wait until the very end tp find out.