Manikarnika (Hindi)
Thank you for rating this movie!
Read your review below. Ratings will be added after 24 hours.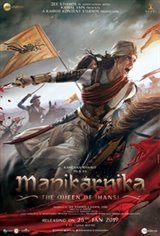 ---
Please rate between 1 to 5 stars
Showing 1 to 8 of 8
February 04, 2019
Movie was so well done. Kangana was outstanding. Great movie, I will watch it again.
January 30, 2019
Awesome movie, epic scale. What a brave woman! Kangana Ranaut was amazing - and beautiful, too. Recommending this to all of my friends to see. Plan to see this movie again.
January 26, 2019
Wow, what an incredible movie, I'm not even an Indian but had goosebumps watching her lead the army against the British! Such bravado and she portrays Queen of Jhansi brilliantly. Awesome Girl Power, Go Kangana!
January 26, 2019
Amazing work, enjoyed watching Kangana on the big screen after a while! You are a total bad ass, babe!!
January 26, 2019
Well done! Go Kananga!
January 26, 2019
Kangana Ranaut is the most talented actor in Bollywood today. She's one gutsy lady, amazing and fierce in this movie and in her real life. Beautiful, well made movie that was not made on a big budget.
January 25, 2019
I just rated five stars and wrote about Manikarnika, which is the name of this one of the greatest queen from Jhansi,India.Her nick name became "The Jhansi Ka Rani " which means the queen of Jhansi. My name is Nawang Khechog,I am a Tibetan and we are also fighting for our FREEDOM .
January 25, 2019
Manikarnika (Hindi ) movie is one of the best movie to come from Bollywood.It is a true story about a queen who fought with British for her India's Indipendence in 1800's.She gave her life for India's freedom and Indipendence at the end.Her story is tought in schools in India.Every Indians are inspired by her story.