Mean Girls - User Reviews
Thank you for rating this movie!
Read your review below. Ratings will be added after 24 hours.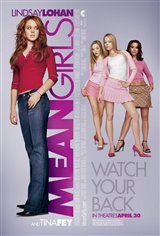 4.42 / 5
User Rating
Based on 18394 votes and 220 reviews
---
Please rate movie 1 to 5 stars
Showing 101 to 150 of 220
July 03, 2004
Mean Girls is exactly the way girls act these days.
June 30, 2004
I think of the meangirls it was very nice and very funny too.
June 22, 2004
Such a good movie to watch because its a Chick Flick. I love them! It was really funny.
June 20, 2004
I thought mean girls was halarious! I loved Lindsay Lohan(My Idol) she was great! I loved how it was like real life stuff for teens. It was a great movie for everyone!
June 19, 2004
It wasn`t funny and made me cringe the whole way through.
June 19, 2004
I`m a 15 yr old girl in highschool and I can honestly say that this movie was completley exagerated. It was rude and crude and made a mockery of girls. We don`t act like that, we don`t think like that.
June 18, 2004
whe i saw the movie the first time it was one of the funniest movie have have seen. it was sooo believebul and very true and i knew some mean girls like the plastics but i thought it was a great movie and lindsay did a awsome peformance in this movie like really believe that she was this charater and she got so bitchy in the middle and by the end she was nice again.
June 12, 2004
I thought it was funny, and the guy Aaron Sammuels is rally hot!!!!!! I loved it!!!!!!!
June 12, 2004
oh my god like that was so totally fetch! awesomness!! i wanna be them! tee hee... love ya!
June 08, 2004
Almost the same thing happened to me so it was cool to see it as a movie...I loved the choice of actresses as well.
June 06, 2004
This movie was very predictable and the commercials gave a lot of it away. I was very dissapointed.
June 05, 2004
it was really good and taught me a lot about how life should be handled
June 03, 2004
Mean Girls was mean...to me. It was with out a shadow of a doubt the worst movie I have ever seen!!!!!!
May 31, 2004
I thought this movie was, cool, but there were, some disturbing parts, but it was still funny, Lol.
May 30, 2004
Mean Girls was an awesome movie!! I think Rachel Mcadams is soo cool!! i wanna be like her!! Lol umm anyways i love mean girls..and im gonna by the movie when it comes out:D!!
May 30, 2004
Unreal, unmean and untrue, not what I was expecting. They could have been meaner, nastier and more like the real mean girls. They were too nice...Damn it.
May 30, 2004
I thought it was a very good movie and hilarious I would like to see it over and over again
May 30, 2004
I thought this movie would be like a regular chick flick...but it was so hallirious...I couldn`t stop laughing!!
May 29, 2004
I thought it was awesome. It had a great portrayal of the teen life presently, and I hope it makes adults realize that it`s not very easy being a teen.
May 29, 2004
Not recommended for kids under 16. I took my daughter and her friends to see this movie for her birthday. Ages 10 to 13. They all hated it and said the language was real bad. Now I feel like I have to apologize to all their parents. It should have been rated PG16. Please mothers and fathers out there don`t bring your 10 to 13 year olds to see this.
May 29, 2004
I thought it was so awsome.
May 28, 2004
It was a very cute teen movie! Lindsay Lohan was wonderful in it her acting was much better than in Confessions Of A Teenage Drama Queen!
May 26, 2004
Ever since I saw True Confessions of a Teenage Drama Queen I was so dissapointed that I thought that all the Lindsay Lohan movies would be like that. But when I saw MEAN GIRLS I was proven wrong. This movie is hilarious! I loved it SO much. Whoever didn`t see it should totally go. IT IS WORTH IT!
May 25, 2004
It suck!!!!!
May 24, 2004
I thought it was really cute and funny. Total chick flick though. well guys might watch it for the girls.
May 24, 2004
It was a great movie. It was so funny!!! I loved it so much I just want to see it over and over again!
May 23, 2004
lindsay is so hot
May 18, 2004
i thought mean girls was absolutely awesome
May 18, 2004
Like oh my god! can there be better movies? is it possible to make better movies than this one?? Whatever!! No way! move over, lord of the rings, braveheart, shawshank and any other great movie of the PAST! Here comes MEAN GIRLS!!
May 18, 2004
it`s kind of funny how some of Linsay Lohan`s co-actors in this movie are in their late 20`s playing the roles of high school seniors
May 17, 2004
i thought the movie was awesome
May 17, 2004
I thouhgt it was cool.
May 16, 2004
great..,.grand
May 15, 2004
i liked it.it was funny.
May 15, 2004
this was an awesome movie!!!mad props!! i so recommend it!!
May 15, 2004
I LOVED it!!! I went with my boyfriend and her liked it too!!!!
May 15, 2004
I think it was ok but it shouldnt be rated pg because it totaly isnt i mean the mom walking in on regina and all it is tottaly not suitable for little kids why did they even put that part but other the disgusting parts it was ok not the best movie in the world but ok but if u do a sequal take out the gross parts or give it a better rating that actually tells u what its about
May 15, 2004
im going to see this movie agian and agian!
May 14, 2004
It was great Iloved it
May 14, 2004
it was awesome
May 12, 2004
This movie is really cute but I thought it would be a little better!
May 11, 2004
i think it was sexy....hehe
May 11, 2004
a great effort from a spectacular cast and a fresh take on the typical teen flick. It was sexy and funny even while pushing a thinly veiled feminist agenda. Itis right up there with "Heathers" and "Clueless" but even smarter. I loved it.
May 11, 2004
I think the movie is totally great and i really love Lindsay Lohan
May 10, 2004
well mean girls are mean
May 10, 2004
I went into this movie thinking it would be your usual chick flick. But once the movie started, I realized I was wrong. It was very funny and actually had a good story line. I would recommend it.
May 10, 2004
If you are a little girl of 14 year old, you`ll like this movie. For the others, forget it, it`s too boring...
May 10, 2004
This Movie is the worst move i have ever seen. and there are many disterbing parts about this movie with the little girl belly dancing and a mom walking in on people having sex. the only good thing about this movie was the skirts and the good looking main character linsay lohal!
May 10, 2004
Mean Girls is a totally girl power movie. It rocks
May 09, 2004
I think Mean Girls is sooooooooo the best movie!!!!!!