Medici: Masters of Florence (Netflix) - User Reviews
Thank you for rating this movie!
Read your review below. Ratings will be added after 24 hours.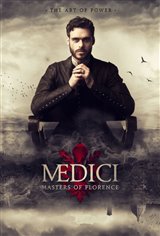 ---
Please rate movie 1 to 5 stars
Showing 1 to 37 of 37
May 19, 2020
Dustin Hoffman was not convincing, lacked talent and did not blend with other characters. The rest of the cast was superb.
February 13, 2019
Music overpowers the whole thing, poor writing, poor casting, and seems to try and rely on sex scenes to keep interest.
February 08, 2019
Great show but Dustin Hoffman might be the worst actor ever. And terrible choice for this part.
September 21, 2017
Wow can't stop binging on this well performed and beautiful movie. Finally a movie of exquisite taste. Cheers!
September 08, 2017
The board game I played made sense thematically after I watch this show. This series is awesome and I can't wait for season 2.
September 08, 2017
brilliant!!
August 13, 2017
Loved every second. Can't wait for season 2.
February 26, 2017
I loved this! It demonstrated the internal struggles, and the external struggles with breath taking scenes of Florence. Richard Madden's performance was spectacular!
February 22, 2017
I enjoyed the season particularly the strong women Cosimos wife of one determined lady and all the politics and backstabbing is awesome. Very entertaining . Love it when the women drive and the men think they are . That's always fun to watch
February 11, 2017
Please put in on DVD or Bluray so I can purchase it.
February 06, 2017
Fabulous. Loved every minute all 3 times!
January 28, 2017
What can I say... I'm addicted!
January 26, 2017
Great entertainment for historical fiction. The way the Medici and others worked their way through power is interesting at the very least. If you like the Bourgia you'll enjoy this!
January 11, 2017
I can't wait for season two! Love it.
January 10, 2017
As others have mentioned, this series is the antithesis of a perfectly crafted production like The Crown. And, yes, while the writing is bad, Hoffman is miscast, and it's way too soap opera-y, my primary criticism of the show is the MUSIC!! Oh, my god, it never stops, and worse--it completely overpowers the show itself. Music accompanying movies, etc., must be interlaced with the production in such a fashion that it is almost not noticed, but here it's them main character. It's SO very heavy and constant that I can't even continue to watch the show. I cannot recall a movie or show I've watched where the music was this ridiculously overused.
January 09, 2017
Take one part Godfather, one part Thrones, and throw a whole pile of Netflix money at a project and it can't miss, right? Nope, sorry. No story can long survive if you don't care about any of the characters. I wouldn't care if the whole Medici family got wiped out and they started over with a new cast. Dustin Hoffman is so miscast that it is embarrassing when he comes on the screen. He is wooden, charmless, and utterly without charisma and that's his good points. The remainder of the cast is largely newcomers that try valiantly to put some life in the dull scripts and stilted dialogue. But when you could cut 15 minutes of air-time out of each episode by simply removing shocked glances at one another, you know you need to fire all the writers. I don't say this with glee. I really wanted to like this as the next big thing at Netflix, but it just doesn't deliver on any level. The action is weak, the scenery is claustrophobic (I could not get blander), and most of the time you spend your night asking the person watching with you, "What 's happening ?, I missed why that guy hates that other guy". My advise, skip the whole mess and just binge watch The Godfather and Thrones.
January 08, 2017
More like a Renaissance soap opera. If you want the true story and see the real masterpieces, get PBS documentary "The Medici."
December 29, 2016
Bad sound mix, turgid script. A shame because there's a great story to tell.
December 28, 2016
Totally boring. Dustin Hoffman is a great actor but in this show he acts like he has sleep apnea.
December 27, 2016
I would try to write a balanced review on, "The Medici", if I could, but in order to have balance one must have something on the other side of the scales. Therefore, I will accept that this can be little more than a warning. If you know anything about history avoid this trash. If you have half a brain refuse to let the part that still works be exposed to this caustic substance. If you value your teeth keep them away from the cavities that will result from exposure to this syrupy re-digested pablum. The Medici rose from the bottom levels of society and remained on the top because they produced generations of very capable, very smart, very 'Machiavellian' leaders that were people of their time. They 'made' popes and kings, and became nobles and popes themselves because they consistently outmaneuvered their opposition. Like them, or hate them, they were a family to be reckoned with. This work of fiction, written with idiocy as its engine, is a farce. Beware!
December 26, 2016
Interesting but find the dialogue very muffled and music very loud.
December 24, 2016
Great show*** Started a little slow until you watch episode 3 and saw plotting by their parents really pick up then I love Richard Madden playing Cosimo slightly moody character but intense with a sexy twist.
December 21, 2016
Good political intrigue, great scenery, and story telling.
December 18, 2016
A great show. Fantastic first season. Not only is the acting and scenery superb but to be shot in Florence is all the more reason to watch it. Bring on season 2.
December 16, 2016
This series is worth watching. Every episode leaves you wanting more!
December 16, 2016
Best Show Ever!!!! Need Season 2
December 13, 2016
Seriously disappointing. Unimaginatively written, poorly acted but hey, lovely scenery. It cured my insomnia in one evening.
December 12, 2016
The writing is laughable, the casting perplexing, the acting more suited to a LIFETIME television production and the design and production values look like an American high school student's idea of a Renaissance-themed Disney movie. All in all, this has the feel of a mid-level CW Network series. What a shame.
December 12, 2016
I was so looking forward to this, as both Dustin Hoffmann and Richard Madden lead the cast, but my expectations were dashed. I was bored beyond belief by the time I got halfway through Episode Two. Literally fell asleep watching it. The writing lacks any kind of serious color, and apparently the Cosimo, Lorenzo and Giovanni all were passive/aggressive in their plotting. Other than fine costumes and the delight of watching Florence architecture in high def, this has little to recommend it. Snore.
December 11, 2016
A very fascinating history told in this very dull but visually opulent series. The brilliant Dustin Hoffman is horribly miscast as the patriarch. He speaks with the only New York accent among several British and Italian ones. His son Cosimo is attractive, but wooden. I give it 1.5; not allowed in star clicks.
December 11, 2016
Love this series. I felt like I was back in Florence with the scenery and the beautiful scenery. The acting is superb and the story line is great, following history fairly closely. I would love to see another eight episodes. The costuming is beautiful as well.
December 11, 2016
So much promise. So little delivery on the promise. The script is so boring. The anachronisms are glaring - which means both the language, the looks and the concept are 21st Century pretending to be 15th. The blazing white teeth and perfect eyebrows of a "laundress" are the first clue. Too bad. It's not The Crown. It's not House of Cards. It's not worth it. Disappointing Netflix.
December 11, 2016
Historicly and visually pleasing. The intrigue keeps one watching till the end. Acting superb!
December 10, 2016
Great movie if you're into a bunch of gay guys pretending to be gladiators.
December 10, 2016
Beautifully designed and genuinely compelling. Superb performances all round from the cast. The locations and sets are sumptuous and capture the feel of Italy and they successfully show the political intrigue and manoeuvering which characterissd the birth of the renaissance in Southern Europe in the 15th Century.
December 10, 2016
This is not The Crown. A historically detailed portrayal of the Medicis, an Italian Wolf Hall, could make for excellent viewing. But what we get here is a low quality script that could be set in the modern day with the Medicis as Goldman Sachs. It isn't even in Italian. You can do better Netflix.