Meet the Robinsons - User Reviews
Thank you for rating this movie!
Read your review below. Ratings will be added after 24 hours.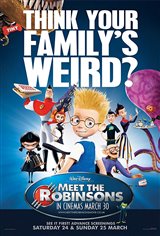 ---
Please rate movie 1 to 5 stars
Showing 1 to 44 of 44
September 26, 2008
It Spoiled My Day
October 29, 2007
Excellent movie! Good story, kinda wacky at times. Animation was great. Lots of fun!
May 26, 2007
My boyfriend and I went to see this movie and we both thought it was cute.
May 14, 2007
it was kind of dumb
May 14, 2007
This movie was so predictable, even my four year old knew what was coming next. All the laughs you see in the trailers are the ONLY laughs in the film. I'd say stay home and watch 'Jimmy Neutron' on the tube. They're pretty close, but Jimmy's more entertaining for the little folks.
May 12, 2007
it is the worst movie i hav ever seen!!!!!
May 06, 2007
It was a good movie. Hilarious!!! Great for kids!!!! I wouldn't want to see it again but my kids would!!!! Another great movie by walt diney for kids(not great for adults)
May 06, 2007
I don't care what anyone thinks. I am 10 years old and I just got back from seeing Meet The Robinsons with my grandmother. We BOTH loved it. And she is 58. It is the funniest movie I have seen for about a YEAR. Defanatly a must see to anyone that hasn't. (Besides, if your a kid like me and everyone is talking about it at school, it never hurt to be in the know. Right?)
April 28, 2007
ROCK ON GRANDMA!
April 26, 2007
A very entertaining movie, would definitely watch again.
April 26, 2007
This movie is amazing! The plot is witty and clever and the script is hilarious! Definitly one of my fav movies right now
April 26, 2007
It was sooo good it made me fall in love with Disney again!
April 18, 2007
i think that meet the robinsons was a really good movie. i would probably want to watch it 12 more times.
April 15, 2007
IT WAS AMAZING! It was absolutely Hilarious!!
April 15, 2007
Five stars for a very funny and silly movie. I`d see it again but not in 3D.
April 15, 2007
it is a very great
April 14, 2007
it was F-word funny im 62 and i loved it
April 10, 2007
BEST MOVIE SCENCE THE INCREDIBLES!!!!!!!!!!!!!!
April 08, 2007
THIS WAS THE BEST MOVIE IVE EVER SEEN I CANT WAIT TELL IT COME ON DVD!!!!!!!!
April 08, 2007
Entertaining but not one of Disney`s best offerings. It started and ended well, but the middle was a bit messy. It introduced about 10 new characters in what seemed like only a minute, which was just plain confusing. The story dragged a little in places but seemed rushed in others. Having said that, there were some funny moments and a good message like all Disney movies. I took a group of 9 and 10 yr old girls and they all enjoyed it but weren`t raving about it.
April 06, 2007
great for kids the screan jumps out at you a must see.
April 06, 2007
this movie was great. I saw it in 3-D and highly recomend it. It is on par with Walt Disney`s thinking and belief of moving forward into the future.
April 05, 2007
i loved the movie i would see it again and again if i could the t-rex was soo cute i have a big head and little arm
April 03, 2007
Not on par with Finding Nemo or Toy Story... more on the "ok" level of Incredibles. The movie has its moments - as with all Disney major pictures, and is still worth watching - just don`t expect the same gratifying experience as we`ve all gotten accustomed to with Disney.
April 03, 2007
I loved so much.I give 5 stars
April 02, 2007
The concept of the movie was a bit on the difficult side for younger kids. Movie was well done however the story was a bit busy and confusion at time for kids.
April 02, 2007
AMAZING MOVIE!!!!! I`D SEE IT AGAIN IN A SECOND. IT WAS CUTE AND FUNNY!!! DEFINITLY NOT A WASTE OF MONEY!!
April 01, 2007
Not funny for the adult sensibilities. Cant understand why kids liked it.
April 01, 2007
It has it moments and I felt like i was watching a walt disney bio flick... I have a big head and little arms.. Master?- t rex
April 01, 2007
a very dumb storyline, but pretty funny.
April 01, 2007
I loved this movie so much.It amazing anyone could love this.
April 01, 2007
Its true it was the absolute worst movie:( bleck I do not recommend it at all.
April 01, 2007
HAHAHAHAHAHAHA!!!!!!
March 31, 2007
its one of the best movies i have ever seen!!
March 31, 2007
i loved your movie
March 31, 2007
This was one of the better animated movies to come out in a while.I loved so much.There was a lot of older people there and they were laughing a lot.Anyone could love this movie.10 stars out of 10 by me.
March 31, 2007
I thought it was such a funny movie I love the imagination that they put into the movie!
March 31, 2007
i thot it was really funny when the trecx says i got a big head and little arms master
March 31, 2007
funny, cute and understandable!!!
March 30, 2007
Wonderful, beautiful and fun!
March 30, 2007
THE ONLY PART THAT WAS FUNNTY WAS ON THE PREVIEW.TOTAL WASTE OF MONEY.
March 30, 2007
Quite a fast paced movie. Bowler hat guy steals the show VERY FUNNY!! I would see in again to see all that I missed the first time.
March 30, 2007
waste of money