Miami Vice - User Reviews
Thank you for rating this movie!
Read your review below. Ratings will be added after 24 hours.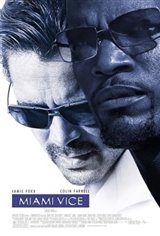 3.37 / 5
User Rating
Based on 3687 votes and 432 reviews
---
Please rate movie 1 to 5 stars
Showing 1 to 50 of 432
August 25, 2017
This movie was awesome... action packed... amazing actors.
August 20, 2017
Amazing Jamie Foxx
January 15, 2007
The best movie from Michael Mann yet. More in terms of cinematographie and soundtrack. Every shot in the movie is hypnotizing and makes you want to watch it 10 times over. The cast for this film was good. Jamie Fox however was too predictable and brought too much attitude to the screen which I think made ``Tubbs`` unbelievable. Collin Ferrel palyed it cool with the voice and the look... very convincing. Gong Li was fantastique! Congratulations to Mr. Mann and his crew for making another masterpiece. I think Michael Mann is a genius for being able to create such films. Please keep them coming! Other Michael Mann films I`ve seen: T
January 03, 2007
So-So had some good action but otherwise was pretty messed up
January 02, 2007
no plot but collin is damn Hawt!!
December 10, 2006
THis Movie is Alright
November 08, 2006
boring, boring, boring
October 31, 2006
stay away, terrible movie!
October 13, 2006
The only good things about the movie were the cars and the boats, other than that poor acting and even worse writing.
October 13, 2006
Colin Farrell is absolutely gorgeous in this movie. Love the soundtrack too!
October 01, 2006
I think Michael Mann did a great job! PERIOD! Too many people expected a Michael Bay film like Bad Boys and that`s why they`re upset with it. I was a crime-drama, not a crime curse-filled comedy.
September 30, 2006
sweet movie, whoever is bashing it doesnt know what they are talking about
September 25, 2006
lamo. Got to be one up there as one of the worst movies this year.
September 25, 2006
good entertainment
September 25, 2006
Big Hype movie turned out to be BIGGER disappointment. Absolutely Terrible!!! Poor direcing, terrible script, horrible acting and poor filming...what`s with all the pitch dark scenes? Waste of time and money!
September 23, 2006
It commits the ultimate sin of being boring, totally, boring and predictable. I was searching for the plot in between gratuitous sex scenes. Where`s the charm, the sex appeal, Miami as a background!!! Please I beg you don`t do another one, once was definitely enough.
September 19, 2006
The worst movie i`ve ever seen in 28 years. Sex,talk,sex,and talk......
September 18, 2006
I have absolutly loved it not only that I have seen it 4 times it was one of the best movies ever made .Thank you Mr.M.M.
September 14, 2006
WAS DISAPPOINTED...EXPECTED MORE FROM THE MOVIE
September 13, 2006
No entertainment here
September 09, 2006
The worst movie I have ever seen. Colin Farrell can`t act and you can`t hear what they are saying for most of the movie!!!! Don`t waste your money.
September 08, 2006
Very slow paced movie. Colin is a terrible actor. The asian actress seems like a miscast. On the positive side, there were several nice cars.
September 08, 2006
Kudo`s to Michael Mann on the efforts placed in the film. It was a unique story told from a unique point-of-view, and was shot magnificently, in a style that only Michael Mann has mastered. My only arguement is that the objective at hand was not fulfilled. They discovered where the intel-leak was, but failed to see it to the outcome. Of course, this free`s them up to do a sequel, which is what I am hoping for. If there can be a Mission: Impossible franchise, then why not a Miami Vice franchise too? After all, there`s no more StarWars to be released, right?
September 05, 2006
This was a fabulous film. The people I know who saw this movie loved everything about it, including the main characters played by Foxx and Farrell. This movie is absolutely the best so far of 2006! Michael Mann can do no wrong. It wasn`t supposed to be like the t.v. show. If you want that, watch the t.v. show! If you can`t see this flick in the theatre, rent it for sure, don`t miss out.
September 03, 2006
The best parts are the toys !
September 02, 2006
News Flash to Colin Farell and Jamie Foxx: Showing emotion...It`s a good thing.
August 31, 2006
movie was not like the tv series but had alot of action didn`t really like this movie remakes sometimes works this one kinda missed the mark
August 31, 2006
they should have used the orginal actors, they would have been better
August 31, 2006
Worst movie of 2006!! Save your money, don`t even rent the video, unless you have insomnia!!!
August 31, 2006
* - If I could give this movie no stars, then I would! I`ve never actually fallen asleep in a movie theatre...until now that is. BAD MOVIE, really, really BAD movie!!!
August 31, 2006
its a very good film
August 30, 2006
Great Action!
August 30, 2006
disappointing
August 30, 2006
Worst Movie Ever.....
August 30, 2006
Lack of original thought, it lacked in any type of story line, felt like the movie drugged alone without any real purpose. Also there was an unnecessary amount of sexual content which added nothing to the movie it was almost as if the production team thought hmmm out story here is a little lacking so let's throw in some random sex scenes yeah because sex sells. Come one anyone with half a brain cell is more interested in a movie with a good story then a soft core porn movie, and if we are going to be showing soft core porn movies in the theatres it might be good to rate them as such. 14A?! Come on just because they didn't show every angle of
August 30, 2006
the orginal was far better
August 29, 2006
Too much focus on the love interests and not enough on the relationship between Crockett & Tubbs.
August 29, 2006
pablum, empty headed
August 28, 2006
The movie started ok but it dragged BIGTIME in the middle. Very dissapointed!
August 28, 2006
Lots of action but difficult to understand some of the dialogue due to heavy accents and back ground noises.
August 28, 2006
i loved it action pact
August 28, 2006
The return of Miami Vice, loved that show, but ohmygod, is it me or did you think they totally missed the bus on this one! I expect Miami Vice II will stalk us soon............let us not forget Charlie Angels II! Can you beleive Cameron Diaz got 20 mill for that !@#$
August 28, 2006
Lots of action but confusing at times and a little far fetched.
August 28, 2006
The movie blew - big time. And even though I thought Colin and Jamie would be nice eye candy it didn`t help...sad, sad movie
August 28, 2006
a lame copy
August 28, 2006
Weak effort from a veteran director. Characters were not compelling to watch.
August 28, 2006
I am a big fan of the tv show and think that Jamie Foxx did a great job, however I was somewhat disappointed in Colin Farrel`s portrayal of Crocket. Possibly the hair or the accent, he just didn`t remind me of what Summy used to be like, if I had never seen the tv though, I would haveloved the movie. It does stand alone fine, but not so when compared to the tv show, at least not for me.
August 27, 2006
Definitely in my top 10 list of worst movies ever! I did however enter the Miami Vice contest....it would be great to win and ease the pain of the time in my life I will NEVER ever get back not to mention the $570 jamaican dollars it cost to view movie. Thankfully...if anyone has ever watched a movie in jamaica you will agree....the audience truly adds to the entertainment experience. Overall very disappointing but on a positive note...great locations!
August 27, 2006
Great Action.script must be worked on though.