Midnight in Paris
Thank you for rating this movie!
Read your review below. Ratings will be added after 24 hours.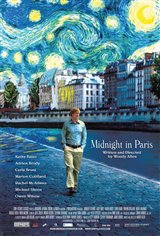 4.01 / 5
User Rating
Based on 414 votes and 131 reviews
---
Please rate movie 1 to 5 stars
Showing 51 to 100 of 131
October 30, 2011
The best Woody Allen movie ever. Even if you don't like his movies, you'll like this one. Very funny. Clever story.
October 30, 2011
It's nice to see Owen Wilson doing well in this movie. Enjoyable.
October 30, 2011
Thoroughly enjoyed the movie. Great humor, a bit of mystery and a dash of romance all make for a thoroughly enjoyable and entertaining movie with a creative and original premis
October 29, 2011
Owen Wilson shines as Woody Allen.
October 29, 2011
Good movie - lots of excellent stars.
October 28, 2011
I hate that movie, to long nothing happening for en eternity
October 28, 2011
little dissappointed in the pace of the movie. God parts but left more desired
October 28, 2011
I liked it, very charming movie and fun part is that you would not know what would happen next.
October 27, 2011
Decent rom-com. Owen Wilson wasn't as annoying as usual.
October 26, 2011
excellent movie
October 25, 2011
I thoroughly enjoyed this movie. Once you suspend disbelief, it is a lovely little story, very charming & interesting.
October 24, 2011
Worth a trip to the theatre.
October 24, 2011
Quirky fun that makes you think of wanting to visit the "Golden Age" or something...anything!
October 24, 2011
This is a charming, fun, wonderfully romantic movie that instantly transports you immediately to Paris. The casting is fantastic, the music is uplifting and the history lesson superb! Bravo Woody for keeping it witty from start to finish and allowing Owen Wilson to shine.
October 24, 2011
A feel-good movie, with lots of laughs. A very good movie.
October 23, 2011
Woody Allen back to his best. Why however do all characters in Woody Allen films sound just like Woody Allen?
October 23, 2011
A magical movie with incredibly clever dialogue, beautiful footage of Paris, and hilarious dialogue between the American fiance and her parents. Loved it!
October 22, 2011
Brilliant film! Woody is at the top of his game once again!
October 21, 2011
Woody Allen's love affair with Paris and the City of Lights' cultural history. Characters from the past come to life and want me to delve further into their works. One of Allen's best.
October 20, 2011
Paris and great artists and life and travelling in time to see dilemmas have always been around for everyone.
October 20, 2011
Strange movie but could have been worse. Nothing too exciting here but keeps you wondering whats going to happen.
October 20, 2011
A good mix of many ingredients.
October 20, 2011
Excellent, another Woody Allen success. Made me want to go to Paris, right now!
October 14, 2011
One of those feel good movies where after you watch it you appreciate your life a while lot more. Michael Shannon gives a great performance in this movie. Owen WIlson is surprisingly not annoying and works the script well.
September 06, 2011
A sophisticated, imaginative fairy tale as only Woody Allen could create it.
September 04, 2011
Loved the concept and Paris looks so beautiful in this film.
August 31, 2011
Cute and loveable
August 30, 2011
was the suckiest suck that ever sucked
August 04, 2011
Me i love that movie and i love paris
August 04, 2011
One of the best movies in a long time.
August 02, 2011
The only good thing about this movie is the scenery. Paris is beautifull and even more beautifull when visited in person. Story is superfical and the ending.........just left me hanging! Won't recommend to anyone.
August 02, 2011
Wood Allen draws you into his smoldering love of Paris with a long opening sequence with shots around Paris covering an entire day. I also love Paris, and enjoy the element of time travel. In this case, an earnest owen Wilson travels back to the 20s to meet some of my personal heros - Hemingway, Picasso, Dali. The final revelation added some substance to this tasty confection. I loved it.
July 29, 2011
NICE SCENERY, STUPID STORY
July 28, 2011
Owen Wilson was perfect, and believable - he has a wonderfully comedic but also sweetly innocent manner in this role - funny, but also touching. Woody Allen's take on nostalgia was also very true - it's never really what you thought it was, and the 'live for today' message was gently delivered. A movie to make people think and talk about life.
July 27, 2011
Owen Wilson is funny and great pictures of Paris we can see throughout this movie.
July 26, 2011
Very enjoyable and quirky storyline. Even more interesting to watch when one is familiar with classic literature and art. Some people in the theatre expressed that they thought the premise was to "weird" to be enjoyable, but for those with more of an abstract imagination, this film is quality entertainment.
July 22, 2011
I've seen this movie three times now, going each time with different people who wanted to see it. I enjoyed it just as much each time.
July 22, 2011
Woody Allen has created one of his most poignant and magical moments of his career. Midnight in Paris is also Owen Wilson's finest piece and a brilliant piece.
July 22, 2011
I loved the shots of Paris, the idea of Owen meeting famous people of the past. I hated the snobbiness of his fiance and her family. It was a bit slow but Owen had a much better time in Paris then anyone else the ending was a surprize
July 22, 2011
I only gave this 2* because of the beautiful shots of Paris both by day and night. But the acting was so strange coming from such famous actors; it really resembled an over-acted stage play in a small-town wannabe theatre. I couldn't believe that Rachel McAdams could be so shallow in her potrayals, and only Owen Wilson managed to be up to professional acting standards. Maybe it was editing or production, but this movie had none of the quality that even movies I don't like, usually have. It was just plain weird...and one lady walked out of the theatre which I would've done too out of boredom, but didn't only because I am a die hard expecting it to eventually get better, which unfortunatel
July 19, 2011
Good movie to watch.
July 19, 2011
Lovely movie to watch as Paris is the highlight of the movie.. funny and times..but a bit annoying at times as well.
July 18, 2011
Enjoyable. Unique story line but a little slow
July 16, 2011
Very good movie to watch.
July 16, 2011
A bit slow but beautifully film. A nice character story. But what sort of drivel compelled another reviewer to say Rachel McAdams 'slole' the movie. She was bearly in it and her character was one dementional and annoying to say the least. Quit writing crap and misdirecting other viewers. The synopsis was misleadingas well. It has almost nothing to do with a couple assessing their lives.
July 16, 2011
A delightful film from Woody which is reminiscent of the whimsy and fun in The Purple Rose of Cairo.
July 16, 2011
Pretty good movie, very interesting and all the characters all pretty cool. Good date movie. rb.
July 15, 2011
Good movie but a little slow.
July 15, 2011
Good, light-hearted movie about the times we live in and the times we want to live in...great script and solid performances, espcially MacAdams who steals the movie
July 14, 2011
Enjoyable and unique movie.