Midnight in Paris
Thank you for rating this movie!
Read your review below. Ratings will be added after 24 hours.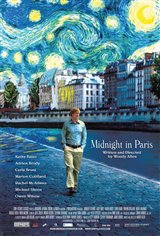 4.01 / 5
User Rating
Based on 414 votes and 131 reviews
---
Please rate movie 1 to 5 stars
Showing 101 to 131 of 131
July 14, 2011
Delightful fantasy escape movie! Just wonderful
July 14, 2011
I loved this movie a must see for older women as myself really cute over 30 type of movie and I also loved laughing at Rachael McAdams.
July 14, 2011
Thought the movie was very boring and slow.
July 12, 2011
Great movie. It will make you want to visit Paris.
July 12, 2011
This movie was fun and imaginative. A perfect way to decompress and escape reality for a bit!
July 10, 2011
Visually very beautiful. And lots of clever Allen lines - you can almost picture him when Wilson is speaking them.
July 10, 2011
Woody is back on track...surprisingly good choice of Owen Wilson as the male lead. Paris never looked so beautiful. Amusing! entertaining!
July 09, 2011
Great ! Takes the audience to the dream world and the pass. Magically beautiful. Loved it !
July 09, 2011
I am not a huge woody fan,but I really enjoyed the great dialogue and amazing characters.
July 08, 2011
Great movie, a lot more whimsical and fantastical than I ever thought it would be.
July 08, 2011
This is a gorgeous movie, shot in one of the world's most beautiful cities. The premise is engaging and fun. It was a most enjoyable evening at the cinema.
July 08, 2011
Midnight in Paris is a fantastic, whimsical, funny, and charming romantic comedy that allows movie goers to explore the realms of fantasy and enlightenment. It's a great literary time machine! I'd definitely watch it again.
July 05, 2011
great premise that's well executed; best Woody Allen film in a while.
July 05, 2011
Good, light-hearted movie. Woody Allen films Paris in a way that's never been done, letting te city's natural beauty shine through. Owen Wilson is, as usual, annoying, but Rachel McAdams, Michael Shannon and all the other supporting actors give a lot of depth and presence in the film. Worth the money.
June 30, 2011
I enjoyed the movie and the flashbacks but what good is a flashback to the artistic Paris of the 20's without an appearance by the true literary giant of the time, James Joyce.
June 27, 2011
Typical woody allen... Cute, but you may need to research some history of art before watching it!
June 27, 2011
Beautiful movie to watch....typical Allen movie.
June 26, 2011
EXCELLENT movie. Better than I expected.
June 26, 2011
I laughed loud and often! The 3-D was amazing!
June 26, 2011
I'm definitely seeing it again!
June 24, 2011
A very interesting movie by Woody Allen. As mentioned by others, the city of Paris plays a central character of the film. Because of that, the movie is breathtaking to watch. Also,if you're a fan of art, this movie will have you laughing for hours. I don't want to give the movie away, but I didn't expect the "fantasy" portion of the movie. It through me off for a bit. The best part of teh movie are teh scenes with Michael Shannon. His performance steals the movie. Owen Wilson may not have beenthe best choice. Overall, a good movie.
June 23, 2011
Very cute and entertaining movie - Woody does a great job in making Paris the central theme of the movie.
June 22, 2011
Plenty of Paris to be seen, but the quirky story is both unexpected and fun. More so for anyone into the arts and literature... an interesting reflection on life and appreciation for one's self expression in life.
June 21, 2011
Absolutely the best Woody Alan Movie Ever! The cinematography of Paris was excellent and the story line was excellent. Great Job and a pleasant surprise!
June 21, 2011
Great Woody Allen movie. Being set in Paris makes it even more romantic...!!!!
June 21, 2011
Good movie. Woody Allen's love song to Paris. A lovely movie to watch as Paris the city is as much a character in the film as Owen WIlson. Entertaining and sweet. A good movie.
June 17, 2011
I love it. Having been to Paris a couple of times and being somewhat familiar with art and jazz made this movie that much better. Having said that, even if I'd never been to Paris I'd have still given it 5 stars. Best Woody Allen movie yet. Hope there are more to come.
June 10, 2011
One of Woody's best.It is better if you're into art history.
June 09, 2011
Loved this movie!!! If u r a Woody Allen fan then go c this movie. Highly recommended!!!
June 09, 2011
This one was far more enjoyable than «you will meet a tall dark stranger».
June 04, 2011
Really enjoyed this movie, very uplifting, great casting and cheeky as only Woody Allen can do.