Milk (2008) - User Reviews
Thank you for rating this movie!
Read your review below. Ratings will be added after 24 hours.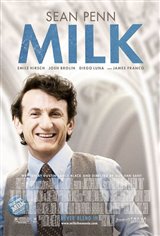 ---
Please rate movie 1 to 5 stars
Showing 1 to 25 of 25
March 10, 2009
This movie seems to make Canadians shake their head and wonder why Americans are so backwards.
February 26, 2009
Penn is great. A courageous movie to make.
February 23, 2009
So powerful. The characters were well written. I thoroughly enjoyed this movie. If you haven't watched it yet, go see it!
January 31, 2009
Absolutely awesome... gripping and powerful. HAS to be seen this season.
January 26, 2009
Great Film. Alison pill was awesome
January 25, 2009
Loved it!!
January 20, 2009
Amazing, Sean Penn is an amazing actor! You should go and see it.
January 12, 2009
This movie was excellent! Everyone should see it!
January 11, 2009
While it was a little long, the time flew by due to Sean Penn's mesmorizing acting. Milk's is a historical/emotional story that needs to be remembered and Gus Van Zant does it with respect and taste.
January 11, 2009
Sean Penn is brilliant...excellent movie.
January 10, 2009
great movie
January 06, 2009
there was a rumor Alison Pill was arrested on set for starting a riot.But they found out that they were filming this film and let her go
January 03, 2009
Amazing!!! Great cast-especially Sean Penn and Emile Hirsch
January 01, 2009
Sean Penn is amazing-better than 'I am Sam'! The makeup is also fantastic to see him age.
December 31, 2008
Too good to miss, what a great story, what a great movie. Too much like today, this movie provokes many unanswered questions. A great addition to any Diversity and Civil Rights History program.
December 30, 2008
its was really good
December 25, 2008
What an amazing movie! Sean was excellent as well as rest of the cast members. I was very moved by the whole movie - whether it was the old footage or how the story was protrayed. Two thumbs way up and definitely deserve all 5 stars for all the actors and actresses in the movie. Go see it!
December 24, 2008
I almost never give 5 stars for a movie, that score is reserved for those that I feel are classics and whose appeal will last for more than the moment. This is one such 5 star movie. The performances are spot on and for those of us who were around during the times depicted it rings true. This is history. Important history. Well told.
December 15, 2008
this is the movie that can touch the innermost of your hearts straight or gay... this movie make me cry people are people, we should all be equal...
December 13, 2008
Amazing what people can do when they come together for a cause they believe in. Great true story and human rights piece. Sean Penn is an incredibly versatile actor.
December 11, 2008
Hate to burst your bubble, but people in Canada do get fired or passed for promotion for being gay. Naturally though, it's not labelled as such, but there are many Canadians that feel uncomfortable with the notion and look for ways not to deal with it. That being said, they should see the movie to become better educated. People are people, straight or gay.
December 08, 2008
Go see this movie. Thank god we live in Canada.
December 06, 2008
This is an extremely well done, informative, brilliantly acted film about the gay rights movement that everyone should see - Harvey Milk was a revolutionist who changed the lives and rights of gay people living in the turbulent times of Anita Bryant and her anti-gay activism discriminating against homosexuals. This is a lesson in history that should be studied. This is an inspiring film. Get out and see it. Gus Van Sant is back!
December 04, 2008
Penn is amazing. Loved it. He will win all of the awards.
November 30, 2008
this is lame