Million Dollar Arm - User Reviews
Thank you for rating this movie!
Read your review below. Ratings will be added after 24 hours.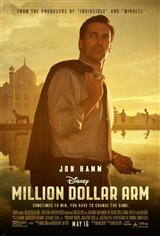 4.38 / 5
User Rating
Based on 308 votes and 145 reviews
---
Please rate movie 1 to 5 stars
Showing 1 to 50 of 145
October 21, 2014
predictable and way, way too long
October 18, 2014
Love this movie dreams do come true
October 15, 2014
i really wanted to like this movie, but it is wayyyyy toooo long and a bit boring.
June 03, 2014
well is there were more stars I would hand them out! I found this a very moving & uplifting movie! Well worth the waiting time & cost! Watch out Hollywood. Oscar worthwhile!
May 26, 2014
I enjoyed this movie but it is average at best and a little too long. Interesting that it is based on a true story.
May 25, 2014
How do americans depict : Chinese, Japanese, Germans, africans etc.? Where to send these americans and their pigeons back to?
May 23, 2014
I think if you saw an interview with the actual indian guys this was based on you might call bull puckey.......ignorant couple of morons, that think all american woman are fat and money grubbing whores.....send this crap back to where it came from
May 20, 2014
Such a great movie, great cast! Great family movie!
May 20, 2014
I love this movie so much. I give it 5 stars cause I laugh and also I cry. I haven't see such good movie for a long time. This one I love the most for the past ten years. Well done.
May 18, 2014
Absolutely loved this movie. Will see it again. Terrific story line. Had you laughing and crying. Nice family movie as there is no rudeness or cursing. GO SEE IT
May 18, 2014
What a great film... you smile through the whole thing!
May 18, 2014
A great feel-good movie for the whole family.
May 17, 2014
Excellent family movie based on an inspiring true story. Great humor, great story -- I loved it!
May 17, 2014
It is truly one of the best movies I have seen! Made one feel so very good. Outstanding story and great acting.
May 13, 2014
Please attach the rating to the review that was submitted earlier. Forgot to do that. Thank you. And thanks so much again for the tickets!
May 13, 2014
This was an excellent, feel-good movie by the Disney people. We watched the desperation of a man who needed to succeed professionally but at the expense of his 2 young charges and their translator, who trusted and looked up to him, and then to realize that life wasn't just about himself. With the love and encouragement of the neighbour, JB Bernstein is able to bring the success he was seeking for everyone. A must-see movie for the whole family!
May 13, 2014
Loved the movie, its music, the message it sends, and the comedic parts were very funny. Good family movie. Enjoyed the movie, and would tell others to go see it
May 12, 2014
Pleasantly surprised. Very enjoyable.
May 12, 2014
Great movie! My wife and I really enjoyed it, engaged from start to end. Reminded us of a Jerry Maguire x Slumdog Millionaire type of movie.
May 12, 2014
Feel good entertainment with great story and characters.
May 11, 2014
Million Dollar Arm was a very enjoyable movie, good flick for the entire family. Definitely worth going to see.
May 11, 2014
A feel good movie but not as fulfilling as I had hoped it to be. Predictable.
May 11, 2014
The casting for this movie was very good. The movie had a very slow start and there were couple of other spots during the movie where it seemed to drag. The story was very good but it could have been a little more over the top, being a Disney movie. Enjoyed the movie in spite of its slow spots.
May 11, 2014
This was a fantastic movie. It touched our hearts in so many ways. My husband was still teary when we left the theatre. It is a great example for the younger generation to show them that with hard work and dedication they can achieve their dreams! The actors were so compelling. I do hope this movie wins an award! I wished it could have lasted even longer. Thank you so much for allowing us to see it. Jeanette Potvin
May 11, 2014
A brilliant film -- excellent storyline, casting and scenery. The music soundtrack had me dancing in my seat and was a great accompaniment to everything on screen. Loved the film!!!! Would see it again with my kids.
May 10, 2014
Jon Hamm is wonderful is this movie. Great and inspirational story. Very well done!
May 10, 2014
Rather predictable ending. Not too impressed with Jon Hamm's acting, however rest of cast very good
May 10, 2014
Whether you love baseball or not, very inspirational. Comedic as well at times. Should become a Disney classic. :)
May 10, 2014
It was fantastic I love John Hamm
May 10, 2014
Great movie!! Thoroughly enjoyed this film. Everything about it was good.
May 10, 2014
A heartwarming movie with incredible acting and Inspiring storyline.
May 10, 2014
I won passes to this movie and wasn't sure what to expect, but liked Jon Hamm, so went with an open mind. It was really enjoyable! We loved the story (was surprised to learn it is true), and the setting while it was in India was wonderful. I was motivated to learn more about the Million Dollar Arm competition afterwards, too. I'd recommend this for a great date movie (my hubby enjoyed it too).
May 10, 2014
The movie is a monument to the human sprit. It touches all elements of life , love, family and society. All are addressed in and very loving and sensible manner. You can't help but to cheer the major characters on to their glory. It's the kind of movie that you want to take your kids to and then go home and read the true story, which in this case matches very closely.
May 10, 2014
This is a great movie. I was happy, sad, I l love true story movie they give me a warm and fuzzy feeling.
May 10, 2014
The movie was interesting and informative. We thoroughly enjoyed the movie because it kept our interest through out the whole movie and we got some insight about life in India. Thank you very much Donna Summerfield
May 10, 2014
It was a great movie, a little long,but entertaining, moving, and funny.
May 10, 2014
I would like to thank you for a good movie. I really enjoyed watching it. Very interesting.
May 09, 2014
Good movie for family. Good story line.
May 09, 2014
This movie demonstrated all the attributes of a good movie: a great story, humour, scenery,emotional. Wow!! Unbelievable story: achievement in such a short time line. Thanks for the opportunity to view this film. I have been encouraging my co-workers to see it.
May 09, 2014
From the trailers I expected to like the movie. I didn't expect to like it as much as I did. Sports, underdogs, Jon Hamm - what's not to like? :-) Quite possibly the feel good movie of the year.
May 09, 2014
This is a great feel good movie in the best of Disney tradition. Jon Hamm displays his acting chops and Alan Arkin & Bill Paxton add their movie pedigrees. A great family movie that is enjoyable on many levels.
May 09, 2014
It was really well done! It gave me reality of the differences between India and North American living! Opened my eyes and there were a few great story lines going on as well! Very well done movie! I recommend this film 100%
May 09, 2014
This is a great family movie that can be enjoyed by both youngsters and adults. It moved right along. Some movies put me to sleep, but not this one. It was a feel good movie made better because it is a true story. I am not a sports person so I didn't think it would be for me. The movie was more about trying hard in the face of adversity but still trying until success is met with. Thanks for the tickets.
May 09, 2014
What a beautiful movie. I came home feeling happy. It's well acted and definitely will recommend it. Thank you so much!
May 09, 2014
Even though I knew the story and the end result, I still cheered for the success of the two boys. Good film - definitely recommending it to my friends!
May 09, 2014
Great movie. It was funny, sad, and inspirational.